My family was given the challenge to take a break from technology and spend some quality time in the kitchen together. We received a delicious assortment of Pillsbury cake and brownie mixes as well as frosting to choose from. Since we are all in the Christmas spirit, we decided to make Christmas cookies out of the cake and brownie mixes. Using cake mixes for cookies is a quick way to jump start all your Christmas baking, saving you time so you can spend more time with your family and/or bake more!
This is a sponsored conversation, I received product and a promotional item to facilitate this post.
Technology-Free Inner Doughboy Family Time Challenge
I wasn't sure how my kids would react when I told them about our technology-free family time challenge especially since we were doing it on a Saturday. I told them that we would be baking delicious desserts in the kitchen together and they were all on board. I've been cooking and baking with my kids since they were toddlers, so they are use to helping me in the kitchen. However, for this challenge, we were going to spend hours in the kitchen, so I wasn't sure how it would go.
Ahead of time, I sort of cheated by looking up a few cookie from cake mix recipes to give my family some ideas on what to prepare.

My daughter selected the Pillsbury Purely Simple White Cake Mix to make cut-out sugar cookies. I chose the New Pillsbury Moist Supreme Lemon Cake Mix to make lemon crackle cookies. My son chose the Pillsbury Purely Simple Brownie Mix to prepare Candy Cane Chocolate Cookies. We all worked together, with my husband on each of the three recipes.
Let the silliness begin! I don't know if you can tell but my son is squeezing the butter together for his recipe – with his hands! My daughter is giving him a "I can't believe you are doing that" kind of look. I kinda felt the same way but I didn't want to limited his fun and creativity!
My daughter loves cut-out sugar cookies but I never make them. She was so excited to prepare them with her daddy. It is so easy to make cut-out sugar cookies with Purely Simple™ White Cake & Cupcake Mix. I love the Pillsbury Purely Simple line because it is more like home-made because each mix contains simple ingredients with no colors, preservatives, or artificial flavors. I feel really good about giving treats made from the Purely Simple line to my family.
For cut-out sugar cookies, simply combine the cake mix with butter, shortening, vanilla, and egg. Next, roll the doll out to about 1/8″ thick.
Next, select a cookie cutter shape. I found a large set of 101 cookie cutters especially for this occasion – I guess we'll be baking plenty more cut-out sugar cookies in the future too.
Start cutting the desired shapes, then bake for 5-7 minutes on 375°.
We frosted our cookies with Pillsbury Creamy Supreme Frosting. For thick frosting, you can use straight out of the container. For a more glazed cookie, warm it in the microwave for about 20 seconds in the microwave in a small bowl. This makes it a little thinner and really easy to spread on the cut-out sugar cookies.
Next, decorate with cookies with sprinkles, colored sugars, and decorations. My kids really enjoyed this part!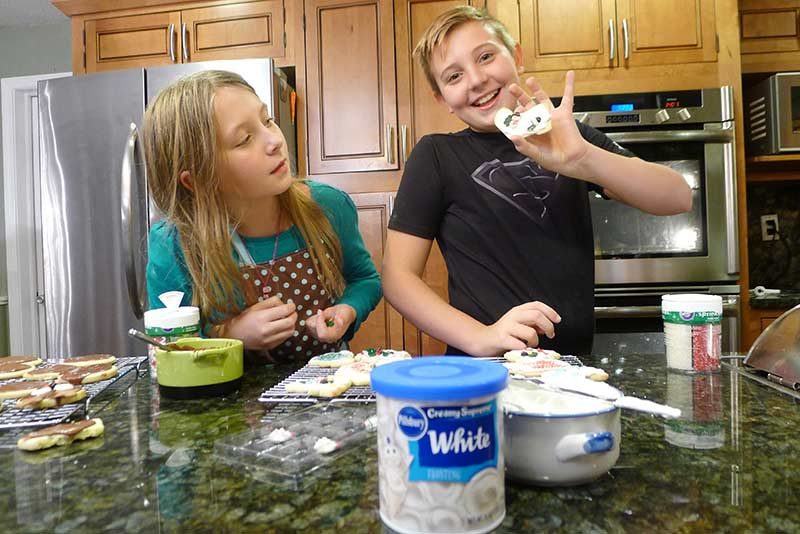 I love the Christmas trees and stockings my kids made. They are 100% kid-approved and fun.
To be honest, I never made cut-out sugar cookie before because I felt like they would take too much time. Using Pillsbury cake mix cuts the time in half! Decorating wasn't a chore because we just had fun doing it together, being creative.
We also had fun making little reindeer cookies out of the cut-out sugar cookie batter.
Aren't these the cutest reindeer ever?
For this technology-free family night, we went 'old-school' with a Polaroid camera. Since there were no smart phones or tablets allowed, we couldn't use those to take pictures and document the night. My kids have never seen a Polaroid camera before and were so surprised.
They loved taking pictures and instantly seeing the prints. We will be using this camera a lot, I can already tell.
In fact, we hung the pictures we took from our technology free family time in our kitchen. This will be a good reminder of the fun we have with no need for the tv, smartphones, tablets, or game systems. Once my kids got over the fact that the TV would be off for family time, we really starting having a good time together. It was rocky for the 15 minutes when I told them we'd be baking several recipes but once we started, we really had a lot of fun together – really bonding by talking, being silly, laughing, and having fun together.
My son choose to prepare the Candy Cane Cookies using Purely Simple™ Chocolate Chunk Brownie Mix. This batter was quick to whip up using the cake mix and a few additions including brown sugar, egg, butter, vanilla, flour, salt, and baking soda. Next, we added a little chocolate chips and crushed candy canes. The brownie mix comes with large chocolate chunks already, so you really don't need additional chocolate chips but with them, we can call these Triple Chocolate Candy Cane Cookies – yum! This batch made a LOT of cookies.
I love trying new recipes and really wanted to take a shot at Holiday Crinkle Cookies. I found the recipe on the Pillsbury website, one of my favorite places to find family-friendly recipes. Instead of making traditional red and green crinkle cookies, I used the new Moist Supreme Lemon Premium Cake Mix to make Lemon Crinkle Cookies.
I have to be honest, baking with kids isn't always the easiest, but it is the most rewarding time together. That being said, I have to admit that I completely forgot to add butter to this crinkle cookie mix. Oops! I went ahead and baked a tray to see how they would turn out. It seems to me that you don't really need the 6 tablespoons of butter because they turned out quite delicious, soft, and moist! Don't you just love how the powdered sugar looks like snow? These are perfect cake-mix cookies for Christmas.
We had dozens and dozens of cookies after baking three recipes. My daughter's teachers and bus driver were lucky enough to be on the receiving end today.
After the baking was done, my kids thought our technology-free family time was suppose to continue into the rest the day. They were brainstorming about other things we could do. On our way to a trail to walk our dog, we found a live nativity in town. How fun! We did leave our dog, Cali in the car for our visit with the camel, I'm not sure how well camels and dogs mix. 🙂
We had fun exploring on our walk and came across fresh tree shavings from a beaver! How fun is this?! We certainly wouldn't be having this much fun if we were sitting at home watching TV.
Since Cali got a little messy on our walk, we checked out the dog bath at the new pet store in Cuyahoga Falls called Pet Valu.
We even had fun washing the dog during our technology-free family time! Cali didn't mind either.
Our dog is part of our family, so it only made sense to include her in our family time.
Once we got home, it was dark which usually means TV or video game time. My kids however got creative. They started building blanket forts and playing together! My kids are typical brother and sister, they argue and fight often. I can honestly say that during out technology free DAY, they didn't fight or ague at all. It's like a miracle. They were having fun together, being silly.
The result of our Technology-Free Inner Doughboy Family Time Challenge is all smiles! We had so much fun being creative in the kitchen together. We have plans to bake more treats this coming weekend for our local homeless shelter – this was my kids' idea! We also plan to have more regularly scheduled technology-free family time.
When we started the challenge, we were just going to make a recipe or two. We had no idea we would end up making 4 different cake-mix cookies. Pillsbury mixes make it so easy to bake delicious homemade treats any time.
I had planned on ending the technology-free challenge after baking but my kids wanted to do more together. They had so many ideas of things we could do without technology that we couldn't get to them all! We still have game night, craft-time, bird-feeder making, puzzles, LEGO building, and rock climbing to do that we didn't get to on our technology-free day!
I love how we were able to reconnect by disconnecting from technology. It is a very good lesson we learned as a family and we'll be doing more of it. I hope you'll also consider taking the Technology-Free Inner Doughboy Family Time Challenge with your family. Pick up a few boxes of Pillsbury cake or brownie mix and frosting to get started!