I recently read How Toddlers Thrive by Tovan P. Klien, Ph.D. Since I had my first son, I have struggled with understanding why he was doing certain things, why did he have tantrums, is he normal etc. Now with a two year old I find I am back into those thoughts.  How Toddlers Thrive is like a guide to better understand the WHY of your child's behavior. It focuses on ages 2-5 but I am finding some of it is still very useable for my 7 year old.
I received product to facilitate this post.
A guide not an instruction manual
Tovah P. Klien, PhD. guides you though understanding and seeing things from your toddlers perspective in How Toddlers Thrive. Then she guides you through a easy to use program to make sure your toddler receives guidance to develop key skills. She focuses on how much we shame our children and how things like sticker charts and comparing them to friends can actually be hurting their growth and making us more frustrated. All of this she does with out making you feel like you are a bad parent or like you have ruined your child.
What I am learning
Thanks to How Toddlers Thrive I am learning how to change the way I look at my son to looking through his eyes. For example: We have been talking about making the transition from a crib to a toddler bed for months now. This weekend we set up the toddler bed but didn't remove the crib and let him make a choice.
He choose to sleep in the toddler bed and when he woke up and got out of bed and ran down the hall at first I was annoyed. We have been talking about this forever, why would he be acting like this.
The reality though a toddlers eyes
Well while we have been talking about it, this it still a brand new concept! A very scary one to a little guy who has spent his entire life in a crib. So I saw it though his eyes, it's so exciting to have a new bed, but I don't want mommy to think that means I don't need her to rock and cuddle me anymore ( even though he climbed into bed himself.), its a big change for a little guy. So we pat him on the back and try to keep the routine normal. After a few moments of love he says " Ok , good night mama." and rolls over. I am waiting for him to tell me he's ok then I know when I leave he will stay in his bed. This is just one example of how I am incorporating this guide book into our life.
How Toddlers Thrive Book Signing in Cleveland
Tovah P. Klien, PhD. will be in Cleveland on Monday, May 19th 2014 at Case Western Reserve University Woman Center from 7pm to 9pm doing a talk/reading/book signing. You can register for this free event.
Siegal Facility
26500 Shaker Blvd
Beachwood, OH 44122
There is so much to learn from How Toddlers Thrive, that you will just have to read it yourself.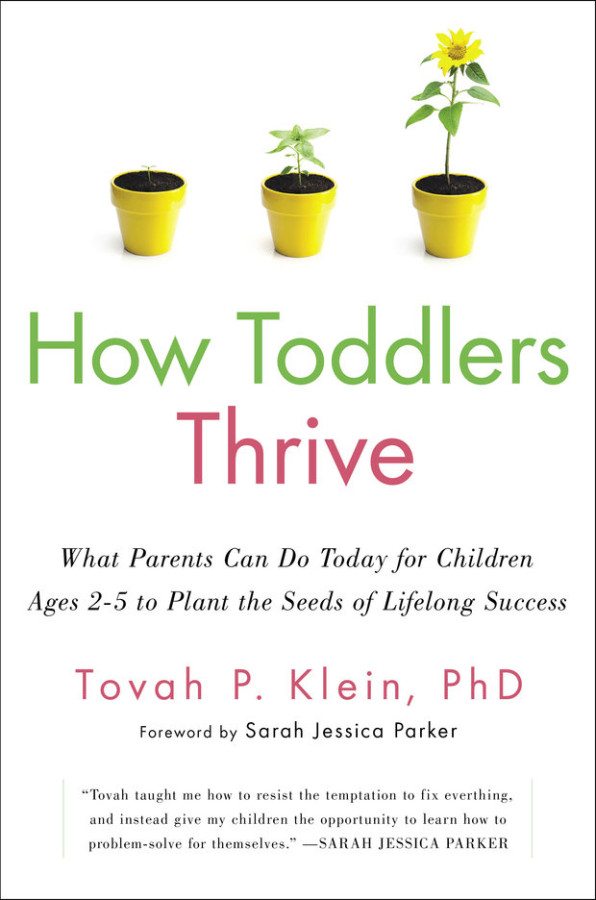 It changed the way I look at my kids behaviors…. By the way… there is no terrible twos… so pick up this book and learn how to help yourself and your toddler.
Buy How Toddlers Thrive
Win How Toddlers Thrive
You have the chance to win your own copy of How Toddlers Thrive.
a Rafflecopter giveaway

This promotion is in no way sponsored, endorsed or administered by, or associated with, Facebook. In order to comply with the latest Facebook Promotion Guidelines (revised 5/11/11), the following statements are true:
* Giveaway participants release Facebook from any responsibility whatsoever.
* Giveaways on this blog are in no way sponsored, endorsed or administered by, or associated with, Facebook.
* Giveaway participants are providing information to this blog and giveaway sponsors only; not to Facebook
30 Day Winning Rule applies. For complete contest rules, please see our Contest Statement and Blog Disclosure.
Contest ends at 11:59 pm EST on April 18, 2014 when a winner will be drawn at random. I will notify the winners and they will have 36 hours to respond or another winner will be selected!
This was not a paid post. My own opinions were used based on my perceptions and experience. Thank you to Klien who provided the products for review and giveaway.