I have two teenagers. With the teen years come new issues. I've always tried to watch the medications they take and like to go homeopathic as often as I can. I think that with all of the changes teenagers go through with growth hormones, stress, and relationship, we need to be particularly cautious about jumping into 'adult' medicines and solutions.
I've known, used, and been a fan of the Hyland's brand since my kids were young. I'm excited to introduce to my teens and you the Hyland's New Young Adult line.
This is a sponsored post.
Hyland's New Young Adult line of products is designed to help the teen years go a little better with the main teen issues: acne, menstrual symptoms, and stress. Many homeopathic brands have items for kids and adults but nothing for the teen market. I'm so excited about these new products and how they teach teens about non-habit ways of addressing health concerns.
Every teen and young adult is going to battle acne in some degree. Hyland's Young Adult ClearAc helps teens fight acne, pimple, and blotches from the inside out.
Instead of harsh chemical topical creams that hurt and irritate the skin. ClearAC uses specially-formulated homeopathic blend of natural active ingredients to help their body's heal naturally, from within.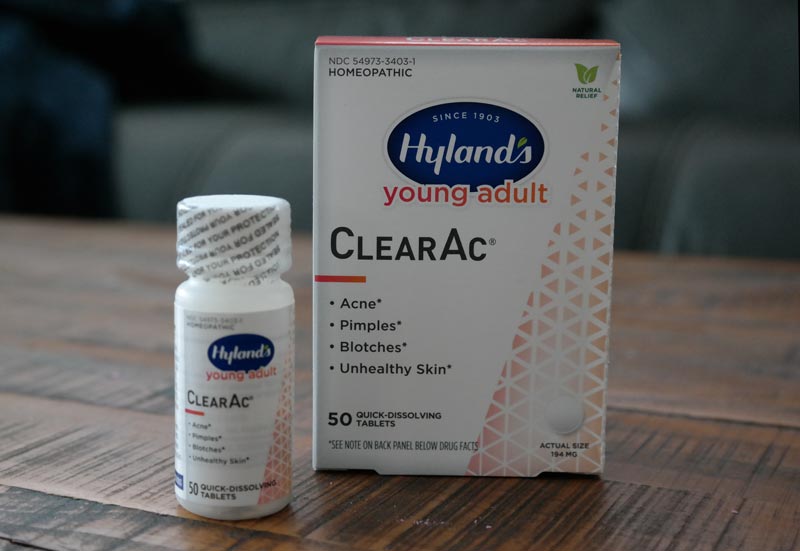 See their website for full list of ingredients in this product that help clear skin naturally.
Hyland's Young Adult Serene is designed to help teens hand the effects of stress with can include head  headaches, irritability, upset stomach, restlessness, anxiousness, or sleeplessness.
I remember as a teen always feeling stressed out. With all the pressure to do good at school, part time job, sports, friendships, and finding time to do everything. Looking back, I wouldn't want to be a teen again. And now, I feel like our teens have even more pressure with social media, bullying, human trafficking scares, school shootings, etc our teens have even more stressful lives. Hyland's Serene helps teens with the effects of stress with Serene.
On top of all the teen stressors, girls have menstrual cramps which are often accompanied by back pain and irritability too.  Hyland's Young Adult Moon is a caffeine-free, hormone-free, and made without harsh anti-inflammatories to naturally fight these teen girl issues.
Natural ingredients work together to stimulate their own body's healing while temporarily relieving pain, cramping, backache, and irritability. Hyland's Moon helps teen girls feel better so they can enjoy life instead of suffering from menstrual symptoms.
I love that this new line is designed specifically for teens and young adults, check it out on their website.