Valentine's Day is a time for romance, a time to woo your significant other, and it is a time to show your loved ones how much you care.
What are your plans for Valentine's Day? Do you have a romantic date night planned? Have you thought about a romantic card and gift yet? A quick run to the local convenient store for a generic card won't cut it.
This is a sponsored post for Zazzle.
Be Romantic with Personalized Valentine's Day Cards and Gifts
Plan now for the most romantic Valentine's Day ever with personalized Valentine's Day Cards and gifts from Zazzle. Zazzle makes it easy to be romantic custom, personalized cards and gifts for everyone.
Romantic, Personalized Valentine's Day Cards
Being romantic with personalized cards with Zazzle is a breeze.  There are hundreds of designs to choose from with unlimited ways to personalize. You can add photos and text to the cards at no extra charge.
I think humor and being romantic go hand and hand, like with this Valentines Day Card. It is hilarious!
My family loves bacon – who doesn't?! (Besides my sister!) This Funny Bacon Valentines Day would be a huge hit for many, including my family.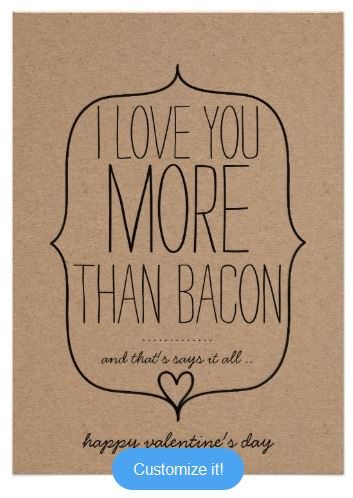 Another funny card that I just love is the I Would Cuddle You Hard. Funny Card. Isn't it adorable?! Maybe for people dating?
This Love Struck Greeting Greeting Card says "romantic forever" to me. To be on life's journey with your spouse is the absolute best journey ever, despite the ups and downs in life.
Valentine's Day is not just for lovers, it is also the perfect time to show all of your loved ones how much you care.  A Valentines Day Photo Card is the perfect way to say "We love you" with a cute photo of your kids.
Kids give Valentine's Day cards to all their classroom friends and teachers each year. Most are tossed away quickly as there isn't much thought or meaning put into them.  How incredible would your child's Valentine's Day cards be if they were personalized like this I Chews You! Classroom Valentine Postcard?! If not for the whole class, at least for the teacher and other special adults.
Romantic, Personalized Valentine's Day Gifts
Woo your loved one with a personalized Valentine's Day gift this year. Trust me, they will treasure it like no other – I know I do! Zazzle allows you to custom design nearly anything including watches, scarves, clutches, iPhone cases, mugs, home decor, and more.
You must have chocolate for Valentine's Day, how about a personalized 45 Piece Assorted Chocolate Box? This is the perfect gift for your lover, friends, kid's teacher, grandparents, and other special people in your life.
This has to be my very favorite Valentine's Day gift ever. The Create Your Own Instagram Pillow is so creative and so unique. If you love social media like I do, you'll fall fast for this pillow – or whomever gifts it to you! Are there any Instagram Husbands out there?!
Another favorite item for me is the Blue White Ampersand Lovers Names Matching iPhone 6 Cases. It is a tasteful and romantic way to show that you are deeply in love with your spouse/significant other without looking all gushy gushy.
If you and your lover are geeky, the 8 Bit Heart Gamer Couple Coffee Mugs Couples' Coffee Mug Set is the perfect way to say "I love you" this Valentine's Day. I just love it!
These are just a few of my favorite personalized Valentine's Day cards and gifts that I would love to give to my husband, kids, family, and friends.  Your taste may be totally different than mine but one thing is for sure, personalized cards and gifts are totally romantic.
Find your favorites on Zazzle.com.