The Giant Eagle Wireless Center has a no-contract phone for everyone, including the newest smartphones.  They have a phone and prepaid cards to fit every need while saving you over $1,000 compared to 2 year contract phones! Anyone can get a no-contract phone from Giant Eagle, there are no credit checks or qualifications. If you just want a phone with low minutes to keep a loved one within a phone call away or if you want unlimited text, data, and voice on a smartphone. Giant Eagle has a cell phone plan for you.
Giant Eagle Wireless Center
Smartphones from Giant Eagle allow you to surf the web, check emails, and talk and text as much as you want. Plus, you can upgrade and stay in style any time you want, without penalties.  How much money do you pay for unlimited text, data, and voice? Do yourself a favor and check out the Giant Eagle Wireless Center.  Choose from wireless carriers including At&t go phone, Boost mobile, NET10, T Mobile monthly, Tracfone, Verizon, and Virgin mobile.
For each carrier, you can select different card levels from $10-50, depending on the carrier, type of phone, and on your preference and needs.
Giant Eagle also has prepaid wireless plans perfect for those that want one for just for in case they need it.
This is a great option for your child's first phone too. I know many moms give their children cell phones even in grade school, especially if the parents are divorced. It gives parents peace of mind to know that their child can reach them at any time they want or need to call. Giant Eagle makes this possible and affordable.
This option is good for the elderly who don't need a cell phone with tons of minutes too. We gave one to my grandma when she was getting very ill. It gave her the ability to live in her home longer because she always had it with her and could call if she fell, got hurt, or needed help.
You can even purchase Giant Eagle prepaid wireless cards to use on a no-contract, prepaid phone you already have. Just be sure that you buy a card for the same carrier as your phone.
Save over $1,000 with Giant Eagle Wireless Center
Who wouldn't want to say money on their cell phone bills? If you switch to the Giant Eagle Wireless Center, you could save more than $1,000 compared to the pricey 2 year contracts.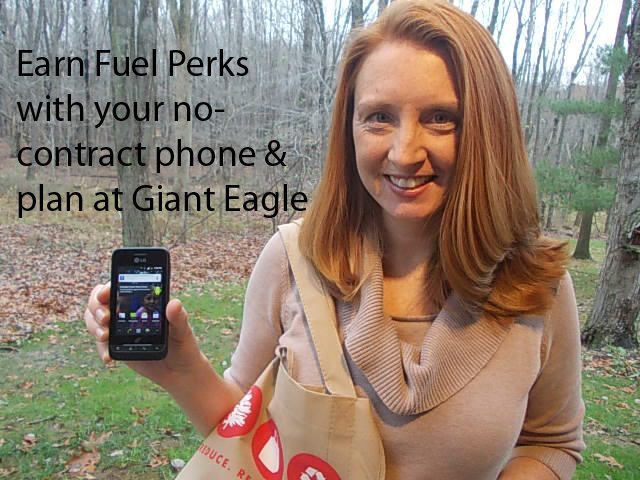 How do you save with Giant Eagle Wireless Center?
With each phone and prepaid wireless card purchase, you earn fuelperks for free gasoline.
You can switch phones and plans any time with no penalty
There are no overage fees with Giant Eagle Wireless Center
No reactivation fees
The handsets are lower priced
Giant Eagle Wireless Center voice, text, and data plans are low priced
Giant Eagle Wireless Center Review
I was able to review the NET10 LG Optimus Net phone powered by Android.  It is a 3.2″ touch screen that is easy to navigate and use – even for a mom who has never used a smartphone. I know, I'm a rarity but have not wanted to spend $90 a month on a smartphone with a data plan. I'm frugal. Now, with the Giant Eagle Wireless plans, I have unlimited text, data, and voice for only $50 a month! That is cheaper than what my husband and I currently use for JUST unlimited voice!  I was sold at Save $1,000 over 2 years!
The NET10 smartphone also comes with a 4 GB microSD card, 3.2MP Camera and Video Recorder and a 800 MHz Processor to keep everything running fast and smooth. I've really enjoyed using it and even saved $15 at the shoe store by showing them a 30% off coupon! I had no idea I was missing out on so much without a smartphone! I really like how affordable Giant Eagle makes having a smartphone – just like they do with so many things at their store!
Win NET10 Smart Phone and Wireless Card
You have a chance to win a NET10 Smart Phone with 1 month of unlimited talk, text, and web!
NET10 Huawei Ascend II with a 3.5" touch screen, Android 2.3 OS, and 5 MP camera/video recorder.
NET10 Unlimited wireless card which includes unlimited talk, text and web for 30 days
This promotion is in no way sponsored, endorsed or administered by, or associated with, Facebook. In order to comply with the latest Facebook Promotion Guidelines (revised 5/11/11), the following statements are true:
* Giveaway participants release Facebook from any responsibility whatsoever.
* Giveaways on this blog are in no way sponsored, endorsed or administered by, or associated with, Facebook.
* Giveaway participants are providing information to this blog and giveaway sponsors only; not to Facebook.
30 Day Winning Rule applies. For complete contest rules, please see our Contest Statement and Blog Disclosure.
Contest ends at 11:59pm EST on November 19, 2012 when a winner will be drawn at random. I will notify the winners and they will have 36 hours to respond or another winner will be selected!
This was not a paid post. My own opinions were used based on my perceptions and experience. Thank you to Giant Eagle who provided the products for review and giveaway.