While at my child's book fair at school, we found the most creative and engaging product, Puppet-on-a-Stick™. Just the presence of these cute puppets made all the kids want one, they are irresistible!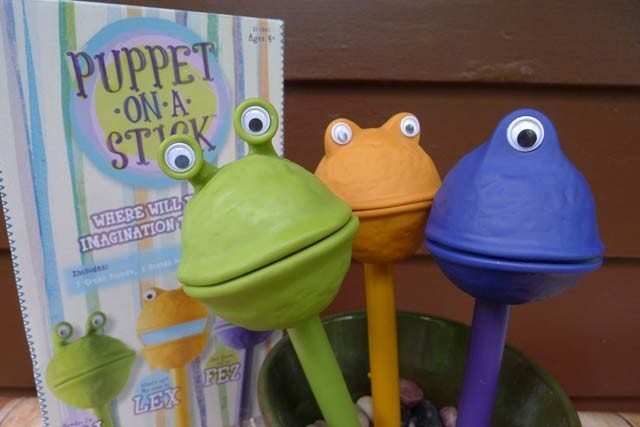 I received product to facilitate this post.
Encourage Creative and Educational Play with Puppet-on-a-Stick
I found out that Puppet-on-a-Stick is a product from Educational Insights, a company devoted to making educational toys fun! Their products are all about creativity, imagination, and fulfilling kids' curiosity. It sounds like the perfect line of products for my kids!
There are several different themes to choose from but all Puppet-on-a-Stick puppets offers countless hours of fun and learning for kids. These puppets can most certainly be used at home for puppet shows your kids create and so much more!
These puppets are also resourceful for self-expression (kids can sometimes talk more freely through a puppet!), out loud reading time, pretend play, puppet shows, story time, circle-time, family announcements, play therapy, game time, class mascot, and more!
We were able to check out the original and award-winning Puppet-on-a-Stick set that includes Kai, Fez, and Lex. They look like little monster creatures to me with their googly eyes, vivid colors, and fun textures.
They are irresistible to move and play with. You can't help but be in a good mood when one of these guys 'talks' to you! There are even 2 ways to open and close their mouths, for easy hand-control.
The puppets are all set for ages 3 and up. I know of teachers using these in classrooms for ages 8 and up. A friendly puppet that kids like is a great tool for capturing attention in large and small groups.
They offer universal fun!
Puppet-on-a-Stick In Action!

For ocean themed fun, check out The Sea Squad Puppet-on-a-Stick. Flipper the angler-fish, Dipper the octopus, Chomper the shark, and Bob the clam will take your kids on an under the sea adventure like no other! Imagine story time with these puppets, kids would love it!
If you have a reluctant reader, try having your child read out loud to their puppet. It is less intimidating than reading to mom, dad, or a teacher. A local library has a program called Tail Waggin' Tutors in which kids read to dogs to gain confidence and to practice reading. This is the same concept. Puppets are non-threatening and great listeners! Who could resist reading to Dipper?

These puppets make games like Simon Says, I-Spy, and Mother My I? even more fun! If Chomper was telling me what to do, I'd listen! ha!
The uses for Puppet-on-a-Stick go on and on. Buy a set today to start engaging your kids in creative, educational play.
Connect with Educational Insights on Facebook and Twitter.
Win Puppet-on-a-Stick of Your Choice
You have the chance to win your own Puppet-on-a-Stick collection! Choose from the original Puppet-on-a-Stick, The Sea Squad Puppet-on-a-Stick, Dinosaur Puppet-On-A-Stick, or Puppet-on-a-Stick Rainbow Prancers.
This promotion is in no way sponsored, endorsed or administered by, or associated with, Facebook. In order to comply with the latest Facebook Promotion Guidelines (revised 5/11/11), the following statements are true:
* Giveaway participants release Facebook from any responsibility whatsoever.
* Giveaways on this blog are in no way sponsored, endorsed or administered by, or associated with, Facebook.
* Giveaway participants are providing information to this blog and giveaway sponsors only; not to Facebook.
30 Day Winning Rule applies. For complete contest rules, please see our Contest Statement and Blog Disclosure.
Contest ends at 11:59pm EST on October 4, 2015 when a winner will be drawn at random. Winner will be notified and allowed 36 hours to respond.