If you are lucky, you have a few people in your life that you can always count on. These are the people that have shown nothing but love, comfort, and support for you. I'm fortunate enough to have several of these people in my life and I wouldn't trade those relationships for anything in the world. I believe as moms, our main role in our kids' lives is to provide that unconditional love, support, and care that they know that they can always count on. When life gets busy, when our kids grow older, when tragedy strikes, and when life becomes uncertain, I hope that my children  will always know and feel that love, comfort, and support from their parents.
Just tonight, my son couldn't fall asleep. He kept thinking about bad dreams he has had in the past. He didn't want to fall asleep. He was scared. He was tired. He was frustrated that it was getting late. I snuggled up with him in bed, told him that he can trust his mommy and daddy to take care of him, and he said he knew. He told me that he loved me and within minutes was asleep. He felt the comfort and safety that only a mom or dad can provide. I hope my kids know that they can always count on me to love, comfort, and support them.
Comfort and Support for Your Life
Yesterday, we received a delivery that promises to provide us with comfort and support for a long time to come – physically. As part of a series of posts, I received the new Sealy Posturepedic Hybrid Mattress to review on this blog. I will share with you my honest thoughts and experience with this first-of-its-kind  1/2 memory foam, 1/2 innersprings hybrid mattress.
The life of a mattress is like no other item in your home. This video does a great job at capturing the moments of a Sealy mattress.
This video is right on, your mattress tells the story of your life.  I already miss those nights that they would come in the middle of the night because of a bad dream or the middle-of-the-day naps snuggling with my baby or toddler. My kids still like to snuggle on weekend mornings occasionally, which always leads to tickle fights! As parents, having a mattress that provides support and comfortable sleep is essential.
A local delivery company delivered our Sealy Posturepedic Hybrid Mattress yesterday – in the rain – thankfully it was covered and secure in plastic!
I couldn't wait to test it out – it felt amazing!  The top 1/2 is gel memory foam with OptiCool. A common complaint of standard memory foam is excess heat. OptiCool technology removes excess heat – this was a huge selling point for my husband. I couldn't get past how comfortable the memory foam feels. I couldn't wait to sleep on it last night.
Isn't it beautiful?!  I wish you could feel not only the mattress but the texture of the cover and sides, it is incredibly soft and textured so that even your sheets don't slid off – more on that in my next post. When our kids came home from school, they couldn't wait to check out our new mattress either. Although my kiddos aren't small, they still spend time in our room from time to time, reading, snuggling, and playing hide n seek. My 6 year old daughter didn't even want to play last night she just wanted to snuggle with me on the new mattress!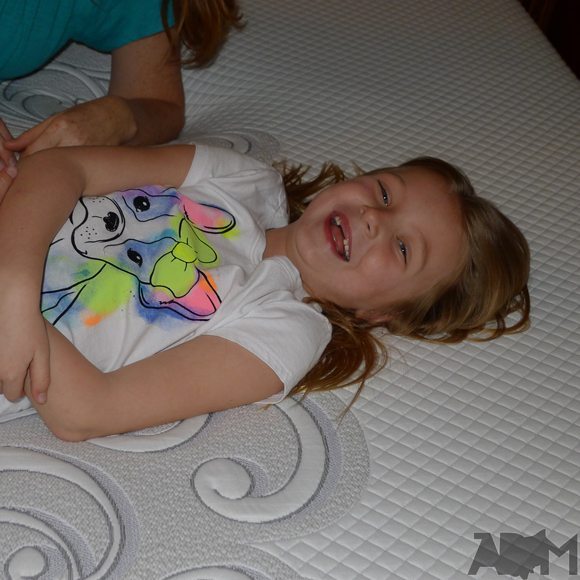 Over the past 6 months or so, my husband has been complaining that his neck hurts when he gets up in the morning, he can't get comfortable or sleep through the night. I haven't slept through the night in years really, with babies, toddlers, kids nightmares, dogs barking, puppy training, etc but didn't think the mattress had much to do with it. We are thrilled to test out the Sealy Posturepedic Hybrid Mattress to see if it provides the comfort and support it claims.
For our Facebook followers who were trying to figure out the design that I had posted, now you know what it is! The beautiful design on this mattress!
Night One
When my husband and I went to bed last night, we both commented on how amazing the new Sealy posturepedic hybrid mattress felt. It was so welcoming. My husband said he could already tell the OptiCool was providing a cooler mattress than our previous mattress already. We both fell right to sleep.
When I woke up this morning I realized that I didn't wake up one time during the night. This is very odd for me as I normally wake up several times during the night. I blame it on hearing everything but now I'm wondering if it was because my old mattress didn't provide enough comfort and support. I felt so refreshed, so alert, and so awake this morning. Normally, I just want to go right back to sleep.
Meanwhile, my husband promised to help me get the kids ready for school in this morning when we went to bed. However, he claimed that "the mattress so was comfortable that I couldn't possibly get out of bed, it was sucking me in." So, yea, he had a good night's sleep as well!
There are so many elements and features of the new Sealy posturepedic hybrid mattress that I can't wait to share with you, all of which is what provides the comfort and support that we started experiencing last night. I will go into those details in my next post, for now, it is 11pm and I believe my new mattress is calling my name….
You can buy a Sealy Posturepedic Hybrid Mattress in the Akron, Ohio area at Levin Furniture, Mattress Matters, Ashley Furniture HomeStore, and Fish Furniture starting at just $1299. Find your local retailer here.
This was not a paid post. My own opinions were used based on my perceptions and experience. Thank you to Sealy for their ongoing relationship with AkronOhioMoms.com. Check out the great selection of products at www.Sealy.com. Learn more on the Sealy Facebook page.