Now that Spring has arrived, I've got the cleaning bug! How about you? I want to clean away the winter of dirt and grim from my house and get it fresh and clean. Spring cleaning a must, especially in my house with 2 busy kids and a hairy dog. I clean daily but there are some projects that I don't get to weekly or even monthly. Spring is the perfect time to freshen up the house! Here are my tips on how to spring clean with just a few simple products.
This post is sponsored by Kimberly-Clark and The Motherhood. I tackled my Spring Cleaning with these products!

Start Spring Cleaning with a Clean House
The key to Spring Cleaning for me is to start with a clean house. Huh? What I mean is to not start a huge new cleaning project when the weekly and daily cleaning is not complete. If you start deep cleaning while daily cleaning isn't complete, you'll quickly become frustrated and not get anywhere.
Start Spring Cleaning by adding one or two additional project cleanings to your daily or weekly cleaning schedule.
Spring Cleaning Base Boards
One major item on my Spring Cleaning list are baseboards! I don't know how they get so messy but they do.
I tackle them with a mild cleaner and Viva® Vantage® paper towels.  I can scrub away the built-up dust and grim easily without wasting too many paper towels because Viva Vantage paper towels are tough – they work more like a terrycloth than an ordinary paper towel because they are thick and have a built-in scrubby texture.
If you don't have time to clean your entire house of base boards at one time, start with just a room or two.
It amazes me how much clean baseboards can improve the look and feel of an entire room!
Spring Clean Your Cabinets
Now is the perfect time to spruce up your kitchen cabinets. If yours are like mine, they quickly become a mess, especially by the garbage can, sink, and oven.
It is recommended to just clean with a mild solution of laundry or dish detergent. Use about 1 cup of detergent to 2 cups of warm water.  I added the solution to a spray bottle to make sure I got into all the grooves of my cabinets – which is where all the dust gathers!
I wiped away the solution and mess with a Viva Vantage paper towel. These towels are so tough, I only used one for this entire cabinet, rinsed it out, and started on another!
If you find this simple detergent solution isn't effective enough, try using vinegar and water. If that isn't doing the trick, try using baking soda and water or a product like Murphy's Oil Soap.
When in doubt if a cleaning solution will harm or leave a build up on your cabinets, it is always best to test a small area of your cabinet before cleaning all of your cabinets. It just took a couple minutes to get my cabinet sparkling clean.
Spring Clean Your Microwave
There are endless projects to clean in the kitchen but the most-used appliance is probably your microwave.
Do you have stuck-on 'who knows what' in your microwave like mine?
I have a super easy Spring Cleaning life hack for you! Take a Viva Towel and soak it in water. Place in your microwave for 2 minutes. Take another Viva Towel, fold it and place on top of the HOT wet towel and easily wipe away the mess.
I promise, it will all come clean without the use of elbow grease! The 2nd towel is just to keep your hand from getting too hot from the hot paper towel. I even rinsed the paper towel out and used it on the microwave plate to clean it.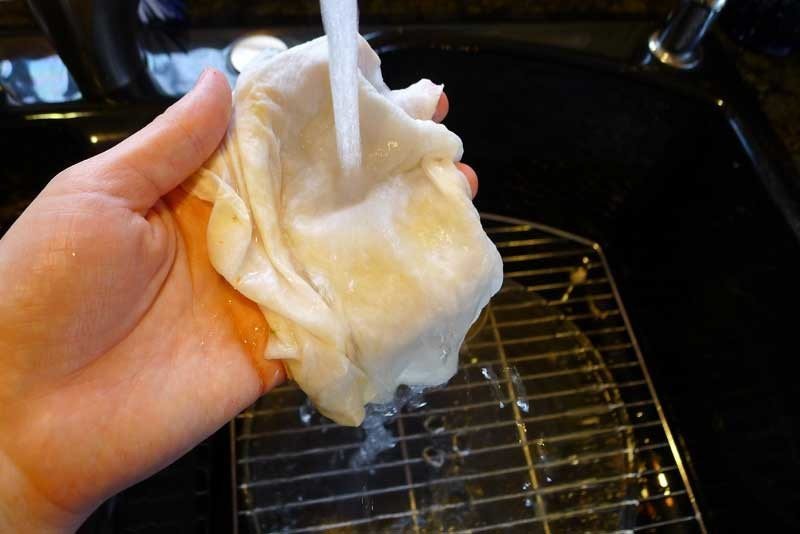 This is what one Viva Vantage looks like after cleaning an entire microwave.
OR, you can pour 1/2 cup of water with a little lemon juice in a bowl and microwave on high for 3 minutes. Use a Viva Vantage towel to wipe the mess away.
Spring Clean Faucets
A quick Spring cleaning job that will make several rooms in your house shine is cleaning faucets.
Faucets are used many times daily – at the bathroom sick, kitchen sick, utility sinks, and showers. Faucets get wet and sometimes soapy multiple times daily – over and over. No wonder there is a nasty build-up of film.
Spring cleaning is the perfect time to get your bathroom and kitchen faucets looking new again. I use the Viva Vantage paper towels because the scrubby texture polishes away the grime, leaving behind shiny faucets. You can rinse and wring out to use on more than just one faucets because of the texture of these paper towels.
I love how it makes faucets look new again in just a few minutes, without harsh chemicals.
Spring Clean Your Car
After a Winter of transporting kids to school, sports, and road trips, our car received a much-needed Spring Cleaning this week.
Spring cleaning is a great time to get the whole family helping, even kids.  My kids are 9 and 11 years old, so they are actually a lot of help when it comes to cleaning. Adding a couple extra dollars to their weekly allowance helps too!
My kids enjoy spraying glass cleaner, so they cleaned all of the windows inside and out. We used mostly used Viva® Towels because they are durable and great for all surfaces, especially delicate surfaces like glass windows and dashboards as well as counter tops and coffee tables in the home.
I had both Viva Towels and another ordinary paper towel on hand. My kids were seriously fighting over Viva Towels because they are softer and last longer. My son literally said that "Viva Towels aren't like paper towels, they are like real towels". He didn't even know that I was preparing this post to talk about paper towels! If an 11 year old boy can tell the difference, you'll really see the difference.
Speaking of Viva brand paper towels, they are my go-to paper towel because of their soft and smooth texture and thickness.
You can clean all sorts of things this Spring with this Viva Towels and Viva Vantage Towels, including bathroom counters, stainless steel appliances, stove tops and even outdoor items like patio furniture – everything needs a little Spring Cleaning TLC in my home.
Stock Up this Spring
My biggest pet peeve is running out of essential items at home, like toilet paper. I seriously get stressed out when we start to run low. I always shop at Walmart for household essentials because they have all the brands that I trust and the best prices.
I've been stocking up on Cottonelle® and Scott® 1000 this Spring for all of our bathrooms. For our full bathrooms, I choose Cottonelle. Have you tried it? It is a reliable toilet tissue that is actually designed to clean better than other toilet tissue because of the CleanRipple Texture.  I'm glad that someone's job is to design a toilet tissue that works better to keep our families cleaner.
For our main guest bathroom, I stock up on Scott 1000 toilet tissue.
I first learned about this brand from my mom. She was always tired to changing the toilet tissue roll and found that Scott 1000 has 1,000 sheets per roll! The one thing that you never, ever want to run out of is toilet tissue in your guest bathroom!
Start Spring Cleaning
I hope you've found my advice on Spring cleaning helpful and even inspiring. Head over to your local Walmart to find great deals on all Viva, Cottonelle, Scott, and other cleaning products to get started. They have all of the necessities to create a home that's spic and span.
I've created a Spring Cleaning Pinterest board to get me on track for cleaning hacks, checklists, and other ideas to keep me inspired to not miss a thing. Check out these tips from Kimberly-Clark as well.