Are you an expecting mom or do you know one? I sometimes struggle with what to gift a mom who's not having her 1st child. BumpBox is great for 1st time and veteran moms! It's a great shower gift or just a congratulations on your pregnancy gift.
What's a bumpBox?
BumpBoxes are boxes filled with goodies for baby and mom. Each box is Hand picked and will vary from person to person based on a small simple questionnaire. It's easy to gift too. Even if you are unsure of mom's likes the boxes are designed to keep that in mind.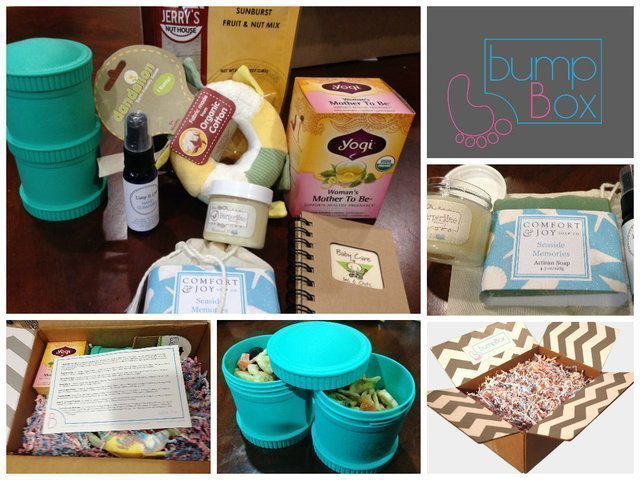 My bumpBox
I received a bumpBox plus and was pleasantly surprised by what was in it.  A pocket sized baby care journal: Keep track of your new baby's sleep and intake/out put with this tiny journal. It's made in the USA and printed in soy based ink on recycled paper ($5.95).  Yogi Woman's Mother To Be Tea is an organic raspberry leaf tea. I drink tea daily so I am thrilled to have a new flavor to add to the mix ( $4.99), Jerry's Nut House Sunburst fruit and nut mix 8 oz., Sometimes I don't feel like eating a full meal so having a healthy tasty snack is great for me. It's a delicious! 14 0z bag ($5.00).
The Snack Stack by RePlay. I can toss a snack in it, put it in my bag and know that it won't end up everywhere. Made in the USA from recycled milk jugs!($5.99), This cream made by HarperMae is all natural! I love that it has a slightly sweet smell from the ingredients but it feels good on my skin($9.00). Dandelion makes Earth-friendly goods and this organic cotton ring rattle is adorable! I love the soft colors and different textures, and that it's machine washable($9.99).
This hand cleanser by Lucy & Leo is made from essential oils. This has replaced alcohol based hand sanitizers in my purse. It has a pleasant scent that smells of cloves and lemon to me. It's safe for my kids to use too! ($9.00). Comfort & Joy soap company makes this wonderful artisan soap I received the scent Seaside Memories, it's named well! As soon as I opened my bump box it smelled of summer! ($7.00)
Different Order Options
You can order bumpBox Standard or plus, in either 1 month or 3 month boxes. One month standard box will run $37.94 ($29.95 for box $7.99 shipping). One month plus is $59.99 ($50.00 for box and $9.99 shipping). Want to give the new mom a gift that keeps on giving then consider a 3 month option,$89.95 for 3 months standard boxes and $150.00 for 3 months Plus!

Enter to Win!
BumpBox is giving one of our readers their very own Standard bumpBox. So Pamper yourself or a mama you love! BumpBox is offering  20 Coupon codes for our readers! Each of these 2 codes are only good for the 1st 10 people who use them. Enjoy! "
"AKMOMSTANDARD5" – $5 off 3 month standard subscription
"AKMOMPLUS10" – $10 off  3 month plus subscription
a Rafflecopter giveaway

This promotion is in no way sponsored, endorsed or administered by, or associated with, Facebook. In order to comply with the latest
Facebook Promotion Guidelines
(revised 5/11/11), the following statements are true:* Giveaway participants release Facebook from any responsibility whatsoever.* Giveaways on this blog are in no way sponsored, endorsed or administered by, or associated with, Facebook. * Giveaway participants are providing information to this blog and giveaway sponsors only; not to Facebook.  
30 Day Winning Rule applies.
For complete contest rules, please see our
Contest Statement
and
Blog 
Disclosure.
Contest ends at 11:59pm EST on November 21, 2014
when a winner will be drawn at random. I will notify the winners and they will have 36 hours to respond!  
This was not a paid post. My own opinions were used based on my perceptions and experience. Thank you to bumpBox
who provided the products for review
and giveaway.