Teaching my children to properly brush their teeth is an important undertaking, as it will help prevent cavities and tooth decay and encourage good oral care into adulthood. Dentists suggest youngsters brush for about two minutes each time to ensure each tooth is cleansed of residue. I used to set out a timer to help my preschool-aged daughters devote the proper time needed to brush their teeth thoroughly. That was until I discovered an even better and more exciting method.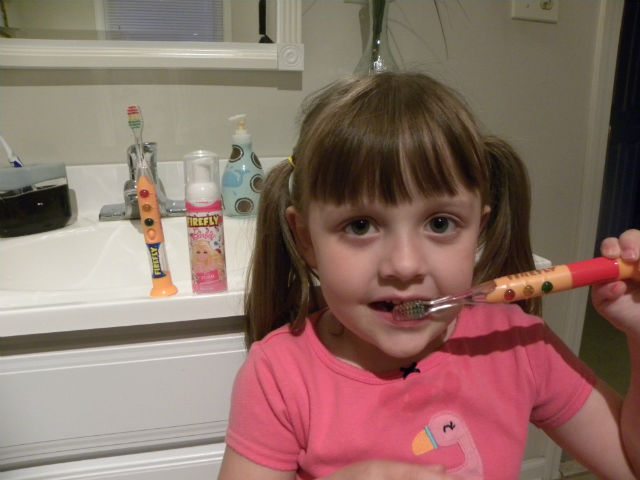 Firefly Ready Go Brush – a Light-Up, Timer Toothbrush
We recently received the Firefly Ready Go Brushfor this review post. This toothbrush was designed so kids know how long to brush. The Firefly Ready Go Brush actually has my girls excited to brush their teeth each morning and night. The toothbrush features a stop light. When you activate the brush, it flashes green for "go." When they see green, my girls get their Firefly toothbrushes moving up and down and all around their cute little mouths! After 30 seconds, the light changes to yellow, signaling the little user is half way done with the brushing session. When the light turns red, it is time to stop brushing. It is recommended that a child focus 60 seconds on brushing their top teeth and a second 60 seconds on the bottom row.
We just adore the Firefly Ready Go Brush. Each toothbrush contains a suction cup bottom to hold it upright, just like a real traffic light. I found this is great way to ensure the battery-operated toothbrush dries and stays germ free. I strongly recommend the Firefly Ready Go Brush to other moms whose children are very lack luster when it comes to the chore of brushing their teeth. This entertaining toothbrush really makes it exciting to practice proper oral health care!
My oldest daughter especially loves using the Firefly Ready Go Brush in the dark.
Green means "go!"
Time is up!
Firefly Fluoride Foam Toothpaste Also is a Hit
Firefly also offers fluoride foam toothpaste. We also received this item to review. The girls loved how easy it was to put the foaming toothpaste on their own brushes and were highly satisfied with the bubble gum flavor. I especially approve of this toothpaste because it does not glob and create clumps in the sink.
Firefly toothpaste and toothbrushes feature numerous characters to appeal to boys and girls of all ages. These characters include Angry Bird, Barbie and Spiderman. Firefly is a Dr. Fresh brand, along with Binaca, Aim and Absolute White.
Like Firefly on Facebook
Follow Firefly on Twitter
Purchase Firefly Ready Go Brush and Foam Toothpaste
Purchase a pack of six Firefly Read Go Brush toothbrushes on Amazon.
A six pack of Firefly fluoride foam toothpaste also is available on Amazon.
 This was not a paid post. My own opinions were used based on my perceptions and experience. Thank you to Firefly who provided the products for review.