I enjoy family photographs. When I visit someone's house, my eyes go straight to their family portraits hung on their walls, not other "art" hung on walls. I just love seeing how the photographer captured that family in a photo. We recently had the privilege of having our family portrait taken at Stan Hywet Hall & Gardens by a phenomenal Akron photographer, Bruce Gates. The value of a great family portrait or any favorite shot is lived out at its fullest when presented on canvas. My first thought of having our portrait on canvas is that it would be too expensive. I'm excited to tell you about Canvas People, they offer beautiful canvas prints at low prices you can afford.
Hands on Review of Canvas People
For this review, we have an 11×14 canvas. It is a nice size that is easy to frame, however we have yet to frame it. It is actually nice alone. I feel that it will be even more impressive once we frame it. I envision this canvas being in our family room or possibly the entry of our home, both of which have not yet been remodeled. I am waiting to frame this until I know what the style of those rooms will be. For now, our canvas is hanging in our upstairs hallway with other family photos, it is one of our only non-kid rooms that has been remodeled so far in our Total Home Remodel project.
It is beautiful. Photographing a canvas isn't the easiest and you cannot appreciate the quality or the feel of the finished product adequately. I'll try though. Below is a close up of just my kids, don't they look adorable!? Notice how this looks like an oil painting on canvas?
To me, this canvas says a "lasting" and quality photo that will be cherished much more than a traditional print. It is something to be admired while walking by. I just love it. It would be even more impressive as a 16×20 or 18×24 as a centerpiece in the family room, maybe that will be what we do for our family portrait next year. Our family room should be complete by then.
Just remember that the canvas will be wrapped on all 4 sides. It makes for a nice finish, especially if you want to hang as-is without a frame. However, be sure your image is large enough and doesn't cut off too much. I probably should have paid a little closer attention to this myself, but our results were fine even though I didn't.
How to turn a photo into a Canvas
If you have never purchased a Canvas print, don't worry, it is super easy with Canvas People. The 1st step is to Simply select a photo that is special to you. You can make a canvas of  a family picture, kids pictures, artwork (kids artwork is amazing on canvas as a keepsake), family pet, car, events, vacation, or even your company logo for business decor. Choose your size from 8×10 to 18×24. Canvas People will help you to determine if your photograph is the right resolution for each size so there are no surprises. That's it! Simple enough, huh?
Frame your Canvas. You can also order a frame for your canvas starting at just $14.95. The Canvas comes wrapped on all sides for a really nice finish. Just remember that the canvas will be wrapped on 4 sides, so be sure there is enough space in the photograph that won't cut off important parts of the photo, like your head.
Get creative and artistic with your canvas. The Canvas People team can deliver artistic styles that really changes the mood of your photo to fit your need and decor for the room it will be showcased in. Choose Pop-Art for an ultra-fun canvas. Choose Photo Enhancement if your photo needs a little TLC such as being restored, colors balanced, reduce red-eye, etc. Create a timeless piece with a Sepia tone added. Or give your photograph a classic photography look by changing it to Black & White. Enhancements start at just $9.95.
Buy Canvas People Canvas with AkronOhioMoms Coupon Code!
Canvas People offer prices that you won't believe.
8×10    $29.99
11×11  $38.39
11×14  $38.99     Most Popular!
16×16  $47.39
16×20  $53.39     Best Value!
18×24  $59.39
Plus, they are offering a spectacular special for AkronOhioMoms.com. Why? Because you are the best moms in the country? You are! However, this incredible Canvas People coupon code for $25 off plus free shipping is because they know the quality of their product will bring you back again and again. Once you buy your first canvas from Canvas People, you will love it, order again and tell all of your friends. I love companies that are that confident in their product!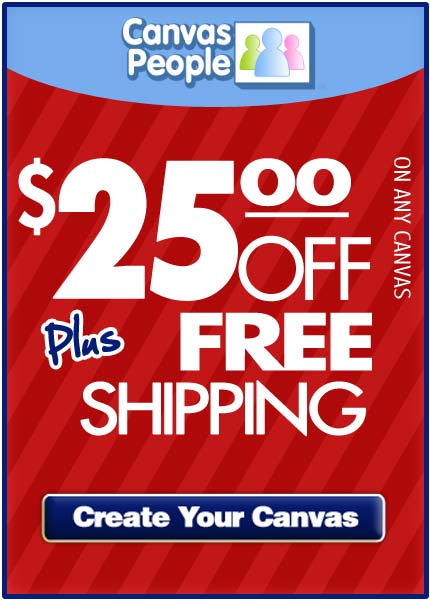 This was not a paid post. My own opinions were used based on my perceptions and experience. Thank you to Canvas People who provided the product for review.