Do you find it hard to unwind and fall asleep at night? My days are full and followed by a non-stop evening once my kids are home of cooking dinner, cleaning up, helping with homework, getting lunches ready for the next day, getting my kids to bed and then blogging for a couple hours. By the time it is bedtime for me, my mind is racing while my body is exhausted. What is worse than being tired and not being able to fall asleep?!
I was recently introduced to iChill, an all-natural relaxation shot to help you unwind and fall asleep fast so you will be recharged the next day. By getting more rest at night, you may not have to use those energy drinks and loads of coffee in the morning.
iChill Commercial

iChill Relaxation Shot Review
iChill is not a sleeping pill. That was my biggest fear. My husband wanted to try the iChill and so did I but I was afraid of how we would react to it and didn't want us to take it at the same time. My husband woke up the next day and said it really helped him relax and fall asleep faster.
I have only used sleeping pills a couple times and each time I was completely zonked out. This is not what a mom needs when she needs to attend to babies in the middle of the night! So, I was concerned about the iChill Relaxation Shot – even though my kiddos are older now.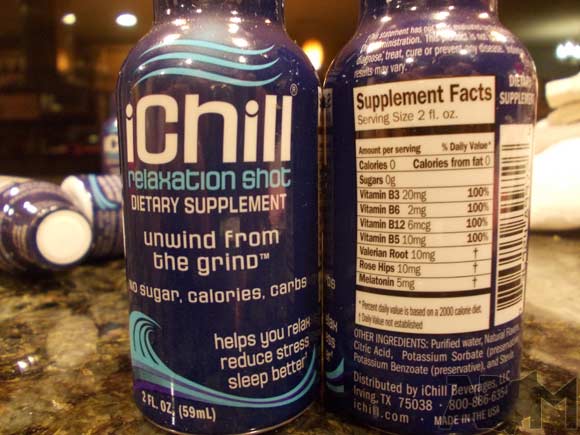 iChill is NOT a sleeping pill and doesn't have the same zonked out results. With iChill, I felt more relaxed within the first 1/2 hour and felt ready to sleep, not like I had to pass out. iChill helped me drift to sleep. For me, it helped the thoughts of the day and plans for the next day that race through my mind when I lay down at night to fade away. I slept soundly all night but didn't feel like I had been in a coma overnight. I heard a noise that awoke me during the night – as I always do, I hear EVERYTHING – but I was able to fall right back to sleep. I feel very comfortable with using this product while still being alert enough to hear my kids if they need me.
What is in iChill?
So, what is in iChill that helps help people unwind?  It is a natural blend of Melatonin, Valerian root, Rose Hips and B Vitamins. It has no calories, no sugar and no carbs.  The 2 ounce relaxation shot has a good taste, so it is easy to take and starts working within 30-40 minutes. Check out the label yourself to see all the natural ingredients in iChill.

iChill has been featured on Good Morning America, The Today Show, The View, and in People, The Washington Post, the New York Daily News, and AkronOhioMoms.com. 😉 Of course, check with your doctor if you have any medical concerns before using iChill or any other new product.

Buy iChill Relxation Shot
You can buy the iChill Relaxation Shot nationwide at CVS Pharmacy, Walgreens, Wal-Mart, 7-11, TJ Maxx/Marshalls, Exxon/Mobil, Smoothie King, Barnes & Noble college stores, Harris Teeter grocery, and on Amazon.com.
This was not a paid post. My own opinions were used based on my perceptions and experience. Thank you to iChill who supplied the product for the review.