Are you the type of person that sticks with the same product because it works and you are comfortable with it? Or are you the type that likes to try innovative products? I'm a little bit of both. I purchase brands that I trust but I also like to try new formulas and scents. One such brand is all laundry detergent. I've used it for years, including their new formulas and scents that I'm here to tell you about today!
I received product to facilitate this post.
Have you tried the laundry pacs? They are so convenient – no measuring required! The new all POWERCORE Pacs are more than just convenient, they deliver the power of both liquid and powder in a pac that will get your clothes clean and stain free. If you have active kids, you need the stain fighting and whitening superior cleaning of these new pacs. Just like every mom, I'm always doing a million things at once. I'm often throwing a load of laundry in the washer on my way to do something else so I love the convenience of popping a pac in the washer without fussing with measuring the detergent!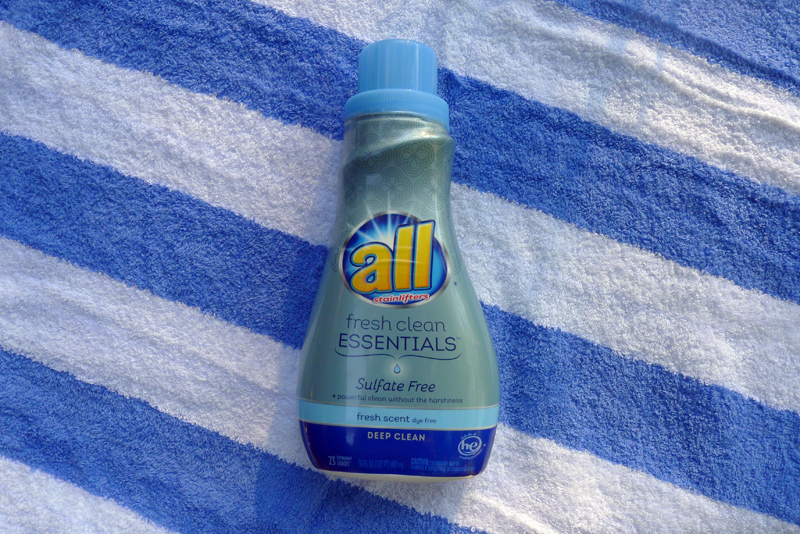 Are you a label reader? If you are looking for a laundry detergent that is sulfate free, you are going to be thrilled with the all fresh clean ESSENTIALS detergent. This product offers a deep clean without sulfates. It is 100% dye free too, making it perfect for those with sensitive skin, including children.  I've been using it on my kids' clothing, including my middle school son's stinky gym clothes and find all the clothes to be clean and fresh. No sulfates needed! I like that all is creating formulas for everyone, including the ingredient conscious consumer. You can only purchase this new product online on Amazon.com, Walmart.com, Soap.com, and Target.com.
If you want your clothing and linens to not only be clean but also have one of the season's latest scents, you have to try the all Fresh Tropical Mist. This detergent smells amazing without being overpowering. It is a refreshing tropical fragrance that isn't too girly – nice and clean for everyone in your home. I especially like washing my towels with this detergent. It makes me feel like I'm on vacation or at the spa everyone I reach for a fresh, clean towel.
Snuggle also has a couple new products that you'll want to try this season. The Snuggle PLUS SuperFresh fabric conditioner and dryer sheets includes odor eliminating technology that keeps even your stinkiest clothing fresh. The dryer sheets continues to help even those lingering odors on clothing – think stinky armpits or sweat stains!
If you love the cherry blossom scent, you'll want to check into the new Snuggle Cherry Blossom Collection that gives your laundry a boost of blooms with this popular scent trend of 2016. It reminds me of the Bath & Body Works line. It is the perfect way to freshen, soften, and control static cling with a beautiful scent.
Check these new products out to update your laundry for a better clean. Let me know which is your favorite when you try them.