For special holidays like Valentine's Day, my husband and I often like to purchase a "together" gift, something that we will both enjoy longer than a box of chocolate. Items like a new dishwasher wouldn't count because it isn't romantic. However, items like a new bedroom suite like we did many years ago does count. The master bedroom is suppose to be the married couple's sanctuary. Is yours?  Luxurious bedding does count as a romantic Valentine's Day gift.

I received product to facilitate this post.
Luxurious Bedding from NovosBed
The master bedroom should be one of comfort, not clutter. It should be inviting and restful, a place for a married couple to retreat to at the end of a busy day. It should also be lovely and romantic. Updating your master bedroom for Valentine's Day is a gift you will both treasure night after night after night.
We have had several sets of bedding over our 15 years of marriage but seem to always come back to our thick, heavy quilt because of comfort. Neither of us like the style, scroll down below to see why.
Our bedroom is one of the last rooms in our home to be remodeled, it needs a lot of work. I cannot believe how replacing our bedding with luxurious bedding from NovosBed has updated the entire look and feel of our bedroom.
NovosBed Silk Duvet
We were ready to update our master bedroom with beautiful, romantic bedding.  The NovosBed Silk Duvet is filled with 100% Mulberry Silk, offering hypoallergenic comfort for everyone.  Since silk is a natural insulator, the duvet doesn't have to be thick and heavy to keep you warm. It is amazing how light the duvet is but so warm. This doesn't mean it won't be good in the warmer months either because silk also has natural moisture wicking properties that keeps you dry.

The 300 thread count 100% cotton cover is so so soft to the touch. We have finally found a cover that keeps us warm and comfortable that is also beautiful to retreat to at night – unlike our old comforter.
NovosBed Pima Sheets
We also updated our master bedroom with Pima Sheets from NovosBed. Nothing helps you fall asleep faster than amazingly soft sheets – except for a great bed! You may recall my article earlier on the Novosbed Memory Foam Mattress and how it solved all of my son's sleeping issues, he is still sleeping like a baby on it.
I have never owned 600 thread count sheets, they are so luxurious. I could immediately tell the difference the first time I fell asleep with these sheets.
They are soft like silk but not slippery.  NovosBed Pima Cotton Sheets are made from 100% USA-grown long-staple pima cotton. Long-staple cotton guarantees that it will be more durable and last longer than other sheets. Pima Sheets will last for years while still retaining the softness that makes them irresistible.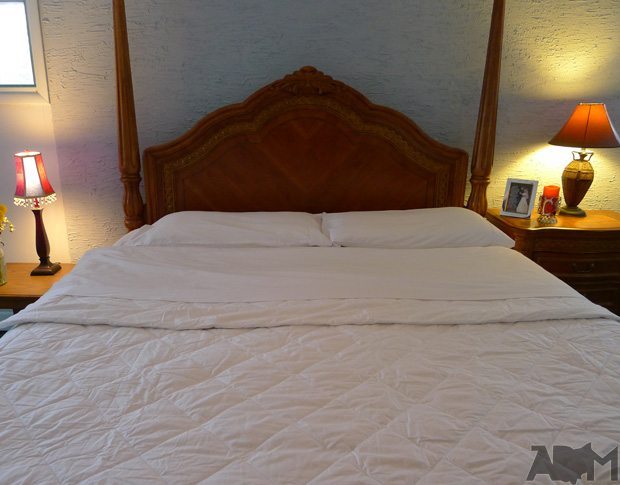 I couldn't be more pleased with the comfort and luxurious feel of both the Pima Sheets and the Silk Duvet from NovosBed. It has made a remarkable difference to the look and comfort of our master bedroom.
Check out our ugly comforter and room before our NovosBed luxurious bedding update.
Check out the after photo!
It completely changed the atmosphere of our master bedroom. Although our room has plenty of remodeling necessary, like removing the nasty stucco walls and green shag carpet, with luxurious bedding, it is now a restful retreat.
The good news is that it is not too late for you to order your own NovosBed Pima Sheets and Silk Duvet as a Valentine's Day gift! Surprise your spouse with a romantic gift that will last years to come. Your order is shipped within 1 business day. Plus, it ships FREE. You will receive your items within 2-10 business days.
Like NovosBed on Facebook
Follow NovosBed on Twitter
This was not a paid post. My own opinions were used based on my perceptions and experience. Thank you to NovosBed who provided the product for review.