Wave hello to petunias on this first day of Summer! The Wave Petunia is the one flower that is always spectacular whether potted or in landscapes. I just love the mounds and mounds of flowers this brand produces effortlessly summer after summer at my home.  I had the opportunity to check out the NEW Easy Wave Yellow Petunia as well as the gorgeous purple and pink. They feature strong rooting systems with better branching so it will spread and trail for gorgeous pale yellow color, purple, and pink throughout your gardens and pots.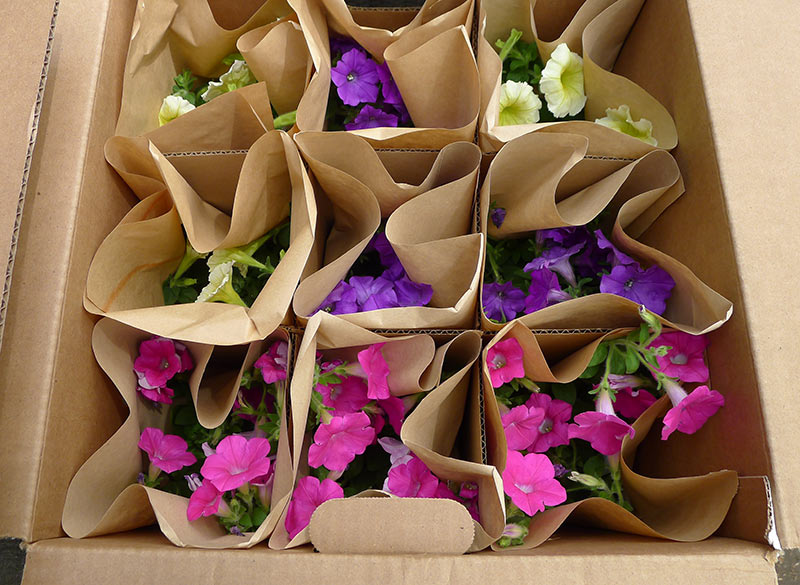 The Wave Yellow Petunia is gorgeous with the Petunia Shock Wave Denim and Rose varieties as well.   I love this lively combination, in fact, I like all three of these colors alone or paired together. Since I don't have much sun in my yard, I planted all of my Wave Petunias in pots to have on my front patio. I'm excited to see how they grow and fill up the pots this summer. I like that it will had life and lots of color to our patio all season long.
Wave Petunias are so easy to plant. You don't want to plant them too close together or it will crowd your pot and not grow well. Trust me, start with just a few plants, depending on the size of your pots. Wave Petunias like plenty of sunshine, medium amount of water (I water my potted plants daily), and fertilized ever couple weeks. Don't forget to dead-head all of the wasted blooms too for a pretty display of flowers all summer long. Don't forget to deadhead fading flowers for beautiful blossoms.
We are also checking out the Pan American Seed Candyland Red Tomato plants this season.  It looks similar to a cherry tomato, it is part of the currant variety.
The Candyland tomato promises high yields of tiny, red tomatoes.  Pan American are the growers of award-winning flowers and vegetables, so I am excited to see how this tomato plant compares to the ones I bought at our local gardening store. You can purchase Pan American seeds online.
I love trying new types of flowers and plants each season. Have fun gardening this summer!