Do you ever find a product that you get so excited over that you use it everywhere you can think of until the bottle is almost gone?! That was me today with my bottle of the new Woolite INSTAclean pet stain remover. This amazing stain remover tackles and removes tough stains like tomato sauce, motor oil, fruit juice, foundation, coffee, and more. I know it works because I've been using it all day! Above, you see 5 clean carpet squares. Below, you see 5 dirty carpet squares. The difference is Woolite INSTAclean and about 30 seconds!
This is a sponsored post.
It took just 30 seconds to clean those tough stains off of these carpet squares. 30 seconds! Can you believe it?  I just sprayed Woolite INSTAclean pet stain remover on the stains, waited 30 seconds, and blotted away the caked on tomato sauce, thick motor oil, fruit juice, heavy foundation, and coffee. I don't know how long the stains were on the carpet squares – at least 3 weeks – but they came off instantly and without scrubbing. 
Look at the gross stains on my towel – better there than on carpet!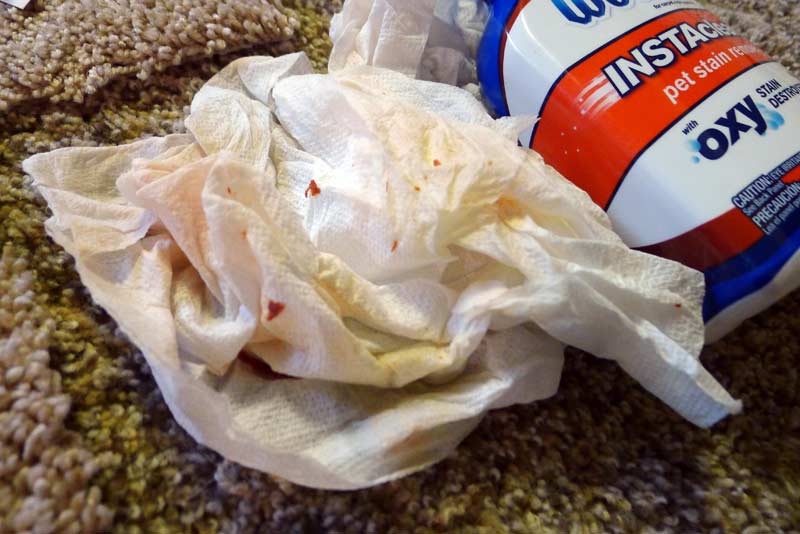 If you have kids or pets, you are sure to have stains here and there on carpets and upholstery.  You need to try this new Woolite INSTAclean pet stain remover. It uses the power of oxy to destroy stains, even tough stains that you didn't think would ever come out like tracked-in dirt, mud, red wine, vomit, food, and dog messes including urine and feces.
If you have a dog, you know there are going to be nasty accidents, especially when they are puppies. Most cleaners get the surface stain off but not where the stain soaked down to the padding. That is why you have stains that seem to just come back over time. INSTAclean is unlike ordinary cleaners, it penetrates the stain at the source, lifts it, and removes it once and for all. Plus, it eliminates tough pet odor and discourages pets from re-soiling the same area again.
Do you get spots on your carpet like I do? It is so annoying because I don't know what is causing it. Our stairs is a prime example. They have dark, annoying spots all over them.
I started off with the worse steps and ended up doing every single step because it was so easy and so effective! Seriously, I just spray and 30 seconds later the stains are gone!
Just look at how dirty my stairs were! Yuck!
I have about 1/2 a bottle left after doing my stairs and several other spots throughout my house. It made such a remarkable difference and left my home smelling fresh and clean.
You can purchase Woolite INSTAclean Pet Stain Remover on the Woolite website, at retailers nationwide, and on Amazon.com.