We've all driven by the Ronald McDonald House by Akron Children's Hospital. We all know they offer support for families with critically ill children at the hospital. Maybe you've dropped your change in the box at the McDonald's drive thru too. That's about all we know about the charity unless we have a friend or family member that has been impacted directly. Today, I'd like to introduce to you. This local mom is here to tell you how Ronald McDonald Charities has impacted her family. Read on below to see how McDonald's is making it easier than ever for you to support our LOCAL Akron Ronald McDonald House with purchase of Sleeves for Support!
Weigand Family Shares about Ronald McDonald House
If you are local, you know Emma. She is the local Norton, Ohio teen that suffered a severe asthma attack at homecoming in 2019. She has been through and overcome incredible health obstacles and working harder than any of us could imagine. She has the prayers of the entire area and beyond. What a story of bravery and perseverance.
Today, we are chatting with her amazing mom, Christina Weigand on how the Ronald McDonald House has been there for them during this unimaginably difficult time for her family.
"On 10/19/19, my daughter suffered a severe asthma attack while at homecoming resulting in an anoxic brain injury. She was at Akron children's hospital PICU & after a few days there, realizing that we were going to be there for awhile, one of the nurses suggested the Ronald McDonald House of Akron to us. She told us that they provide a place to sleep at the most, take a shower at the least, but be close to our daughter." Christina Weigand.
Many of us don't know much about the Ronald McDonald House, please share what they have done for your family.
"The Ronald McDonald house has provided us with what we need at the most devastating time of our lives, the ability to be near our daughter. It also has the comforts of home, like a personal shower, a bed, & a meal. The volunteers are incredibly nice and always so supportive and understanding of our situation as well which provides some much needed support."
"Initially, we were opposed to leaving our daughters bedside but as the days went on, we needed to get some rest & take a shower. As we realized this wasn't going to be a short hospital stay, we changed our mind. The Ronald McDonald house provides all those things and more. We have a place to bring our other children to so they could stay close to us and not feel like they were separated. We spent holidays & birthdays there and the staff provided a conference room so we could have a surprise birthday party for my boys as well as Christmas dinner."
"We were surprised at how well The Ronald McDonald house had planned for things that I would've never expected like having a laundry mat WITH laundry detergent. They have kitchens with food for us to provide meals for our family. I know it sounds silly but we never left the hospital grounds for months so we wouldn't have thought of these little things that made life easier during a difficult time." Christina added, "They provide blankets for kids that volunteers made. Slippers, toiletries, hair dryers, games, reading materials, computers, a family lounge area, your own pantry and refrigerator, presents for all of the birthdays & holidays we celebrated."
They think of everything, including a ride to the hospital which is extra appreciated when it is raining or snowing!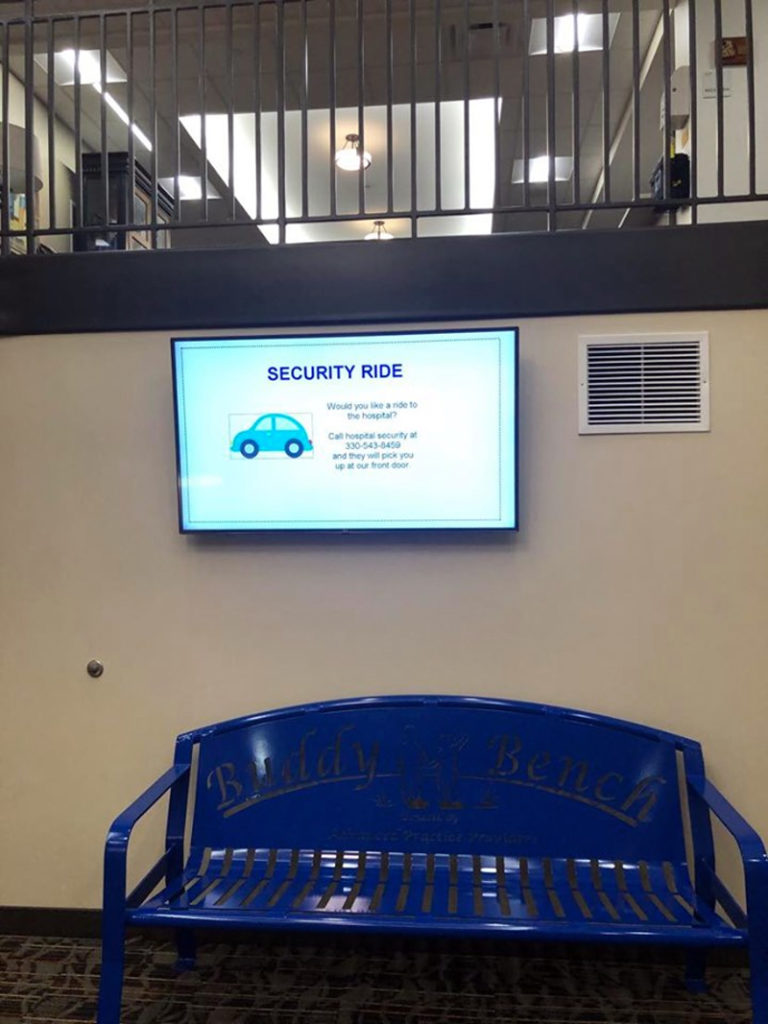 They think of everything to keep families close to their loved one at Akron Children's Hospital while keeping the entire family unit close and together as well. Local businesses also donate their time, admission and special events including places like the Akron Zoo, Urban Air, and Gavin Scott Salon & Spa.

How has Ronald McDonald House impacted your child? Did she feel better knowing you were near? Are you able to see her more often? More rested mom?
"I feel like my daughter was able to thrive because she knew we were there 24/7 for her because we never had to leave her side. We were rested because we had a place to sleep which in turn has helped us to be more present for Our daughter and her care."
Have you become friends with other families, volunteers, etc that you would like to share?
"We have had the wonderful opportunity to meet some of the most incredible families & volunteers through the Ronald McDonald house. There is comfort in finding someone who knows what you are going through with your child in the hospital and those families there know what you're going through and you create a bond with them that is for a lifetime."
What is the biggest take away for you about Ronald McDonald House?
"The comfort of knowing we don't have to leave our daughter alone at the hospital."
Is Ronald McDonald House a worthy place for people to donate their time and resources to?
"Absolutely! The Ronald McDonald house has been a life saver for our family. It provides all the comforts of home for those who need it most. I know that there are other charities out there that are more known but Ronald McDonald house changes lives for families with children in the hospital and they are so deserving of every donation."
We continue to pray for Emma and her amazing family during this truly difficult time.
Sleeves for Support Benefits Akron Ronald McDonald House Chartities
Many of us are looking for ways to help families like the Weigand family. With the virus, volunteering opportunities have dwindled. I don't know about you but I still want to do good and help others even if I can't be there in person. McDonald's is making it easy to support this awesome charity that helps LOCAL families in the Akron area like the Weigands at the Akron Ronald McDonald House!
Stop by your local NE Ohio McDonald's to purchase a branded McDonald's Coca Cola Koozie for $5. Not only will it keep your large soft drink colder longer but all sleeve sales go directly to support Ronald McDonald House.
During the quarantine, I couldn't wait to stop by McDonald's again for an ice-cold Diet Coke. There isn't anything like it. It is a treat that my kids and I really enjoy. Now that the quarantine is over and it's been a super hot summer, we've really enjoyed our large 30 ounce Diet Cokes while running errands, going to the park, taking road trips, and even berry picking!
These koozies are super fun and keep our drinks colder longer so we can enjoy our hot summer outings or sitting in your backyard while still having an ice-cold refreshment within easy reach!
Last year, Ohio McDonald's raised $103,400 for RMHCs across the state with this fundraiser. Let's do our part to help families like Weigands by stopping by our local McDonald's and purchasing a few koozies as well as dropping our extra change in the donation container or asking to Round Up your total at the drive thru or counter.
You will also have the opportunity to Round Up for Ronald McDonald House Charities for a limited time. Instead of dropping your change into the box in store or at the drive through, round up you price of your meal to support this worth-while charity. You won't miss your extra change (isn't there a change shortage anyway!?) but local families that are going through some pretty rough situations with children in the hospital will defiantly appreciate your small donation as it allows them to stay close to their babies. There are volunteer opportunities at our local Ronald McDonald House too.
RMHC of Northeast Ohio and McDonald's work together to keep families close and provide support, comfort and consistency they need during difficult moments.