I drive near I-271 and Route 303 in beautiful Peninsula often enough, and I keep seeing this house on the market and then off the market.  For whatever odd reason it intrigues me, and I've had to hold myself back from crashing one of their open houses (I've been known to do that).  Is it my desire to be in someone else's business?  Is it my matched hatred of Open Houses and Showings that gives me a sense of comradery?  Or am I a sucker for front porches?  Either which way, I'm looking!
I love the addition with the wrap around windows.  Because of the setting and pretty much lack of neighbors- all you have is nature to see!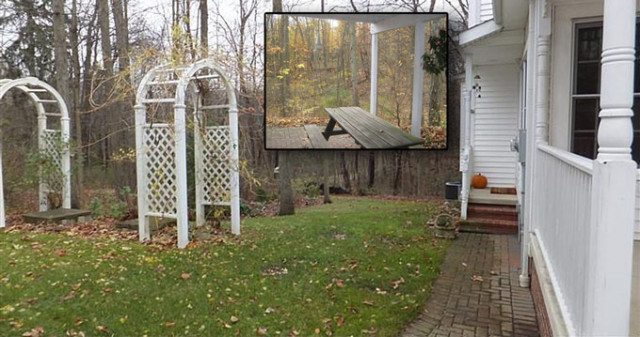 There is only so much you can do with a yard that is inviting to deer.  From the images here however it looks like there is an excellent start with plenty of outdoor hard surfaces on which to grow a patio.
Address: 2380 Main Street, Peninsula, OH
Regarding me and basements- I've NEVER had a good one.  Our first house was on a concrete slab, our second house was unfinished for the longest time, and my current house is built on a concrete slab too!  Oh well, I could always dig one… Or buy this place, lol.
Looks like there is plenty of room in this master bath, and a cute window that offers privacy from the peeking woodpeckers outside.
House Specifications
3 Bedrooms
4 Baths
3 Car Garage
3,465 square feet
2.07 acres
House Built in 1999
This looks like a great party house!
Seriously, front door outdoor living is the only way to show grandparents that their grandkids really really want to see them as they hang out on the rocker WAITING in anticipation!
Change the couch!  And what's with the elephant bookends??  Thankfully, I assume these are not included in the price of the house!
This was not a paid post, this was not a sponsored post, I did not receive a free house in trade for posting about this one.  I'm just seeing if my readers are interested in real estate!
What is the price on the house?
[sociallocker id="48710″] As of the date of this article, this house was on the market for $349,900.
The agent for this house is Candy Forrer, and her telephone number is (330) 819-3343, her site is here. – If you do decide to call her, please let us know below with a comment- it will help us out align the direction of this website for our readers tremendously!!
[/sociallocker]