There is nothing like a warm, gooey grilled cheese sandwich. Kids and adults alike love it. Dress it up with summer fresh vegetables, herbs, and fruits for a designer grilled cheese experience that is perfect for serving at your next get together. Check out this mini grilled cheese made with Heluva Good! Pepper Jack block cheese, jalapeno slices, red onion slices, and garden fresh tomatoes served with ciabatta bread. More flavorful combinations to tempt every palate below!
This post was sponsored by Heluva Good! Cheese as part of an Influence Central campaign and all opinions expressed in my post are my own.
Or…try one of our Mini BLT Grilled Cheese Sandwich Appetizer with all the flavor of a BLT with the brilliant addition of hot, melty Heluva Good! cheese!
These crowd-pleasing appetizers are a hit with everyone – whether you serve it at your next get together or as a quick lunch or snack at home. Below, I have 6 Mini Grilled Cheese Sandwich Appetizer recipes made with a variety of fresh ingredients that I either purchased at Walmart or grew in my own backyard! Try them all or pick a couple to serve to your family and/or friends this week.
My son loves the Mini BLT Grilled Cheese with Heluva Good! Pepper Jack cheese, avocado, and spicy mayo combination.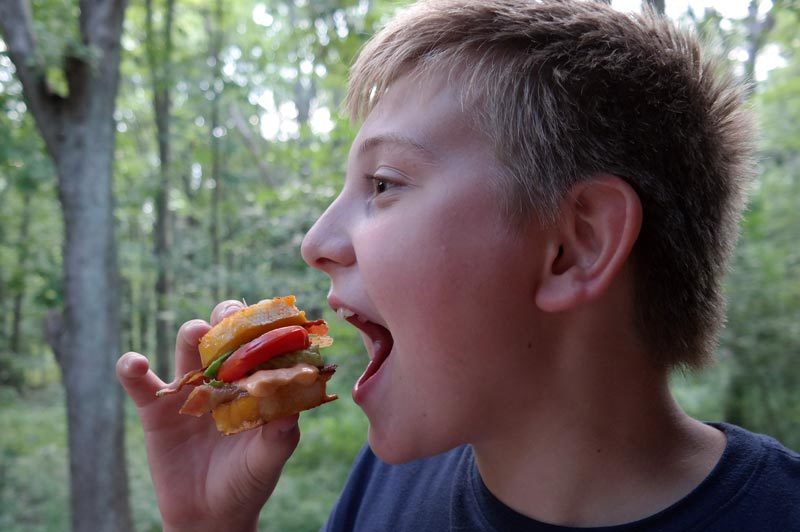 My daughter prefers the Mini Grilled Cheese Sandwich with Heluva Good! Colby Jack cheese, fresh peaches, basil, pesto, and balsamic glaze. What flavor!
For the best grilled cheese sandwich, you need to start with delicious, flavorful cheese. I start out with Heluva Good! block cheese that I readily find at Walmart at great prices. Cheese is always a crowd pleaser at meal-time and parties. I know that when I serve something with good cheese that it will get rave reviews and recipe requests. I nearly always take a cheese-based recipe to parties because I know people will enjoy it!
Heluva Good! has a great assortment of cheese flavors including:
Colby Jack
Pepper Jack
Extra Sharp Cheddar
Sharp Cheddar
White Extra Sharp Cheddar
White Sharp Cheddar
White Mild Cheddar
Muenster
Monterey Jack
Special Reserve Extra Sharp Cheddar
Colby
Mild Cheddar
You may not find all flavors at your local Walmart but you are sure to find several that your family will love. My son likes everything spicy and enjoys the Jalapeno Jack flavor best – even if his mom asks him to snap a picture in the store! 🙂
My daughter's favorite Heluva Good! cheeses are milder in nature like their Cheddar and Colby cheeses. Since my kids are Type 1 Diabetics, we have several cheese blocks in our house at all times. It is a healthy, zero-carb, gluten free snack.
Our local Walmart is now offering a serve-yourself bin of fresh baked breads including mini-baguettes and ciabatta bread too. I choose white and wheat baguettes and ciabatta bread for these recipes. Although you could also use tangy sourdough, pumpernickel, rye, and any other favorite bread for these mini grilled cheese sandwiches.
Mini Grilled Cheese Sandwich Appetizers Recipe
Start slicing and chopping! Since these grilled cheese sandwiches are 'mini' I like to slice everything relatively thin.
There are several ways to prepare grilled cheese sandwiches. Some prefer the stovetop while others prefer using the broiler or a panini press. Do your preferences. Some people like to butter the skillet while others butter the bread slices – some people do both. I normally butter one side of the bread, top with cheese, and place a lid on top for about two minutes. I use this technique because I'm going to press together fresh ingredients, including herbs and lettuce in between the two slices of bread. Plus, by grilling open face, I can use double the cheese! Yum!
I really like how ciabatta and sourdough bread tastes with these mini grilled cheese sandwiches! In this recipe, I used ciabatta bread with Heluva Good! Pepper Jack cheese slices, garden fresh tomatoes, red onions, and fresh jalapeno pepper slices. This grilled cheese sandwich would also taste great with Heluva Good! Muenster, Monterey Jack, and White Cheddar cheeses. Feel free to add a spicy mayo if you'd like too.
This is mini grilled cheese appetizer is full of flavor! My son and husband love this recipe every time I make it!
We planted a peach tree two years ago and are so excited to have many delicious peaches this summer. Home grown is always best! We are finding new ways to enjoy our bounty, including on grilled cheese sandwiches!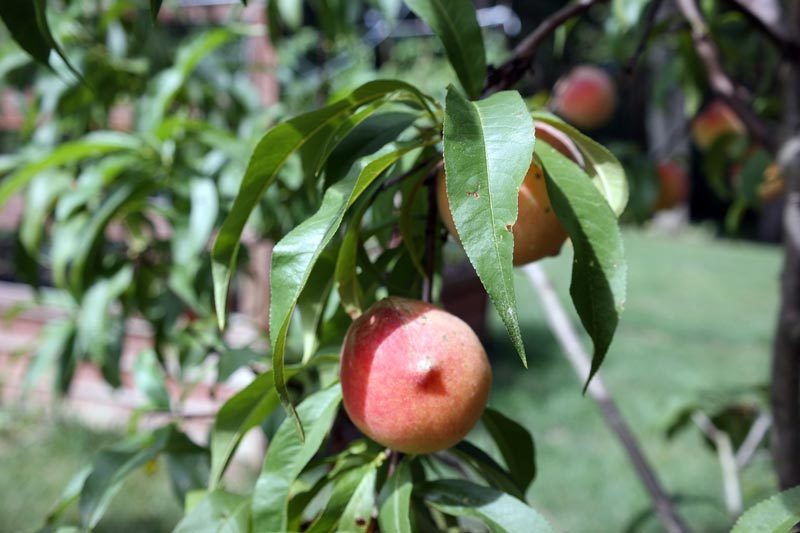 For this recipe, I used white baguette bread with Heluva Good! Sharp Cheddar Cheese, fresh peaches, fresh basil, and a balsamic glaze on top. I lightly saute the peaches in the same skillet at the bread and cheese. If you are making a larger batch, use another skillet to saute the peaches for a few minutes.
The sharp cheddar cheese melts perfectly for this slightly sweet mini grilled cheese appetizer. The balsamic glaze gives it a fancy looks and adds to the sweetness. This recipe would also be delicious with Heluva Good! White Cheddar, Muenster, Monterey Jack, and Pepper Jack cheeses. You can also try different fruit including apples, strawberries, and pears. Instead of white, try a raisin or nut bread. Simply prepare as I did above but slice into 4 pieces to make it appetizer size.
I picked up a fresh zucchini at the farmer's market this week and couldn't wait to try it in a new recipe. Adding it to grilled cheese is a great way to add veggies! This mini grilled cheese recipe includes wheat baguette bread, Heluva Good! Colby Jack cheese, zucchini slices, pesto sauce, and artichoke hearts. I lightly saute the zucchini while making the grilled cheese in the same skillet.
This is a really tasty combination that will surprise your taste buds. I love how the gooey cheese melts together all of the ingredients.
BLT Mini Grilled Cheese Sandwiches Recipe
Everyone loves BLTs but how often do you think to make them? I don't make them often enough but my family loves BLT sandwiches.
I like to make them in the summer with our fresh garden tomatoes for even more amazing flavor!
My favorite way to cook bacon is in the oven. Bake 15-20 minutes at 350°. It makes this BLT recipe quick and easy!

Prepare your grilled cheese on white or wheat baguette bread with your favorite cheese. I use Heluva Good! Colby Jack and Pepper Jack cheese most often for this recipe. Once the bread is toasted and the cheese is melty, add bacon, mayo, lettuce, tomato, and more bacon. This is sandwhiched between two slices of bread and two slices of cheese. Feel free to use two different flavors of cheese too!

You can even add a kick of spice by adding a little hot sauce to your mayo, or purchase a spicy mayo at the store.
For even more flavor, add creamy sliced avocado to your BLT grilled cheese sandwich.
Below are the 5 combinations of mini grilled cheese sandwich appetizers. The possibilities are endless. Have fun experimenting with various flavors of Heluva Good! cheese, toppings, spreads, jams (try tomato jam or fruit jam), and various types of bread. My kids love when I make a few types of grilled cheese appetizers because they can enjoy a variety of flavors in one meal – my kids love trying new foods and flavors!
If you are having a party, make sure to serve a gluten-free mini grilled cheese sandwich for those living a gluten-free lifestyle or have Celiac disease. Heluva Good! cheese is already gluten-free, as are most of the toppings (check the mayo) in these recipes. Use a gluten-free bread to make it gluten-free for guests – be sure to not cross-contaminate.
You can also prepare any of these recipes as open-face grilled cheese sandwiches. This makes it a smaller, bite-size appetizer. Layer the toppings as many times as you like. Enjoy!
You might want to serve a traditional grilled cheese with white bread alongside for those that prefer the traditional grilled cheese sandwich that their mom made when they were kids over these 'designer' grilled cheese options.
Heluva Good! provides the ultimate in snacking experience whether enjoyed alone or melted in a grilled cheese or other recipe. I like that it is a snack my kids like that is good for them with 0 grams trans fat per serving, and it is made with milk so it is a good source of protein and calcium. Pick up a few Heluva Good! cheese blocks at the dairy aisle at your local Walmart or supermarket.
If you are on Ibotta, there are limited quantities still available for the Heluva Good! Cheese rebate offer for $.75 cash back per block purchased at Walmart.
Get social with Heluva Good! for recipe ideas and more on Facebook, Instagram, Twitter, and Pinterest.