So recently I have been looking for recipes for fast and easy snacks that I can give my girls that are fun, with at least 1 fruit or veggie in the recipe! My kids are not picky eaters which makes it easy to give them their daily fill of fruits and vegetables. This recipe for Chocolate Peanut Butter Banana Bites is a new favorite and is great for a sweet and healthy snack on a hot afternoon.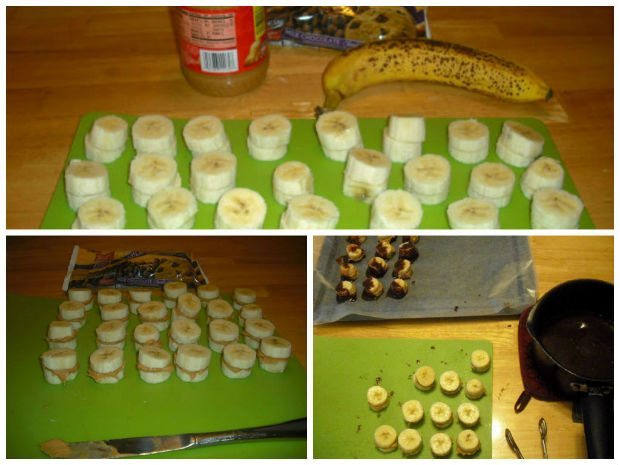 Chocolate Peanut Butter Banana Bites Recipe
Slice 3-4 medium sized bananas, be sure to have an even number of slices.

Spread peanut butter (substitute with almond butter or strawberry jelly) on one slice of banana and top with a second slice, sandwiching peanut butter between the two slices.

Cover cookie sheet with wax paper.

Melt chocolate, whatever kind is your child's favorite kind, be creative! My girls love milk chocolate.

Dip Peanut Butter Banana sandwiches into melted chocolate and place on a cookie sheet with wax paper.

Place cookie sheet in freezer and wait for bananas to freeze and chocolate to harden.
Feel free to substitute items in this recipe, maybe try strawberry jelly for the filling and white chocolate, or strawberry with dark chocolate dipped in peanuts! The variety is endless and when the banana is frozen it tastes and has a texture similar to ice cream. Perfect for an after school treat or anytime!
Enjoy! I know we will!