If you are looking for a quick and easy dessert recipe for any occasion, try my Easy Raspberry Ganache 2 Bite Brownies recipe. This recipe can be prepared in literally 5 minutes with a short-cut ingredient that you can't go wrong with!
This is a sponsored post.
Easy Raspberry Ganache 2 Bite Brownies Recipe
We are all busy so give yourself a break and let Whole Foods Market 365 save the day with their Two-Bite Chocolate Brownies!! They are yummy as is and perfect for packing in lunch boxes or for a quick after-school snack. Add my simple ganache and a fresh raspberry and now you have a decadent dessert that looks and tastes like you spent hours in the kitchen! Kids can even help with this recipe.
| | |
| --- | --- |
| | |
Microwave whipping cream in microwave safe bowl for 1-2 minutes or until it just begins to simmer; don't allow to boil.

Pour warm cream over chocolate, do not stir, wait for 2-3 minutes, then whisk until smooth.

Allow ganache to cool for 15 minutes.

Frost Whole Foods Market 365 2 Bites Brownies with gnache.

Place a fresh raspberry on top.

Serve or chill and serve. Refrigerate leftovers.
Ingredients matter in this recipe. Obviously, start with the Two-Bite Chocolate Brownies made with nothing artificial! Next, use a premium chocolate such as Enjoy Life Dark Morsels found at Whole Foods Market  365. You'll want a fresh heavy cream too, I recommend the Horizon Organic Heavy Whipping Cream.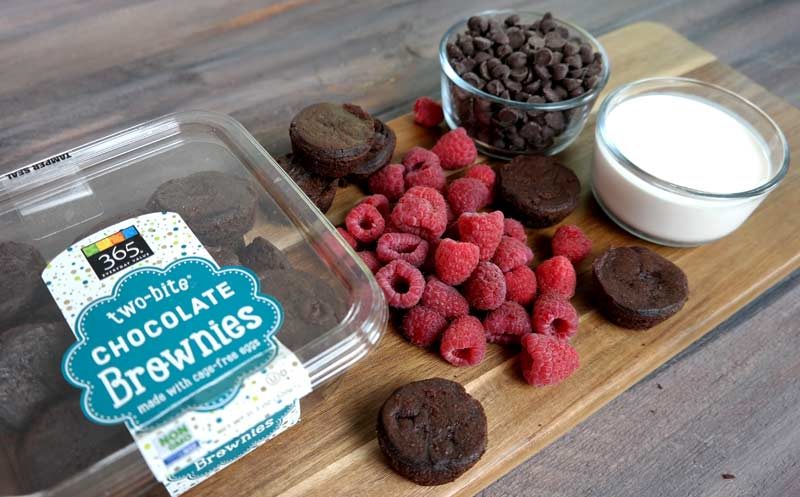 The ganache is super easy to make. This fancy word is essentially just chocolate and whipping cream but it looks, sounds, and tastes fancy and amazing! Simply heat up the whipping cream in the microwave until it simmers, not boil. Pour over a bowl of chocolate and let it rest for a few minutes. Whisk until combined and let rest a little while longer.  Next, dip the brownies into the ganache or spoon it on. No worries if it runs down over the sides of the brownie. I've never head anyone complain about having too much chocolate ganache! Next, top with a fresh raspberry.
This easy dessert recipe pairs very well with my Easy & Healthy Chicken Ramen Recipe! Both recipes are suitable for entertaining and special events but both are simple and easy with a few short-cut ingredients from Whole Foods Market 365 making it easy to prepare even on busy weeknights!
Be sure to enter to win a Whole Foods Market 365 Gift Card on the Ramen Post here!! Giveaway ends September 13, 2018.