My kids love Christmas cookies – so do I – so I prepare them as healthy as possible with no artificial sweeteners, colors, or flavors.
This is a sponsored post.
My mother-in-law's Most Loved Jelly Cookies recipe is easy to make and delightful, especially for Christmas cookies.
Most Loved Jelly Cookies Recipe
This is my family's favorite Christmas cookie recipe. We love the different flavors of jelly in the middle, we each have our favorite like strawberry, raspberry, and grape.  This recipe is quick to whip up and only takes about 5 minutes to bake so this is an easy Christmas cookie to prepare for your family and for cookie exchanges.
Blend butter and sugar together until well blended.

Mix flour and salt together. Add to butter mixture.

Add few drops of natural food coloring, if desired.

Use cookie press as instructed or see below for Jelly Cookies.

Bake cookie press cookies at 450° for 5-6 minutes until lightly browned.

For Jelly Cookies, skip cookie press step. Roll dough into 1" balls and place on cookie sheet.

Create a scoop in center of cookie with floured thumb or small rounded spoon.

Add a small amount of natural jelly, flavors of your choice.

Bake in 450° oven for 5-6 minutes until preserves start to bubble.
Baking Christmas cookies is made extra fun when you bake with your kids or a friend. My friend AnnLouise and I have been baking Christmas cookies together since our boys were in preschool together – 10 years ago! We have the most fun together baking and creating memories with our children helping.
My friend is vegetarian and her son has a nut allergy so she is constantly reading labels. She also loves my Most Loved Jelly Cookies recipe because of the uncomplicated ingredients and healthier ingredients we use from Whole Foods Market 365 like unbleached flour, organic vanilla and natural jellies.
We make a huge mess while baking but whipped out 6 batches of these cookies (140 cookies) for our families and to share so it was worth it!
Big, Fat Chewy Chocolate Chip Cookies
Our Christmas cookies assortment always include chocolate chip cookies.
This is my favorite recipe for Chocolate Chip cookies. I prepare it more naturally using ingredients found at Whole Foods Market 365.  They taste amazing with Whole Foods 365 Semi-Sweet Chocolate Chips!
One batch makes about 36 medium-sized chocolate chip cookies that are FULL of chocolate chips!
Preparing Healthier Christmas Cookies and Treats with Whole Foods Market 365 on a Budget
There is no reason you have to sacrifice your desire to give your family healthier foods without artificial sweeteners and sugar when it comes to Christmas cookies and treats.
When you shop at Whole Foods Market 365, you know that everything in the store is real food, nothing artificial. Plus, it is affordable.
I was able to buy all of the ingredients for my Most Loved Jelly Cookies Recipe (X6) and a batch of Chocolate Chip Cookies with plenty of leftover ingredients (I barely touched the two jellies, baking soda, and vanilla!). I also purchased special hot cocoa with marshmallows for the kids to enjoy this winter, coffee for the adults, and a few gifts for teachers. This entire cart coast a little under $50 at our local Whole Foods 365.
You can save even more at Whole Foods Market 365 when you sign up for their loyalty card called Rewards 365. You'll get special discounts across the entire store daily and extra special deals and coupons. For instance, members get 10% off already low prices on bulk items.
I always check out the bulk section first, especially for baking items. It is a great way to get exactly what you need for recipes and nothing extra.
Whole Foods Market 365 has delicious treats throughout the store right now that make perfect gifts for teachers, bus drivers, mail carriers, and more like these chocolates!
I picked up several large specialty chocolate bars and marshmallow squares for teachers and candy canes for my kids to pass out to friends this Christmas season.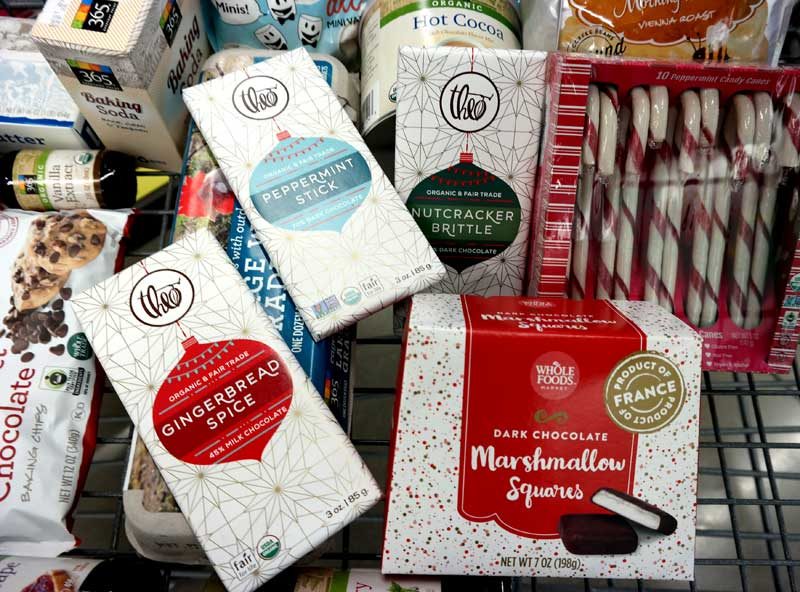 Stop by Whole Foods Market 365 this weekend to enjoy samples and get inspired for holiday cooking and baking. Who can resist samples!?
Stop by our local Whole Foods Market 365 Market to prepare healthier Christmas cookies and treats this year for your family and friends.
Whole Foods Market 365
1745 W Market St
Akron, OH 44313
Have fun baking your Christmas cookies, I hope your family enjoys these recipes as much as mine.