Enjoy the delicious flavor combination of oranges, chocolate, and ginger in this unique Christmas recipe.
This is a sponsored conversation for Pillsbury®.
Orange chocolate has been a staple in my husband's polish family, it is something they look forward to and give as gifts every year. I love family traditions and like to expand on them.
I've heard of people baking chocolate cake inside of oranges while camping. The delicious orange flavor seeps into the chocolate cake for an orange flavored chocolate cake. My family also loves the Christmas flavor of ginger, so I thought I'd add that to this recipe to see what it would taste like and my family is very pleased!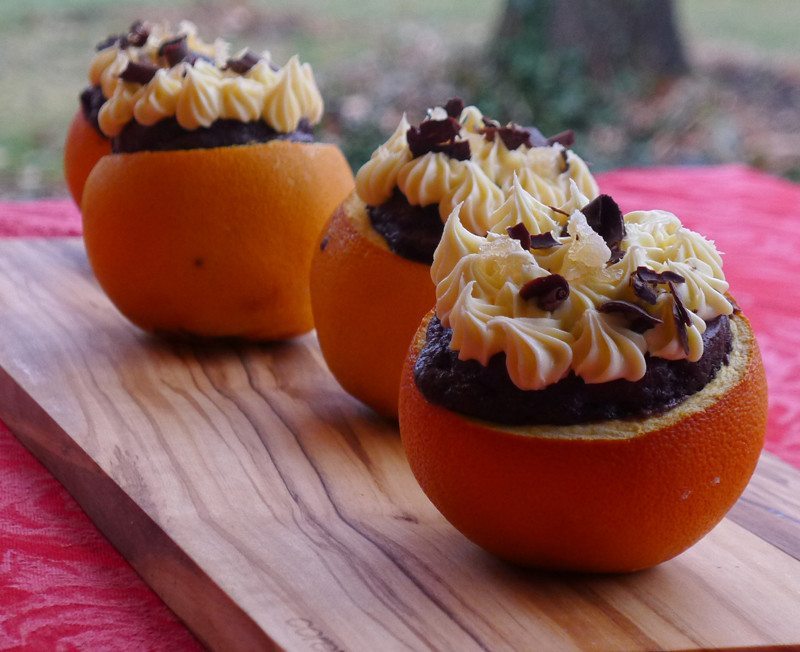 Ginger Chocolate Cakes Baked in an Orange Peel Recipe
This is a fun recipe to prepare together with your kids, they will be amazed at how you are baking in an orange peel!
| | |
| --- | --- |
| | |
Slice the top of the orange off and scoop out the insides - eat!

Prepare Pillsbury Purely Simple Chocolate Cake Mix as directed.

Add 1 tsp shaved fresh ginger to cake mix, stir to incorporate.

Pour Pillsbury Purely Simple Chocolate Cake Mix into the oranges, about 2/3 full.

Bake 350 degrees, 20-30 minutes, until toothpick inserted comes out clean.

Frost with Pillsbury Buttercream Frosting as desired.

Top with shaved Chocolate, candied ginger, and/or other toppings.

Eat right out of the orange!
For the actual chocolate cake mix, I used Pillsbury Purely Simple Chocolate Cake Mix. I really like Pillsbury's Purely Simple line for their wholesome ingredients. There are no colors, preservative, or artificial flavors – just delicious ingredients that I'm happy to serve my family.
Plus, I use the Pillsbury Buttercream Frosting, it is delicious every time and so convenient to use.
Start by scooping out the oranges – use small or large for portion control. Add the cake batter, about 2/3 full. If you fill it too much, it will ooze out all over the oranges.
Wrap the oranges in a little foil, then place in a cupcake tray to cook evenly without burning the actual orange peel.
Shave slightly warmed chocolate with a vegetable peeler to add on top.
Top with Pillsbury frosting, then add the shaved chocolate, candied ginger, and any other toppings your family enjoys.
Dig in!  My kids think it is hilarious to eat out of an orange! They love the flavor combination as much as my husband and I do. This is a winning recipe that combines some of our favorite Christmas flavors and traditions.
If you are not up to baking inside an orange, this recipe taste great as a Ginger Chocolate Cupcake. Simply prepare as directed above with the fresh ginger and bake as cupcakes. You might even be able to find cute little gingerbread men to place on top like I did!
My family counts this recipe as a success on all accounts. It is delicious, fun, festive, and a new family tradition. I hope you will enjoy this as much as we do this Christmas.
Happy Birthday, Doughboy!
Last month, the adorable Pillsbury Doughboy celebrated his 50th Birthday! He came into into existence on Nov. 7, 1965. Happy Birthday, Doughboy!! We love your irresistible giggle!
The Doughboy has been helping us make mealtime special since 1965. Watch this cute video of his favorite memories and recipes.