Every time we go to Piada Italian Street Food, my son and I order their Farmer's Market Salad. Personally, it makes me thrilled that my 16-year-old boy loves this salad! I decided to start making it at home and it has become part of our monthly meal rotation – sometimes even more often. It's a quick and easy dinner to prepare and super healthy!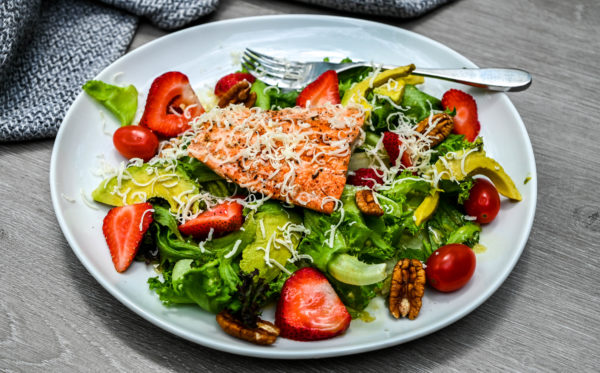 | | |
| --- | --- |
| | |
Whisk together olive oil, lemon juice, basil, vinegar, garlic, sugar, salt, and pepper in a small bowl until blended. Serve with salad.

Cook Salmon. Oven Instructions: Place salmon skin-side down on a baking sheet. Brush with olive oil. (You may season additionally with salt, pepper, etc at this point.) Bake at 450° F until internal temperature reaches 140° - about 6-8 minutes.

Build your salad on 4 dinner plates. Place a bed of lettuce on bottom, then top with sliced strawberries, sliced avocado, pecans, tomatoes, and top with Salmon. Freshly shred The Cheese Guy Raw Milk Cheddar Cheese on top and serve with dressing.
This recipe is made even more delicious when you add The Cheese Guy Raw Milk Cheddar Cheese. It's the final touch that completes the Farmer's Market Salad experience, although it varies from Piada's feta, I think this tastes so much better! If you love a smooth cheese that has a rich, buttery tang, this is the cheese for you. It is a sharp cheddar that is perfect on top of salads, pastas, or as a snack with fruit or crackers. Of course, it is also made in the USA from New York & NE local milk. Plus, it's all-natural, vegetarian, added hormone-free, antibiotic-free, and gluten-free. This whole salad is a delicious gluten-free meal.
You can purchase The Cheese Guy Raw Milk Cheddar Cheese on the The Cheese Guy website and have it delivered right to your door or at a local grocery store near you.
You can also add shredded cabbage and roasted corn to this recipe for the full Piada copycat version of this recipe.