My Perfect Potato Pockets recipe combines the flavor of a loaded baked potato and wraps it in a flaky crescent roll for quick meal that everyone will love. I know this as a fact because America voted for my recipe and I won the title of  America's Favorite Pillsbury Crescent Cook for this recipe!
What's for dinner tonight? This is a question that comes around every day whether you like it or not! Try something different for dinner tonight with great All-American flavors that you already love in my Perfect Potato Pockets. It will satisfy your family's hunger and taste buds for a tasty meat and potatoes kind of meal that they will love.
This recipe is so easy to make, even my 3 year old could make it – minus the oven part! My daughter is now 10 and loves cooking and baking in the kitchen.  Cooking with my kids since they were toddlers is one of the best things we've done. It has provided great memories, bonding time together, and good life skills as well.
For this recipe, combine instant mashed potatoes with water and cream cheese for a really creamy mashed potato filling. You can also use homemade mashed potatoes if you have extra time or if you have leftovers readily available. Next, add chopped ham, green onions, bacon bits (or cooked bacon), and cheddar cheese.
Use Pillsbury Crescent Rolls – they taste and cook the best for this recipe. Watch a demonstration on how to wrap the perfect potato pocket as I did it live during one of my Fox 8 appearances here.
Place 1/3 cup of potato mixture at center of each crescent roll triangle. 
Wrap the 3 corners over top of the mixture.
It is ok if the crescent roll doesn't cover the entire potato mixture.
Brush on melted butter with a little hot sauce. You can skip the hot sauce if you prefer.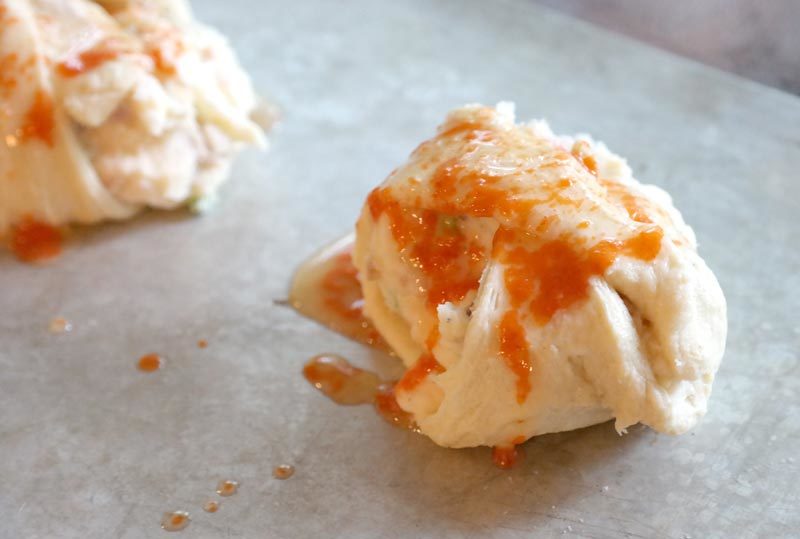 Bake for 10-12 minutes at 375°. Serve alongside salad or other vegetable side for a complete, well-balanced meal! They even taste great served cold the next day for lunch!
Thanks again for all who voted for my recipe that landed me the title of America's Favorite Crescent Cook! It was amazing being in Rachael Ray magazine and on Fox 8 News for this recipe and to see all of my family and readers pull together to help me win this contest. Thanks again and I hope your family loves this recipe!

| | |
| --- | --- |
| | |
In large bowl, mix the mashed potatoes and hot water. Add cream cheese; beat until blended. Stir in the ham, onions, bacon and Cheddar cheese.

Separate crescent dough into 8 triangles. Slightly stretch corners of short side of each triangle to make longer. Place on ungreased cookie sheet. Spoon 1/3 cup potato mixture on center of each triangle. Bring corners to center over filling, overlapping ends; press gently to seal.

Mix butter and pepper sauce; brush over tops. Bake at 375°F 10 to 12 minutes or until golden brown.