Traveling with a little one in tow is always an adventure! Whether you're going away for a day, a weekend or a week, there are some great products available to make your trip easier.
On Wednesday, I put my college education to work, appearing on Fox 8's New Day Cleveland talking about the must-have accessories for traveling with kids. Whether you're a planes, trains or automobile kind of family, you're going far or staying close, these products will help keep your kids safe, clean and close by! (And be sure to check out my recent post on booking a last-minute summer trip).
Must-Have Accessories for Traveling with Babies
Baby B'Air
For traveling by plane, the Baby B'Air is a must have! Baby B'Air is an in-flight safety vest for babies and toddlers that lets them sit on their parents lap during the flight. The child wears the vest, and then the vest attaches to the parents seat-belt. What I like about the Baby B'Air is that you can play with, feed and even change your baby right at your seat. And, better yet—it eliminates the need to bring the car seat on the plane. This is an FAA approved product.
Flexi-Fit
Potty-training and traveling aren't necessarily synonymous. I can't remember potty training myself (And I'm not there yet with my little guy) but I can assume that going potty in strange places can be intimidating. Not to mention all the germs found in rest stops, restaurants, airports and hotels. Enter the Flexi-Fit. The Flexi-Fit is a fully adjustable potty training seat that easily attaches to any standard toilet seat. It's not too big so you can throw it in your diaper bag. Just grab some Clorox wipes to disinfect afterwards and you, and your little one, are good to go (bad pun intended!! 😉 )
Bandana Bibs
Bandana Bibs are some of the softest and most stylish bibs I've even seen. I just love them, especially the little chevron one. They are super soft and really absorbent. They're shaped like a folded bandana so they sit really close to baby's chin, making them a great landing pad for all the drool and food that leaves baby's mouth. And with how cute they are you can get one to go with every outfit and your guys and girls can be stylish AND dry all day long. Check out www.bazzlebaby.com to see all the cute styles.
Snack Trap
Leaky sippy cups and spilled snack containers are no-more thanks to these next items. With the Snack Trap No-Spill Bottle Caps and the original Snack-Trap no-spill snack cups, you can rest assured that the backseat of your car will no longer be sticky or covered in Goldfish and Cheerio crumbs (the family dog, however, will be disappointed!) The No-Spill bottle caps transform any standard drink bottle into an easy to drink bottle. One package features four different sized rings and one drink spout, which only releases liquid while the child is drinking. If the spout isn't in a mouth then there's not a drop coming out (see my segment from New Day Cleveland below for the proof!)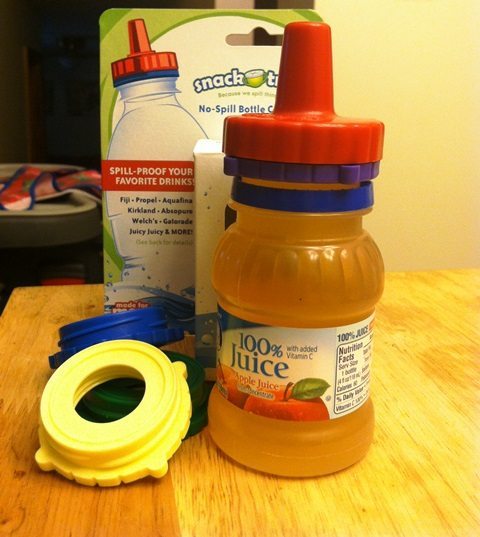 The no-spill snack cups have a durable but soft perforated plastic topper that lets kids stick their hands in and pull out their munchies, but if they drop  or throw the container (like my guy does because it is SO.FUN.) the snacks don't spill out everywhere.
The Sidekick
And what mom (or dad) doesn't wish for a sidekick for help when leaving the house with a child and all the stuff they need. Well—ask and ye shall receive! The Sidekick by Go-Go Babyz is the "world's first and only" diaper bag and baby carrier all in one. This versatile bag opens up to hold your child safely on your hip, while keeping diapers, wipes, bottles or cups, toys, and the rest of the baby must-haves at an arms-reach.
As Seen on Fox 8's New Day Cleveland
Thanks to the hosts, Natalie & David, Kristin the producer and the whole New Day Cleveland crew for having me on the show. Everyone was so nice and I had a great time!
Enter to Win These Travel Must-Haves $200+ Value!
We are giving away one of each of the above products to help make your traveling with a tot easier.
Baby B'Air
Flexi-Fit
Bandana Bibs
Snack Trap No-Spill Bottle Caps
Snack-Trap no-spill snack cup
The Sidekick Diaper Bag & Baby Carrier
a Rafflecopter giveaway

This promotion is in no way sponsored, endorsed or administered by, or associated with, Facebook. In order to comply with the latest Facebook Promotion Guidelines (revised 5/11/11), the following statements are true:
* Giveaway participants release Facebook from any responsibility whatsoever.
* Giveaways on this blog are in no way sponsored, endorsed or administered by, or associated with, Facebook.
* Giveaway participants are providing information to this blog and giveaway sponsors only; not to Facebook.
30 Day Winning Rule applies. For complete contest rules, please see our Contest Statement and Blog Disclosure.
Contest ends at 11:59 pm EST on September 10, 2013 when a winner will be drawn at random. I will notify the winners and they will have 36 hours to respond or another winner will be selected!
We Want to Know
Tell us: what are your must-have items when traveling with your kids?
This was not a paid post. My own opinions were used based on my perceptions and experience. Thank you to the companies for providing the products for us to feature on the show.