Finding the right stroller for your baby has a lot to do with your lifestyle.  I have found a stroller that is ideal is you travel frequently that is also a great option for everyday too.  Many travel strollers are uncomfortable, not sturdy or durable, and have little storage.  The Baby Monster Kuki Stroller – available in single or double – folds down flat enough to go in an overhead airline compartment (or small car) and is loaded with features for you and baby.
This is a sponsored post.
I first introduced you to the Baby Monsters brand of strollers in our Father's Day Gift Ideas post as a gift the whole family can enjoy. This stroller is stylish for even a man to drive baby around – nothing frilly or cartoonish here! The Baby Monsters Kuki stroller is a modern take on the baby stroller that even the most stylish of parents will enjoy driving whether at home or abroad.  This stroller easily folds flat when not in use which is a huge selling point.
This is the ideal stroller for any new or expectant mom because it is perfect for newborns through 44lbs, which is about 4 years old.  To accommodate for a newborn or a sleepy toddler, simply press and pull the back of the stroller back to recline the seat.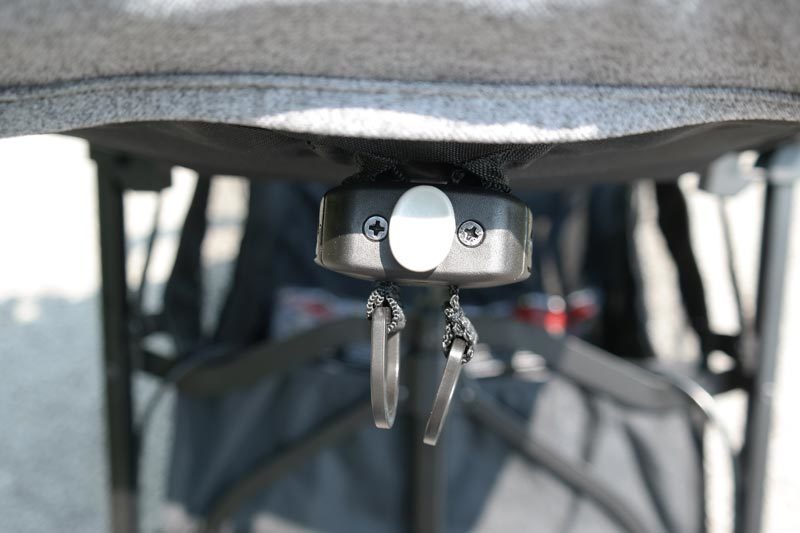 The reclining footrest and backrest reclines to a 170º position! The sunshade keeps baby out of the son in either the sit-up or recline position.
The spacious interior and backrest (16″) keep baby comfortable at any angle you recline the seat. The seat is a comfortable size of width 11.8in x depth 8.6in.
You can even have fun with the colors of the stroller by choosing over a dozen different colors of the sunshade.
The easy to use brake keeps the stroller for rolling away while stopped. It seems like a small feature but not all strollers have it! This is a must-have feature, especially while traveling in busy airports and cities.
Another important feature that this travel stroller has is plenty of space for baby gear underneath. Many travel stroller skimp on storage which is something you need whether traveling or at home.
I've used many strollers over the years with my kids, niece, and nephews. This is by far one of the easiest to use one-handed open and close strollers.  No more fighting to open and close the stroller with Kuki. I can't even believe how easy it is. Press the button at the center of the handle.
Once pressed, the handle bar folds inward.
The bottom storage area base folds up.
This is the half-way in between open and fold look although it folds up so quick it was weird to take this photo!
The Kuki single and double strollers fold up so compact that they can actually fit in an overhead airplane compartment. I've had strollers the past that were so large that I had to decide whether to keep the stroller in the car or make room for groceries because they couldn't both fit! This stroller easily fits in the small trunk of our Sentra, which is not a full size car by any means. This means you can always keep the stroller with you without worrying about space.
If you are going to travel often with the Kuki stroller, I recommend their Transport Bag. This allows you to pack up the stroller before getting on the plane to keep it safer, cleaner, and more secure.
If you are going to be traveling with Kuki, I highly recommend the Rain Cover too. It's not like when you are at home and can cancel plans and run home if it rains when you are traveling. You might get caught in the rain and don't want your baby to suffer. This is a way to not let the elements – rain or snow – impact getting baby outside to exercise while at home too.
The Kuki also comes in an ultra-compact twin stroller  size for families with two stroller-age kids. They even have option of a shopping basket for use on one side with baby on the other. This is ideal if you are expecting now and have only one child in the stroller.
Find a store or online retailer near you.