We still have several weeks left of Summer and plan to squeeze as much fun and sun out of it as possible!  Last week, I invited my niece and nephews over for a Cousins Campout. We went to the pool, played at the park, ate Cowboy burgers cooked over a camp fire, and slept in a tent in our back yard. All the kids thought it was the best and we all had a lot of fun!

My kids and I have been at the pool as much as possible this Summer. It seems like we have had more cloudy days than sunny days this Summer but we've been outside as much as possible. I protect my family from the harmful effects of the sun as much as possible with quality sunscreen applied and reapplied often, hats, avoid long periods of time in the heat of the day, and drink plenty of water. By doing this, my kids have avoided harmful sunburns so far in their lives.
My niece and nephews don't spend as much time outdoors as my kids, so they came with fair, white skin. I knew that I had to be extra cautious with them. I learned my lesson after my nephews and brother got extremely sunburned when they went to a waterpark with us two years ago!
I was so happy to test out a selection of Banana Boat products that I received during our Cousins Campout. 
I participated in a campaign on behalf of Mom Central Consulting for Banana Boat. I received product samples and promotional item as a thank you for participating. Banana Boat products provide protection against the sun rays, pool water, ocean water, wind, sweat, and extreme heat.
I took no chances and applied Banana Boat Kids SPF 50+ to my niece and nephews. It is recommended by the Skin Cancer Foundation for protection against Broad Spectrum UVA and UVB rays. It is tear and sting-free. The lotion goes on white when applied, allowing you to be sure every part of their body is covered! It goes on smooth and isn't oily, sticky, or too thick. It rubs in easily with a light fragrance.
I applied the Banana Boat Sport CoolZone SPF 30 to my kids and myself. It has a surprising benefit of a cooling on contact effect. It is refreshing on hot days in the sun!It goes on clear and is so easy to apply that you can even apply it to kids-that-can't-stand-still and yourself. I just love the continuous spray option! Plus, it has a fresh scent that smells great.
I sent my sister home with the Banana Boat Natural Reflect for Baby SPF 50 for my youngest nephew that couldn't make it to our Cousins Campout, he's only 2.  The Natural Reflect is unique in that it is 100% naturally sourced with mineral actives and zinc oxide. It provides the same coverage you'd expect from Banana Boat. It is oxybenzone and paraben-free for delicate baby skin.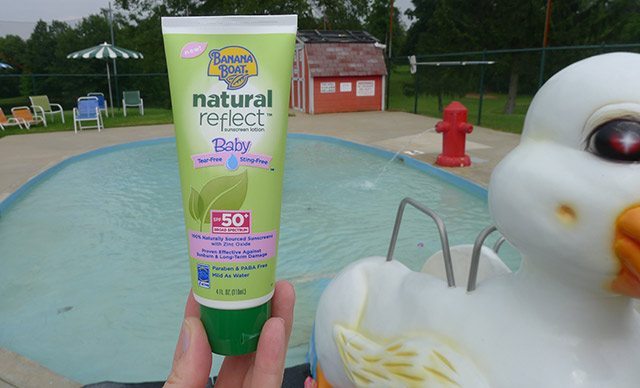 My absolute favorite sunscreen is the Banana Boat Protect & Hydrate 2 in 1 SPF 15. It hydrates your skin in a water-resistant formula that also protects from UVA and UVB rays. It feels so great when applied, more like a light lotion than a sunscreen. The aloe and Vitamins C & E helps maintain your skin's natural moisture. It feels amazing! It comes in 15, 30, and 50 SPF for the sun protection you need. I had my friend try it out at the pool. She is a life guard that teaches kids with special needs how to swim. She is always in the water and sun. She loved the Protect & Hydrate 2 in 1! She went on and on about how smooth it goes on and absorbs into the skin.


We just got back from a beach trip to Cape Cod. I brought along Banana Boat Sport CoolZone SPF 30 and Protect & Hydrate 2 in 1 for all our beach and ocean days. After all, even mermaids need to protect and hydrate their skin – isn't my little mermaid beautiful?!
The Banana Boat sunscreens last for up to 80 minutes so fun in the sun lasts and lasts. I have really enjoyed testing out the Banana Boat brand of sunscreens. There is a perfect application for each and every type. I am proud to say that all our pool days, beach days, and the Cousins Campout ended with NO sunburns this Summer!
Like Banana Boat on Facebook
Follow Banana Boat on Twitter
Banana Boat Coupon
Get a free Banana Boat coupon on the Banana Boat Facebook page