I was so excited to review the new Graco Head Wise 70 Convertible Car Seat with Safety Surround Side Impact Protection for my 9-month old son, Spencer. One thing that I really liked about it was the trademarked Safety Surround Side Impact Protection feature.
My family and I are in the car a lot; both mine and my husband's families live at least 45 minutes away and as a work-from-home mom, my pint-sized co-pilot and I are out-and-about a lot during the day, so safety in the car is really important  to me. According to the National Highway Traffic Safety Administration, car crashes are the leading cause of death for children two-to-fourteen years old. So when it comes to my little guy's car seat, I like to know that, aside from wrapping him in bubble wrap and never letting him leave the house, he is as safe as can be while we're on the road.
Graco Head Wise 70 Convertible Car Seat  Review
The Safety Surround can be seen right away in this car seat. The cushioning and protection around the head are wonderful and I was really impressed with head and neck support it provided. Spencer loves to sleep in the car and not once in my week-and-a-half of testing did his head slump forward while snoozin'. The seat looks so comfortable that, upon seeing it in my car, my husband commented that he wanted one for himself!
Spencer is nine months old and 21 pounds, so we tested the rear-facing function of this restraint. But what is great about this model—which hit shelves in January—is that it grows with your child, accommodating toddlers up to 70 pounds. While some car seats only have one or two adjustable headrest and harness levels, the Head Wise 70 features a two-buckle, eight-position adjustable headrest and three-position recline, so you can rest assured knowing that as your child grows he or she will still have the appropriate protection.
Now, the manual says that children over 20 pounds can sit in the forward-facing position but the company does not recommend it.  Furthermore, the American Academy of Pediatrics recommends that children remain rear-facing until the age of two or until they reach the maximum height and weight rating for said car seat.
Graco Head Wise 70 Convertible Car Seat Installation
The Graco Head Wise 70 Convertible Car Seat features the exclusive InRight Latch system, which the company claimed would make "installation a breeze." And I have to say, it was pretty easy to do. The latches are long, which make them easy to attach to the hooks in the car. They also make a loud "click" to let you know they are attached and secure (but I pulled on them with all my might just to make sure!) And as easy as they are to connect, they are just as easy to remove thanks to a red push button, similar to the release on a seatbelt, which made readjusting "a breeze," too.
I will say that regardless of how many car seats you've installed in your car in the past, be sure to do as the manual says and read it before you start installing the seat. There are a variety of belts and latches on the seat for the various positions it can accommodate and the manual identifies them all instead of leaving you scratching your head.  It's also helpful to know how to recline the car seat for a rear-facing position, how to loosen and tighten the harness and how to adjust the headrest before you get it into the car.
Once you've got the car seat in the right reclined position and latched correctly, you may find that the it doesn't sit flush with the backseat. If this happens, you will need a towel (or two) rolled and placed under the base near the back of your seat to balance out the car seat (this is explained in the manual, too).
The level indicator on the side of the child restraint is very accurate so be sure to use it.  Even though the seat may look balanced to you, if it's not at the correct level on the indicator, keep working with your towels and the tightness of the latch belt until you get it right. It took me a few tries, but better safe than sorry!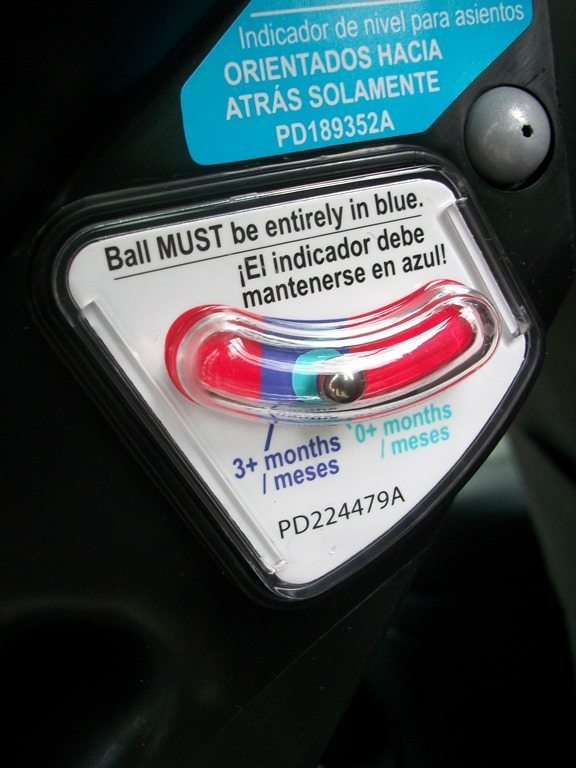 Graco Head Wise 70 Convertible Car Seat Recommendation
Overall, I would highly recommend the Graco Head Wise 70 Convertible Car Seat with Safety Surround Side Impact Protection, especially for older children or parents who only want to purchase one car seat for the life of their child. The Head Wise 70 is well-made and sturdy, and I really like the Lowell design of red, gray and black (dark fabric hides stains easier, am I right?!) If red and gray just aren't your colors, two other designs –Cora (lavender, gray and black) and Marok (white, gray and black)– are also available. The Graco Head Wise 70 has a drink cup holder, too, so older kids can keep a drink or snacks with them or, at the very least, we parents can keep pacifiers from rolling onto the car floor or the ground (yuck!) while transferring our little one in and  out of the car.
Buy Graco Head Wise 70 Convertible Car Seat
The Graco Head Wise 70 Convertible Car Seat with Safety Surround Side Impact is available exclusively at Target stores nationwide and on target.com for about $199.99.
Graco Bumps in Action Facebook Contest
And this month, moms and moms-to-be nationwide can enter the Graco Bumps in Action Facebook contest to win great prizes from Graco Baby. To enter, visit the Graco Baby Facebook page and post a picture of you and your baby or baby-bump in action. One lucky grand-prize winner will score a Graco FastAction Fold Jogger Click Connect Travel System, a $5,000 scholarship for their baby, a one year gym membership, and a consultation with a personal trainer. Ten runners-up will win a FastAction Fold Jogger. The contest runs through March 24, so get moving (and snapping) for a chance to win!
This was not a paid post. My own opinions were used based on my perceptions and experience. Thank you to Graco who provided the products for review.