Does your child's preschool require they have a nap mat? Do you run an income child care service and are looking for the best way to get kids down for a nap? Keep reading to learn about Janiebee's Nap Mats and why there will be one under our tree this year!
Why Janiebee Nap Mats?
I know you can get cheap foam nap mats at lots of places, now-a-days we want to know more about the products we use on/around our children. A lot of foams are made with toxic chemicals but not Janiebee. At Janiebee safety is priority, their Nap Mats have been tested for lead/flammability and have passed all of the government regulations. Scarlett is starting to spend the night with other family members and I think this is going to help her sleep better away from home. It's something she knows is hers, no matter where she is.
How Are Janiebee Nap Mats made?
Each nap mat is hand constructed using 100% Quilter's cotton on top and bottom. The top is pieced together like a quilt. I love that they are sewn down on each fabric change to keep inner pad secure. (Tacked in place!) Each nap mat is filled with 100%polyester quilters' batting and is 2″ thick. No foam here!  Each one is roughly 20 by 54 inches & has a double layer of minky (which is so soft!) as a blanket attached to the left side. The pillow is included, I love that it rolls up neatly and has a shoulder strap. I adore all the color/pattern options they have!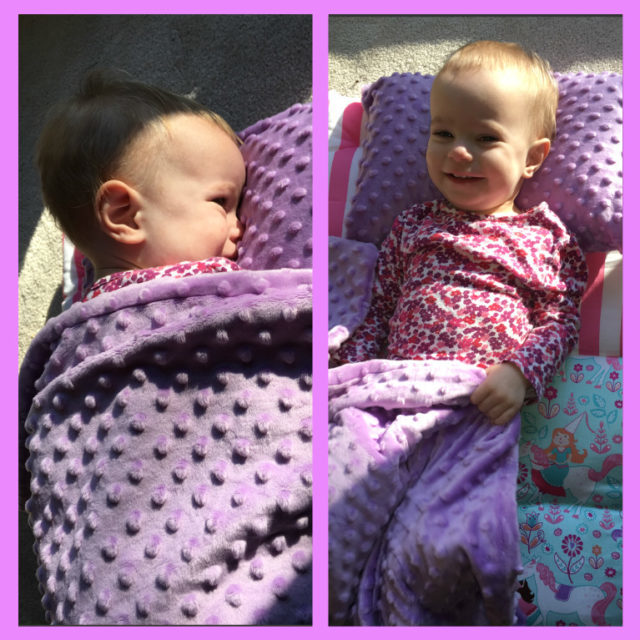 How Do I wash a Janiebee Nap mat?
It's so easy to wash your Janiebee Nap mat. Simply machine wash on cold. Remove the pillow and allow to air dry. Toss the mat into the dryer on a medium heat setting for 25-30 minutes. Roll it up when you take it out or lay it flat to dry. DONE!
 
How to order a nap mat for you child.
You can order from the Janiebee Etsy Page here or on the Janiebee website. All of the Boutique and Commercial Mats are shipped within 48 hours from purchase. Custom mats will take about 2 weeks.  All the mats can be Personalized with a custom embroidered nameplate which can be seen when rolled. I loved seeing Scarlett's name on her nap mat. I love that she's so young she doesn't mind that she can check out her gift and then still be excited to open it!