My 22-month-old has become a very picky eater. He refuses to try most every healthy meal option I put on the table. Getting him to eat an adequate amount of fruits and vegetables is a daily struggle. That was until I involved NurturMe in my breakfast, lunch and dinner preparations.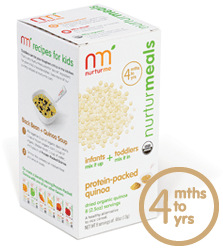 I was provided several samples of NurturMe's organic cereals and dried fruit and veggie products to put to the test. According to the company, drying fruits and vegetables preserves the most nutrients. I was pleased to discover all Nurturme products are organically grown and completely free of gluten, salt, sugar and preservatives.
The company offers a large variety of pouch meals, which can be added to breast milk, formula or water to make a puree. I discovered it successfully could be added to oatmeal, yogurt and mac n' cheese as an extra boost of nutrition for my toddler. My son had no idea I added protein-packed quinoa to his regular hot cereal for breakfast recently! I should note he is a messy eater!
NurturMe meals include cereal options, as well as mix-ins, which come in single or combination flavors. Flavors include "crunchy carrot," "plump peas," "crisp apples," and even "squash, bananas, green kale" and "sweet potatoes, oatmeal, bananas."
The meal pouches can be introduced to an infants as young as 4-month-old and can continue to be added to meals for children up to 4-years-old.
I love that NurturMe can be a "secret ingredient" in the foods my son already loves. The company's web site offers numerous, easy recipes that include NurturMe meal pouches as key ingredients. These recipes include "crunchy carrots spaghetti bolognese" and "sweet banana summer smoothies." I can't wait to see if my son likes the "plump peas froggy pasta!" Visit http://nurturme.com/nm-kitchen/ for a complete list of recipes to try with your little ones. My little boy and I also were delighted with NurturMe's yum-a-roo's, which are bite-sized snacks of dried, organic fruits and veggies for children 1 and up.
My son loves "carribean crop," which is a mix of peas, bananas and pineapples. Honestly, I was surprised to see him so willingly snack on the yum-a-roos. After his first sample, I asked how the healthy snack tasted. "Good," he said with a smile! After his second bite, my little guy shouted, "yummy! I want more, please!"
Buy NurturMe
NurturMe products are available in many retail stores, including Wal-Mart, Target, Babies-R-Us and CVS Pharmacy. NurturMe also is on Amazon.com.
This was not a paid post. My own opinions were used based on my perceptions and experience. Thank you to NurturMe who provided the products for review.