I'm so excited to share with you the car seat that will take your baby from infancy through 10 years old, the Graco 4Ever™ 4-in- 1 Car Seat with TrueShield technology. This car seat is amazing as it can be an infant rear-facing car seat for babies as small as 4lbs, front-facing car seat, booster seat with back, and booster seat without a back for kids up to 120 lbs.
This is a sponsored post.
The Only Car Seat You'll Ever Need – Graco 4Ever™ 4-in- 1 Car Seat Review
How I wish the Graco 4Ever™ 4-in- 1 Car Seat was around when my kids were babies. It is such an innovative car seat designed to grow with your child!  Safety is the #1 concern for parents when it comes to baby gear, especially car seats. It is the first item you entrust your baby's safety with when you take them home from the hospital and you'll use one every day for the next 10 years…
My 13 month old nephew has outgrown his infant cradle car seat and ready to move up with a little more leg room!
This car seat will be backward facing until he reaches 2 years old (Ohio law states to be backward facing until at least 2 year old. This car seat will allow kids up to 40 lbs to be rear-facing.
Installing the Graco 4Ever™ 4-in- 1 Car Seat is a cinch. 95% of parents install car seat incorrectly.  They claim the owners manuals are too difficult to understand. Graco is a leader in safety and innovations. The instructions for every stage are easily readable on the side of the car seat so you'll always know if the car seat is installed correctly, for the weight of your baby. 
There is even a level with an air bubble to ensure that it is installed correctly and safe for baby. Graco is a leader in safer car seats.
The instructions simply show where the latch straps or seat belt goes for every car seat placement with coordinating colors. For instance, for all rear facing instructions, the instructions are outlined in blue, for forward facing, it is orange. The car seat comes with an owners guide that is good to review before installing and can be stored in a compartment within the car seat for later reference.
My nephew loves his new car seat. It offers plenty of room, comfort, and safety for him. I love the TrueShield Technology that offers side impact protection from the hips to head of your child.  This is remarkable protection offered in 4 Graco car seat models. Nearly half of all fatal crashes involving children are from side impact collisions. TrueShield offers a shield of protection from side impact collisions.
The LATCH system offer easy installation when using the car's latch instead of seat belt. This is the safest option but many people have a very difficult time installing with the latches because it is hard to get your hands between the seats and maneuver the clips. This one-handed SafeGuard LATCH system is amazingly easy to use one-handed. You can switch the car seat to another car in just moments. This is a huge upgrade from when my kids were babies.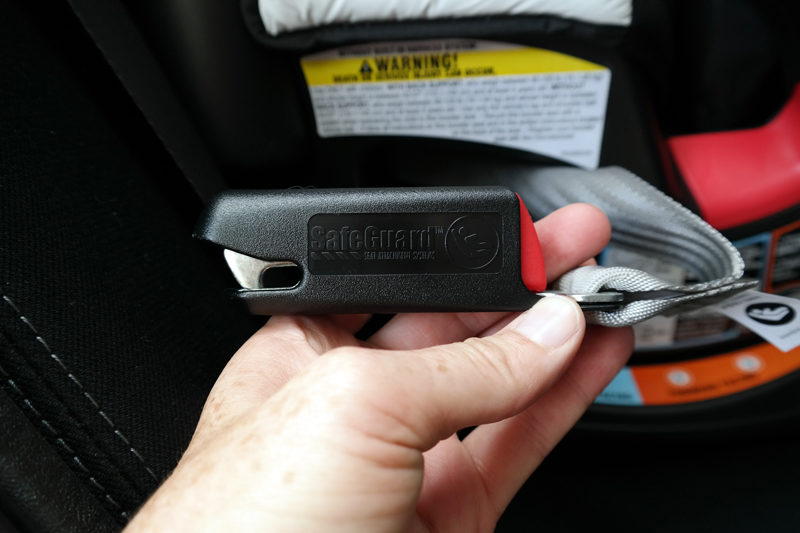 The Safe Adjust™ Harness System headrest and Harness adjust together so you don't have to take the car seat apart to adjust either. When your child grows taller, you'll want the harnesses to be longer and the headrest taller. In other car seat brands, you have to remove the car seat and take the harness straps off and weave through the back to the next size larger. This is a hassle and difficult which leaves many kids uncomfortable in a car seat with too-small straps!  The Safe Adjust allows you to adjust the harness and headrest with one hand – as you can see in the above video. This is a genius innovation!!
Once my nephew is over 2 years old, my sister can turn the Graco 4Ever™ 4-in- 1 Car Seat around to the second position of forward facing. This car seat can use the latch or seat belt to secure in this position.  The orange outlined instructions on the car seat show how to properly secure and adjust the car seat for this position.
At the base, it shows what recline position to have the car seat based on whether it is rear-facing, forward-facing, or as a booster. There is really no way you can install this car seat improperly if you just simply follow the easy instructions!
Once my nephew is at least 4 years old and at least 40 lbs, he can move to the booster seat with back position. My 6 year old nephew is modeling the booster seat mode below.
The TrueShield Technology offers side-impact protection as well as a cozy place to snuggle up for a nap on long car rides. 😉
When your child is over 40 lbs and at least 4 years old, they can also use the Graco 4Ever™ 4-in- 1 Car Seat as a booster seat without a back. I always kept my kids in the booster seat with a back for as long as possible as it offers the most protection. However, when kids get to the age of about 8, they want to be "big" and not let their friends see them in a booster seat. The backless booster seat still offers safety benefits while allowing your child more freedom of the big seat. Your child could use this booster up to 120 lbs or around the age of 10.
As you can see, this is the only car seat you'll ever have to buy for your child as it takes your child from infancy to 10 years old with all the remarkable technology advancements.  This would be the #1 item that I would put on my baby registry because it is the one item that will last the longest, providing my child safe travels from the first ride home from the hospital through 5th grade!!!
The Graco 4Ever™ 4-in- 1 Car Seat is available exclusively available on Amazon.com and on the Graco website.