Our days of baby-proofing our home are over, however I have 2 sisters that are just beginning. There are many kinds of baby-proofing items on the market, most are unattractive and require hardware installation to your cabinets and furniture. I've found a modern product for a classic problem, Rhoost. Their products provide the safety that you need and the style that you so dearly want to keep in your home. Rhoost is the most stylish childproofing product I've seen, great for your home and on-the-go.
Protect sharp edges with Rhoost Edge
The Rhoost Edge is a non-screw, non-adhesive, easy to install edge that you can  use on basically any sharp edge in your home as it is adjustable. This soft, rubber like product is made of  BPA-free, PVC-free, lead-free, phthalate-free,  and 100% recyclable material. Comes in 4 pack and fits most corners 1/2″ – 1-1/2″ thick.  You can use Rhoost Edge to protect corners on kitchen counters, desks, end tables, coffee table, desks, etc. for glass, marble, wood, and more.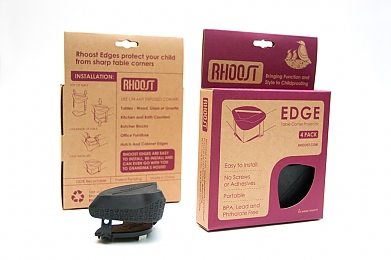 Below is my office desk edge, pretty sharp and not kid-safe.
2 seconds later, this is my desk edge with the Rhoost Edge installed. Quick, easy, and more stylish than competitor brands. It is so simple to install.
The edge can be installed on a variety of materials and can be easily put on and off. This makes the Rhoost Edge ideal for traveling and visiting homes that are not child-proof. Simply stick them in your purse and you are ready for anything.
Kids Cabinet Lock and Closure
The Rhoost™ Sling is a great kids cabinet lock and closure to keep curious hands out of the cabinets and dangerous items. It is a non-screw, and non-adhesive installation. Simply adjust to the size you need and strap the sling on the door knobs. The Rhoost Sling is made of BPA-free, PVC-free, lead-free, phthalate-free and 100% recyclable material. Comes in 4-pack.  This is a much more stylish option than some I've seen and used on the market.
I installed the Rhoost Sling on our American Standard Generations Vanity. The vanity doesn't have large knobs, so I wasn't sure if it would work. To my surprise, it fit!
Win Rhoost Edge & Rhoost Sling (Closed)
Rhoost is giving you the chance to win both the Rhoost Edge 4 pack & Rhoost Sling 4 pack.
Updated: 2-3-11 Winner Announced: Amy
Contest ends at 11:59pm EST on February 2, 2011 when a winner will be drawn at random and announced the next day. When commenting, please include your email address (not visible to public). I will notify the winners and they will have 36 hours to respond!
This was not a paid post. My own opinions were used based on my perceptions and experience. Thank you to Rhoost who provided the products for review & giveaway.