We have heard of "Back to Sleep" campaigns where parents are encouraged to put their babies to sleep on their backs in the first 6 months of their lives to prevent SIDS (Sudden Infant Death Syndrome). We, as parents, understand the importance of it, but since babies lay on their back a lot, many parents notice flat spots ("positional plagiocephaly") on their babies' heads. I was one of the parents many years ago, with our first born.
Last year, my husband and I were blessed with another bundle of joy. This time round, I'm determined to pay a close attention to the baby's head shape and let him have enough tummy time. I began searching on the internet page by page, forum by forum on how to prevent the baby's flat head syndrome. Then someone in one of the forums I was following mentioned about the BabyMoon Pillow.
What are the recommended uses of BabyMoon Pillow?
As a head support when lying down and playing (from newborn to 6 months of age)
As a head support when on bouncer seats and swings (from newborn to 6 months of age)
As a neck support in car seat and stroller. (from 6-12 months of age)
What does the BabyMoon Pillow look like?
Founded by a mom, the BabyMoon Pillow is shaped like a full crescent with two arms on each end which s configurable for multiple uses as described above.
When used as a head support, the two arms should be overlapping each other and attached with a Velcro as a secure attachment to prevent the head from falling through the middle opening. When the baby lays on his/her back, the back part of the baby's head rests on the circular opening which provides comfortable support.
When used as a neck support, two arms should be detached and the Velcro can be hidden underneath by the fabric flap, aka Peek-A-Boo cover.
BabyMoon Pillow is made of soft material, perfect for baby's soft skin and comes in an elegant packaging. I am a sucker for nice packaging presentation and fell in love with the packaging immediately.
Our infant's skin doesn't get irritated by the soft pillow material; even his big brother tried it on and loved how soft the pillow felt on his skin.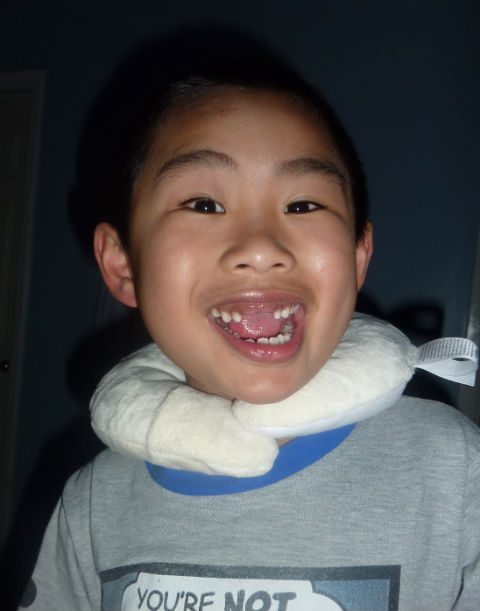 Our baby enjoyed it so much that we bring it with us wherever we go. We even brought it to the daycare and the caregivers, who had never seen that such a cool product before, agreed that this is a very useful product.
Buy the BabyMoon Pillows?
You can buy BabyMoon Pillows on the BabyMoon Pillows online store. The price range is from $26 to $28, depending on the cover designs (Polka Dots, Stripes and Solid). Made in USA.
BabyMoon Facebook Giveaway
BabyMoon Pillows are currently having a giveaway. To get entered to win a BabyMoon Pillow, simply LIKE BabyMoon Pillows on Facebook. If you already like BabyMoon Pillows on Facebook, refer a friend. You both will be entered to the giveaway. There is no limit on the number of entries.
This was not a paid post. My own opinions were used based on my perceptions and experience. Thank you to BabyMoon who provided the products for review.