Right now I don't get to do a lot of traveling. my children are young and our budget doesn't have the wiggle room to do any major travels. Don't get me wrong, I still dream of seeing the world, I plan on doing it with my children when they are older!
For now though, I thought I would give Escape Monthly a try. Escape Monthly sends out a box that will let you get away while sitting in your own home!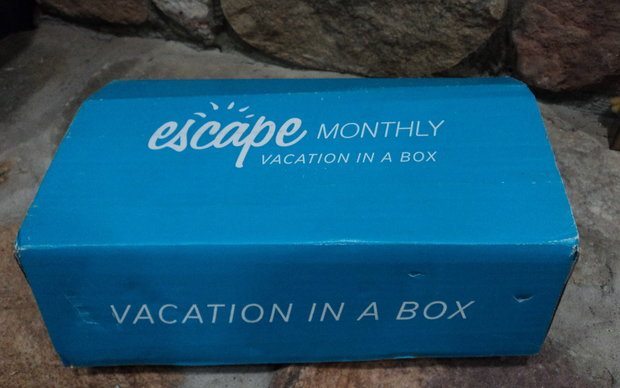 I was given a discount to facilitate this post.
Mexico
This months box was themed Mexico. I went to Mexico a long time ago( before passports were required to travel). When I went, I was young and my favorite parts were working at the orphanage and eating street tacos.  If I went back now it would be a very different experience. This Escape Monthly box gave me a taste of what I might enjoy now.  Here's a break down of what was in my box.
Ixtapa & Zihuatanejo handbook –this book covers anything from hotels to history and everything else you can think of.
Ayate 100% Natural Agave fiber washcloth – a mold resistant wash cloth, hand woven. I tried this and it's a great exfoliating washcloth.
Fusion Habenero heat flavored sea salt-This is spicy, I tried 2 grains and the heat is there! I can't wait to cook with it.
Kopali Organic dried mango– I loved dried fruit so this was right up my alley.  And it was yummy!
Pacifica Mexican Cocoa scented candle– it smells divine, a little bit spicy but sweet.
Sangria Senorial Soda– If you like Sangria this is a flavorful non alcoholic version drink.
Mundet Green Apple Soda– When I went to Mexico apple soda was a huge hit with us kids! I was excited to see this in my box.
Lucus sweet and sour Mango powder – I have never had this and it's oddly good. Sweet, sour and SPICY. Chili powder is the 4th ingredient.
Pulparindo–  I have never had this but it is better then I thought. It's salty sweet and a tiny bit spicy..the texture it like and organic fruit roll up.
Peanut Marzipan Candy– This was very sweet to me and a little powdery but taste like peanut butter.

Vacation without the Cost
I do feel like I had a mini vacation to Mexico with my kiddos. Maybe some music would have put this box over the top? It was  a lot of fun and for a monthly box priced $49.95 it's great for laying on the couch and pretending to vacation.  Next months box is California themed, which is exciting, I miss living there! What was really nice about Escape Monthly is that it was a LOT  less expensive then traveling to Mexico!
You can sign up this month using promo code is CALIESCAPE for 20% off your first box and all future boxes as well!! Isn't that awesome?