Target just announced that they are offering FREE Shipping on Target's Top 20 Toy List!!  Now you can shop for the best Christmas toys this year from the comfort of your home – forget about the packed stores and crazy Winter drivers. Stay home and enjoy Target free shipping.
My husband and I buy a lot of our Christmas gifts online, it saves so much time.  Now, with Target's Free Shipping, it is a no brainer! However, if you still like to browse and shop at Target, you can even scan toys on the top 20 toy list with your smart phone to ship to anyone on your list – for FREE.  Target has some really amazing toys this year and they are making it easier than ever to shop from home on Target.com.
Plus, Target just released their Target's Online Digital Wish List where your kids can check out the Target digital catalog and add the ones they really want to their wish list.  It is a gorgeous catalog that is easy for kids to see and navigate through. Your kids can search by top toys, gender, movies, games, gadgets, wheels, or just browse the entire online toy catalog. With a simple click, their wish list is created! If you have more than one child, don't worry, they can use the same catalog and use a different symbol so you know who wants what. I went through and created a digital wish list for my kids with their top picks.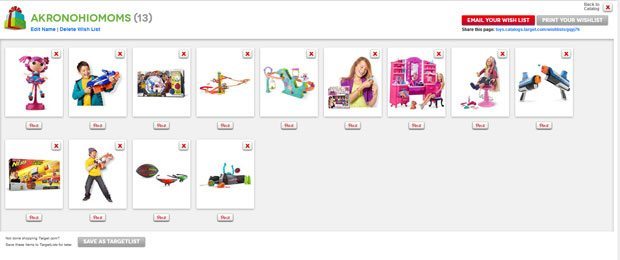 Next, you can email this list to all the grandparents, aunts, uncles, friends, and more so everyone knows what your child wants. Order online or print your child's wishlist and shop at your local Target.