Last year, I had Lasik surgery and one thing my doctors went over with me was, as I age I will need reading glasses. For me this really isn't a big deal except,  it means I will again be buying eyewear. I have a lot of time until then but I recently was introduced to Peepers. Their website launched in 1996 and since then they have been providing fashionable colorful reading and sun glasses.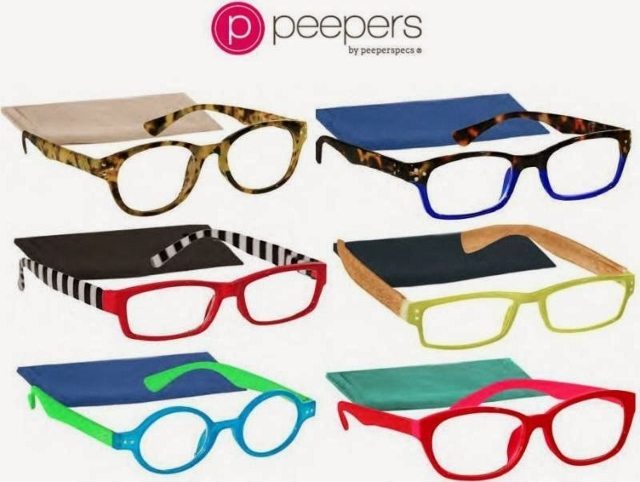 I received products to facilitate this post.
Affordable, Stylish Eyewear
Peepers offer the largest collection of affordable designer reading glasses for both men and women. This fourth generation owned company strives to exceed their customer expectations by always providing unforgettably stylish eyewear.  All the eyewear is very affordable the most expensive being  $55.00 a pair, the least expensive are only $13.50. These frames have made a few of Oprah's top gift lists. Here she is on the cover of her magazine with a pair of Peepers in hand.
Many Eyewear Options
Peepers offers many options not just in frames but prescription strengths in 1.25 through 3.00.  Also they carry a few strengths down to 1.00 and all the way up to 4.00.  Also you can choose to have bifocals, and tinted lenses. Most of their glasses come with a soft suede case. I love this because sometimes the hard cases are difficult to fit  into glove boxes, purse pockets, etc.  With over 600 styles for glasses you can find the right fit for you.
 Comfortable Eyewear
I received two pairs one with bi-focals, and one non-prescription. Both frames are light weight and comfortable.  With such a low price point, you can get a pair for every season.  You could even have enough to match with outfits or how you feel each day.
Regatta Bifocial
I love how many options you have with Peepers. You aren't limited to only a few styles when you have a low or high prescription strength. Check out the Regatta Bifocal Sunglasses they are $21.00.  This wayfarer style in blue is so fun for summer! 
Rainbow Bright Sunglasses
These Retro-inspired sunglasses are cute! I love the frosted plastic. These are the perfect sunglasses for a day on the boat at Lake Erie.  The Rainbow Bright frames ($21.00) will look great on people of all face shapes.
Peepers Promo Code
Peepers is offering a promo code just for our readers.  From today until June 30th, You can save 15% by using the promo code OHMOM at check out.  So head over and go take a peep at all the wonderful options for summer eyewear!