Do you long to be both fashionable and frugal? If you are like me, at best you are carrying around a plastic coupon organizer, at worst rubber-band coupons or envelopes. I found a product that will change your shopping life, it is the Savvycents Purse.
Hands-On Review of Savvycents Purse
This Patent Leather Wallet is an accordion style file system with a spot for your coupons, money, credit cards, license, checkbook, and even your change. It's everything you need in one beautiful clutch type purse. Slip it in  your purse and you are ready to go Save Money! The purse comes with pre-printed and blank labels so you can organize your coupons in the file system. Keep your store discount cards and credit cards in the 6 pockets that can easily hold 2 each.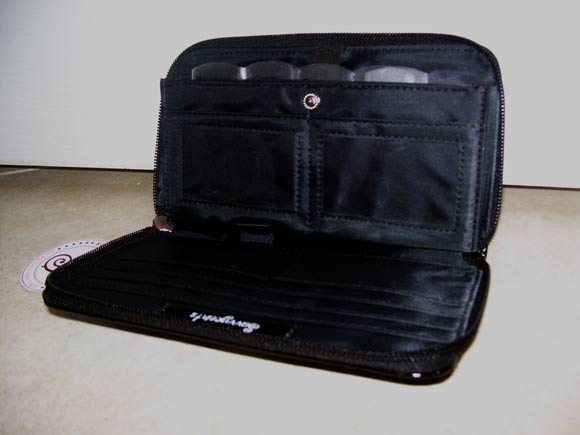 Now when I flip out my coupons, I feel fashionable. Seriously, you know that you are saving a ton of money with your coupons, pamper yourself, you deserve it. Savvycents Purse is both  practical and fashionable.
Buy Savvycents Purse
Buy the  Savvycents Purse.  It comes in Black, Red, and Pink Patent Leather for $24.99. This is a great birthday gift or Christmas gift for your thrifty friends too!
Win Savvycents Purse (Closed)
Updated: 11/1/2010 Winner Announced: Congratulations Melissa Zimmerman, Entry #43.
Savvycents Purse is offering you a chance to win your own Savvycents Purse.
Required Entry
To Enter: You must visit the Savvycents Purse website and leave a comment below on something you learned about the purse that you like.
Increase your Chances of Winning with Extra Entries
Leave an additional comment for the value of each extra entry and a way to verify the entry.
"Like" AkronOhioMoms on Facebook (posting a comment is appreciated but not required)
"Like" Savvycents" on Facebook (tell them AkronOhioMoms sent you is appreciated but not required)
Follow AkronOhioMoms on twitter
Follow Savvycents on twitter
For 2 entries/day, comment on my Try Cindy Orley's Perfect Potato Pockets Recipe article (voting not required but APPRECIATED)
For 1 entry each, up to 2 X a day, tweet my Pillsbury Finalist status for up to 2 extra entries every day! Copy and paste:  Mommy Blogger Cindy Orley needs your vote & you can win $5,000 too http://bit.ly/dmnKWS #sweepstakes #contest
Tweet about this giveaway. Tweet daily for an extra entry every day! Copy and paste: Win Savvycents Purse & be fashionably frugal
https://www.akronohiomoms.com #contests #sweepstakes
For 3 entries, comment on any Total House Remodel post
For 5 entries, blog about this giveaway on your website and link back to us and Savvycents Purse
For 3 entries, Stumble Upon this post with button on top of screen
Join us with Google Friend Connect (on the sidebar)
Cast a vote for us on Top Baby Blogs
Rate my site on Top 100 Mommy Blogs

Leave one new comment on any other post or giveaway
For complete contest rules, please see our Contest Statement and Blog Disclosure.
Contest ends at 11:59pm EST on October 28, 2010 when a winner will be drawn at random and announced the next day. When commenting, please include your email address (not visible to public). I will notify the winners and they will have 36 hours to respond!
This was not a paid post. My own opinions were used based on my perceptions and experience. Thank you to Lawry's who provided the products for review & giveaway through MyBlogSpark.