Get all your back-to-school shoes at Lucky Shoes for the perfect fit every time. Lucky Shoes offers all the top quality brands you trust in the latest styles for the whole family. What sets Lucky Shoes apart from all the rest are their professional fitters that ensure you get the best fitting shoe for your feet every time.
This is a sponsored post.
Get the Perfect Pair of Back-to-School Shoes at Lucky Shoes
Buying shoes for your kids this school year is more than finding a quality pair of shoes. It is all about the fit. Kids feet grow and change often making it essential to get your child's feet measured by a professional. When you visit Lucky Shoes in Fairlawn, Ohio, you will get personal attention by their professional fitters that are trained to access your feet and recommend the best shoe for your feet.
My son has high arches and often has leg and foot pain. We always buy quality shoes, but never knew that there is more than picking a brand to finding a good shoe until our visit at Lucky Shoes. I highly recommend our fitter, Tim as he was remarkable with our children. He measured their feet with the traditional scale for foot measurement for both length and arch size.  Apparently the size of your arch reflects in the shoe size you need!
Next, Tim took our children to the Harris-Mat and the Aetrex iStep machine to determine the arch and pressure points of their feet.
My son has both high arches and rolling arches, something we never knew until our visit with Tim at Lucky Shoes. This piece of information is vital to my son's shoe selection and having a properly fitted shoe that will help with his feet and leg pain.  Instead of asking my children what shoe they like, Tim asked my kids the colors and styles they prefer, then he selected shoes from the back room that are good for their feet.
Lucky Shoes offers brands you can trust. My son is in middle school and wears men shoes. Popular brands at Lucky Shoes include Brooks, Clarks, New Balance, Merrell, Keen, Birkenstock, Ecco, Timberland, Sperry, and more.
This pair of New Balance sneakers were a perfect fit for my son's high arches. It offered the support he needs to keep his alignment good and his arches from rolling. This will be his daily shoe that he wears to school and physical education class.
My son also tried on a pair of Keen hiking boots/shoes. My son loves hiking in the woods, making this a great shoe for his adventures. It keeps feet dry while still letting his feet breathe, making it good for all seasons.
What makes it perfect for my son's feet is the built-in metatomical internal support foot bed. This shoe will keep his foot supported whether he's at school or hiking in the woods. I even tried them on to feel the support and felt so aligned and sturdy on my feet. I felt like I was so stable in these shoes that nobody could push me over – if that makes any sense. We can really feel how supportive these shoes are and know they will be a good shoe for my son for back-to-school.
Next, Tim fitted shoes for my daughter. First, he measured her foot length and arch size. He also used the Harris-Mat and the Aetrex iStep system to see her arches and pressure points.
Again, Tim asked my daughter for color preferences and styles before selecting about 10 pairs of shoes for her to try on. She was in heaven trying on so many beautiful shoes. My daughter is a women's size 8.5 or youth size 7 so she can select shoes form both the kids section and women.
She tried on many different styles, colors, and brands. Lucky Shoes sells many brands for women including Brooks, Birkenstock, Clarks, Merrell, Sperry, Ugg, Saucony, New Balance, and more.
We found that different styles even within the same brand and same size fit my daughter's feet differently. Having a professional fitter ensures your child get the perfect fit that they won't outgrow in just a couple months! With one shoe, her toes were at 1/8″ from the end and another shoe, they were nearly 1/2″, which is a big difference.
As a general rule, they recommend 1.5-2 sizes larger than the measured foot size for kids as they grow so quickly. This is all dependent on how well the shoe fits now as well as giving room to grow.  I'll never guess on my kids' shoe sizes again after having the personal one-on-one experience with a professional fitter!
In the end, she liked a New Balance and Brooks sneakers. She chose the Brooks on the right because of the colors – both fit perfectly!
Even though she was measuring at a size 8 in length, her high arches ended up making her actual shoe size a size 9. I'm so glad I didn't measure her feet on my own and bought her a size too small!
In the children's department, you'll find rows and rows of shoes for toddlers, girls, and boys in every style and color imaginable. Lucky Shoes has an incredible selection of shoes – some of which aren't even on the shelves.
You can find high quality brands that are good for your child's feet health and comfort including Stride Rite, Chaco, Hanna Andersson, Hunter, Keen, Jambu, Ugg, Umi, New Balance, Saucony, and more.
It is recommended that your child's feet be sized every 4 months to ensure the proper fit. It isn't uncommon for kids to skip 1-2 sizes between fittings as their feet grow so quickly.  A properly fitted shoe will enjoy that your child's shoes will feel comfortable and not wear out quickly. It also helps prevent foot pain.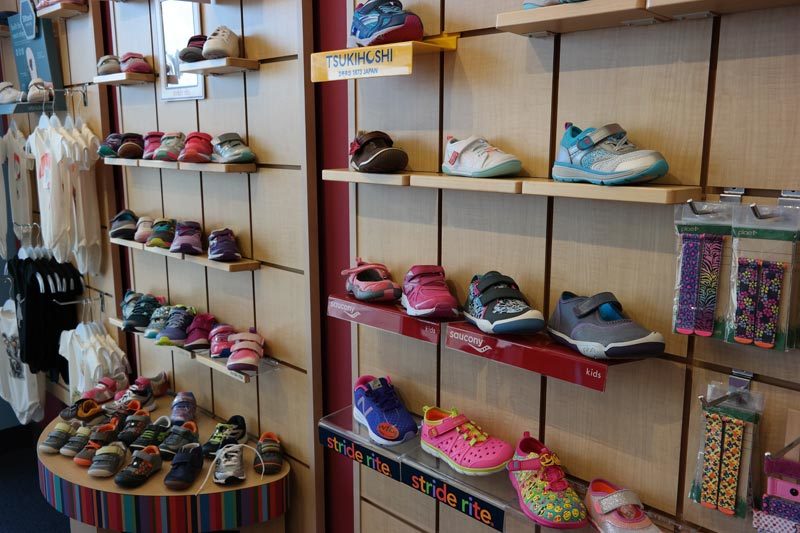 Make Lucky Shoes your headquarters for back-to-school shoes for your whole family.
Whether you are shopping for young children, teens, or adults, being fitted by a professional will ensure you have the perfect pair of shoes every time. It also eliminates issues attributed to ill-fitting shoes like Plantar fasciitis, bunions, hammer toes, corns, calluses and many other issues.
Tim took excellent care of my family, we will be forever customers. I had no idea there was so much involved in finding the perfect pair of shoes based on so many variables. I can't wait to see how properly fitted shoes helps my kids, especially with my son's foot and leg pain. Both my husband and I are going back to get fitted for shoes with Tim. Whether you meet with Tim or another professional fitter, you'll be taken good care of at Lucky Shoes.
Shop this weekend during Ohio's Sales Tax Holiday, Friday, August 4 – Sunday, August 6, 2017.  You pay no sales tax on shoes priced at $75 or less.
Lucky Shoes
2685 W. Market St.
Fairlawn, Ohio 44333
330-836-9542
Get social with Lucky Shoes to check out the latest styles and promotions on Facebook, Twitter, and Instagram.