There is no better place to find exceptional deals and selection than at Lodi Station Outlets in Burbank, Ohio. I typically do all the shopping for our household, going from store to store to get the best deal. The one place that my family actually enjoys going shopping together is at Lodi Station Outlets. Even my husband, who is not a shopper enjoys it.
Lodi Station Outlets is home to more than 60 outlet stores in an impressive 311,478 square-foot outlet mall. It is located in beautiful Burbank, Ohio, just off I-71, near Lodi, Ohio.  With that many stores, your whole family is sure to find their favorites.  Some of our favorite stores include Gap Outlet, The Children's Place, Adidas, Gymboree Outlet, OshKosh B'Gosh, Carters, Justice – Just for Girls, Kitchen Collection, Black & Decker Outlet, Lots of Knots – Ceramics, and Vitamin World. Be sure to take a break to play on the playground, get lunch in the cafe, or ride the train to make it a day at Lodi Station Outlets.
Lodi Station Outlets Review
My family was invited to Lodi Station Outlets during a Blogger Event. We were able to sample the Steam Cafe menu, ride the train, and see how many deals we could catch with $100.
Deals, deals, deals. They are everywhere at Lodi Station Outlets. If you've never shopped outlet stores, you will be blown away by the price discounts you can get on your favorite brands.  For added savings, check out the Lodi Station Outlets Coupon Savings section too. It is a beautiful mall with well groomed and maintained grounds and stores.
What we bought for $100 at Lodi Station Outlets. I was pretty impressed by what we were able to buy for $100.
My husband bought a really nice pair of BassEarth hiking/sandals at Bass. My son picked out a pair of shorts and tank top at Gymboree. My daughter picked out a tank top, shorts, and sun dress of Gymboree.
My son picked out a digging shovel at Black & Decker – I told you he was my nature boy!
My daughter picked out nail polish and bubble gum tape at Justice.
Our whole family enjoyed painting our own ceramics at Lots of Knots.
Shopping with kids can only last for so long, luckily there is Lots of Knots Ceramics at Lodi Station Outlets. This was a kid and family favorite while we were there. There are hundreds of ceramics to choose from. Pick your favorite and paint them right in the store with their amazing selection of paints. Finish you shopping and come back to pick them up once they are dried. This was so much fun. I even saw a bridal shower setting up at Lots of Knots, what a fun idea for bridal showers, baby showers, or just a girls night out.
Lodi Station Outlets Food Court
Lodi Station Outlets Food Court offers a variety of food to satisfy any hunger for a quick meal or snack.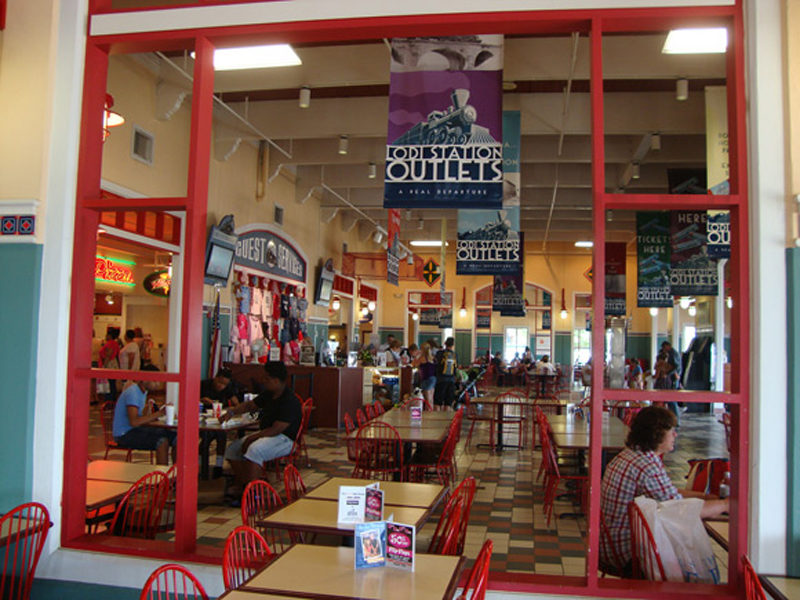 Choose from Auntie Anne's Soft Pretzels, Steam Café, Subway, Villa Pizza, and Wok And Roll.
We enjoyed a delicious and healthy lunch from Steam Cafe.  I enjoyed a taco salad that was generously sized. My husband ordered the summer salad with fresh chicken salad and tuna salad. My kids enjoyed ham sandwiches on croissants.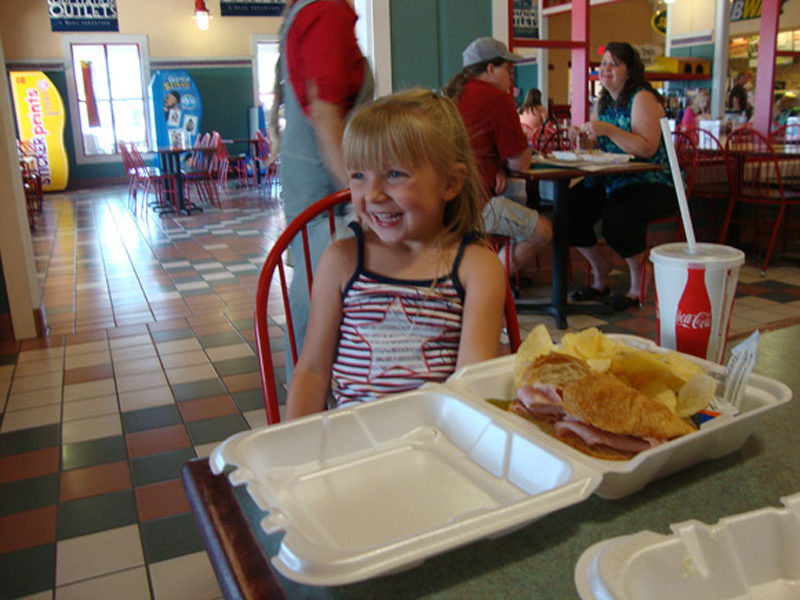 Steam Cafe offers an amazing selection of specialty drinks too: mocha, latte, cappuccino, espresso, chai latte, hot chocolate, tea, coffee, and more.
I enjoyed a Raspberry Sprtizer and my husband enjoyed a Caffe Latte.  Lunch at Steam Cafe was a tasty, satisfying, and healthy option.
Lodi Station Outlets Train Ride
A few years back, Lodi Station Outlets introduced their Train Ride. My kids were so excited when their grandparents took them on the train ride when it first opened. I had no idea the magnitude of this train ride until I experienced it first hand. It's not a fifty-cent train ride at a store. Lodi Station Outlets Trains are beautiful, custom-made trains that circle the entire outlet mall on 2 miles of track. Although not real steam engines, the Lodi Station Trains have enhancers to make them sound like authentic railroad trains.
When we were there, we were able to meet Chugga Chugga Charlie, the Lodi Station Outlets mascot. He greeted us and waved at us as we left on the train. In fact, as we rode the train through the center of the outlet mall, many people waved at us. My kids thought it was so fun to wave back at every one as they rode by. The train ride is more of an even than just a ride. I didn't time it but it had to be a 20 minute train ride as we circled and winded through the entire outlet mall, through the train barn, and back. It is a good way to rest your feet during a busy day of shopping the outlet stores.
All day pass is just $3.50 Monday – Thursday and Single Ride pass is $3 Friday – Sunday.
You can even have a Kids Birthday Party at Lodi Station Outlets. Your child and friends will enjoy a special birthday train ride  with the birthday child as the engineer driving the train, also Chugga Chugga Charlie will be the on board host, it includes lunch, goodie bags, 1 hour party room, special keepsakes for the birthday child. This would be the perfect birthday party for train fans.
Train Hours:
Saturday, June 4 – September 28, 2011.
Saturdays: 11:30 a.m. –  7:30 p.m.
Sundays: 11:30 a.m. – 6 p.m.
Monday through Friday: Noon  -6 p.m.
Visit Lodi Station Outlets
Whether you are back to school shopping or any time of year, Lodi Station Outlets is the place for the best deals, selection, and fun in NE Ohio. Keep an eye out for their special holiday events too on their website or on AOM.
Lodi Station Outlets Hours:
Monday – Saturday:  10 a.m. – 9 p.m.
Sundays:  11 a.m. – 7 p.m.
Lodi Station Outlets
9911 Avon Lake Road
Burbank, OH 44214
Lodi Station Outlets on Facebook
Lodi Station Outlets on Twitter
This was not a paid post. My own opinions were used based on my perceptions and experience. Thank you to Lodi Station Outlets who provided the gift card for review.