During the quarantine last year, Terra, a military wife and Stay-At-Home-Mom of 3 small children in Stow, Ohio, was looking for something ELSE to do while under lockdown. Her husband had just been deployed to Iraq. Thank you for your service, Michael! But Terra had always had a dream: to create a small business using natural products that "capture the essence of nature and combine its beauty to create captivating and beneficial self-care experiences."
Terra has learned how crucial it is to intentionally create a self-care regimen. Yes, she's a busy Mom, but during childbirth with her third child, Terra experienced life-threatening complications. Her precious family almost lost her. By the grace of God, she is still here, but not without experiencing PTSD and knowing first-hand what it means to cherish every moment and care for yourself and those around you well.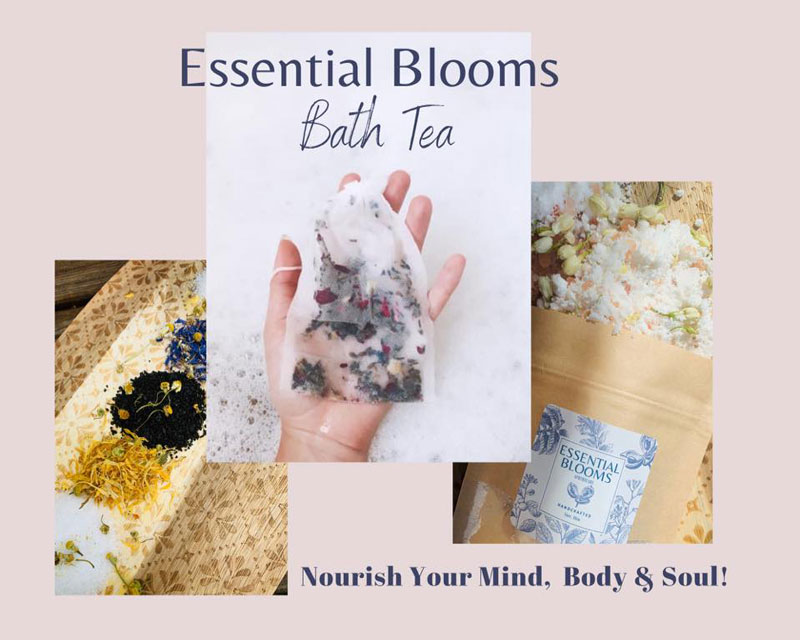 On those lonely nights, after the kids were in bed, Terra needed to relax and unwind so she began studying and researching the benefits of self-care while using organic, natural essential oils and non-comedogenic hygiene ingredients. She started testing, creating, and sampling a concoction called Bath Tea. Bath teas combine various salts, florals, herbs, and oils inside of a large tea bag that you actually steep yourself inside of your perfectly tempered tub! If you aren't into marinating yourself, these bath teas also double as foot soaks. I personally haven't tried them, but look forward to my next Essential Blooms purchase!
Terra decided to gift her hand-crafted bath teas to some very lucky friends! With all of the amazing feedback she received, she wanted to eventually expand her product line. As a teen, Terra struggled with acne and like most of us, had a bathroom counter lined with overpriced commercial products full of toxic ingredients that didn't take care of our complexion problems. All of our lives we've heard, "Oh no! Don't put oil on your face! It will clog your pores!" Due to my temperamental skin, I was a bit hesitant to use products with oily ingredients. Terra was hesitant too until the results came! Her skin cleared and she wanted to share more of the good news.
When Terra's husband finally returned from Iraq over a year later, he encouraged her to expand her product line. Essential Blooms blossomed into not only products for women, but men, too! Body scrubs, body oils, eyelash & eyebrow growing serums, and beard oils were born. You'll be excited to know that a new Teen line is on the horizon. Terra also has created a mask spray for children (or adults) so that their Covid masks smell yummy!
For the purpose of this review, I received the Organic Skincare set. I planned on pampering just myself morning and night, but my 13-year-old daughter soon joined me. With this customizable kit, you can choose between 3 organic skincare collections. Each collection includes 1 organic facial cleanser, 1 organic toner, and 1 organic facial oil! All sets include an amazing Renew Facial Scrub.
We learned quickly that a little goes a long way! These products carry a perfect synthesis of organic, natural, and rejuvenating ingredients. The cleanser has a bit of Dead Sea Clay, which is excellent for drawing impurities out of the skin. The toner contains witch hazel, perfect for minimizing pores. The facial oil! My face is supple, rosy, and does not have an oily film. The oils penetrate the skin well. Added to this regimen, I tried The Daily Grind caffeine-infused eye serum roller. There was a noticeable improvement in my dark, baggy eye circles! I'm sensitive to chemical smells, but these naturally fragranced items do not bother me, they didn't irritate my skin, and I knew that everything I used was natural and healthy, too!
Would you like to try the line of quality products that Essential Blooms has to offer? Terra's products can be found and ordered on Etsy where you will see the many glowing reviews of her satisfied customers. In order to receive your great locally-crafted gift options before Christmas, place your order before 12/17. Items will ship from Stow and did I mention FREE SHIPPING?! Another reason to shop from and support local makers. You're keeping business dollars local and supporting a local military family when shopping with Essential Blooms.
You can also find Essential Blooms products at these fine local establishments:
Would you like to try a Bath Tea? Register here for a free giveaway!
This promotion is in no way sponsored, endorsed or administered by, or associated with, Facebook. In order to comply with the latest Facebook Promotion Guidelines (revised 5/11/11), the following statements are true: