Our home remodel project continues with a new concrete driveway by Dan Guardo Contracting! We've had many issues with our gravel driveway from being messy to being washed away. We chose Dan Guardo for his A rating with the BBB, as well as his amazing portfolio and experience. We were all so excited when his crew came out last week to prep our driveway!
Check out this time lapse video to see what is involved in prepping a gravel driveway for concrete.
This is not a sponsored post. I received a discount for a series of posts.

Dan Guardo Contracting Driveway Prep
We were all like kids in a candy store watching the Dan Guardo Contracting  prep our driveway. We couldn't be more excited to see the track hoe drive up and start the excavation!

I had complete confidence after meeting with Dan during our initial free estimate. He is friendly, knowledgeable, and passionate about concrete! He was just as excited as we were to transform our driveway and curb appeal. His company poured over 130 projects last year alone, so they have both experience and confidence in what they do.
During the prep day, there were several men that came out to measure, stake out, and "move rocks." Larry was there the majority of the day with the track hoe, using it with precision around our wooden retaining walls.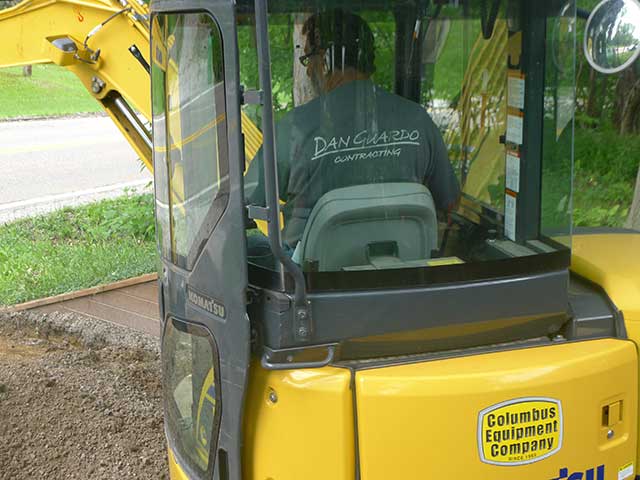 Initially, we were only going to concrete the driveway and not the front porch. However, we did request an estimate on the porch as well and was pleased with the quote! We decided to go for it all!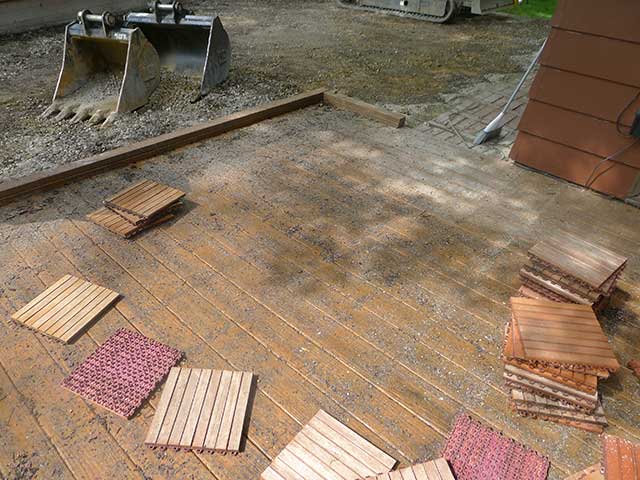 They removed the wooden porch and found a concrete slab under it. It was hard work, I'm so glad that we didn't have to tear up that porch ourselves. It would have taken my husband and I an entire day, I'm sure. They have all the right tools and equipment, it didn't take them long at all.
My husband did help a little. We were just so excited for the progress on our home!
During the porch removal, our kids were banned from being outside. No need to step on a nail or get in the way.  Dan Guardo Contracting still had an audience as my kids watched from our front door.
They hauled away all the nasty – completely awful rotting wood porch!
Guess waht they found! A 8 foot deep hole filled with water! Apparently the previous owners had a cistern for storing water at some point. When they were done, they covered it with a wood porch. I was sick with worry. What were we going to do with a hole filled with 8 feet of water?! Simple, drain it.
So, the project continued as they excavated the old gravel and brick away. This was the end of the first day of excavating.
The next day involved a lot of measuring and leveling. They used equipment to get the right pitch so that the water would drain away from our house and garage. From there, they marked everything out using poles, string, and forms.
From there, they placed metal screens over the driveway surface – one section at a time, starting with our newly expanded driveway to the left of our garage.
For the front porch, they added a new cover over the hole and used thick rebar to reinforce the entire front porch area.
Here is a better view of our new expanded driveway on the left of our garage. We had previously expanded this area with gravel to add a much-needed parking space. Now, we will actually be able to park almost two cars back to back here. This will be helpful on party days since we cannot have people park on our busy, hilly street. They built forms along the sides to build up this area.
Here is another shot of a form used to create a new wall.
From there, they placed black spacers along the house and our wooden retaining walls. This will protect the house and the concrete during expansion and contraction throughout Ohio's ever-changing weather.
Next up, concrete pouring day!!
Do you have a custom concrete project for your home or business? Give Dan a call at 330-945-8001 for your free on-site estimate.