Does your house need a good Spring Cleaning?  Mine does! There never seems to be enough time to keep up with the daily cleaning of the house, let alone deep cleaning. That's where Maid to Satisfy steps in!
My parents were moving into a new home that had been empty for 6 months or so which meant plenty of dust and cobwebs. We were trying to figure out if we should clean the house before or after they moved in. We decided to call Maid to Satisfy to clean the entire home before they moved in and we are so glad we did!
I received services to facilitate this post.
Our Maid to Satisfy Experience
Maid to Satisfy is a Akron/Canton cleaning service that is locally owned by a Veteran.  They service all of Northeast Ohio with professional, quality home and commercial cleaning services.  Maid to Satisfy employees are drug tested, Federal and State background checked, interviewed, and arrive in uniforms.
Our cleaners were amazing! They were so friendly, professional, and ready to get to work as soon as they arrived!  I had expected the standard cleaning of the house but was surprised that they even got the cobwebs at the top of the high ceilings!
We also ordered the extra cabinet cleaning for a few dollars more.
Not only did they dust the tops of the cabinets but they cleaned all of the exterior and interior of the cabinets! This is a service that I want to have done in my home very soon! They made everything shine and look new again.
This kitchen was dusty and dirty when they arrived and it shined like new when they were done! My mom was so excited when she saw how sparkling everything was when she moved in. It was such a good idea to clean everything before the big move!  Imagine coming home to a clean kitchen like this every week. You can book weekly, bi-weekly, monthly or occasional cleanings with Maid to Satisfy, it's all up to you. Most people book 1 or 2 extra deep cleaning services like cleaning the outside and inside of kitchen cabinets with each house cleaning.
Another service that I added onto the general cleaning was cleaning the windows and baseboards. As you can see, they were quit dirty!  They cleaned the window sills as well as the actual glass.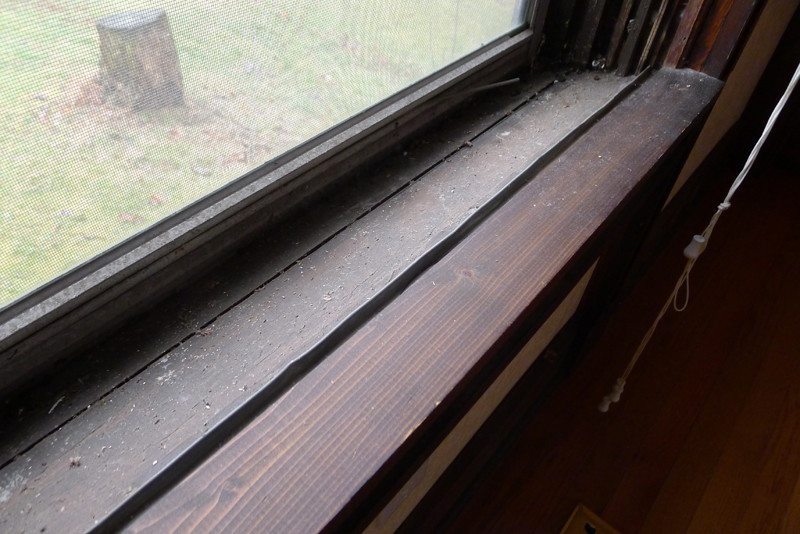 It was amazing to us how this added deep cleaning service made such a difference in the overall feel of the home.
Cleaning baseboards is never fun but really needed. I know it is on my Spring Cleaning list!  The ladies with Maid to Satisfy cleaned all of the baseboards in the entire house. They looked so nice afterward!
They bring all of their cleaning supplies with them, including their vacuums.  They research all of their cleaning products and use quality products that work. I actually got some pointers from them because they worked so well, especially for well water. When they were done cleaning, the lead cleaner checked every single room and touched up, as needed.
Even though there was dust and cobwebs, the house didn't seem too dirty when we first saw my parent's new house. I didn't expect the results that we received from Maid to Satisfy. I knew it would be cleaner but I didn't expect for the house to look and feel like a new house! It felt like a totally different house when they were done! I was so excited, I couldn't wait to call my mom. She was beyond thankful and thrilled to have a clean home to move into.
Book your Maid to Satisfy Appointment Online
If your home has some deep Spring Cleaning that needs to be done, consider hiring Maid to Satisfy. Or maybe you just need help with general cleanings once or twice a month, they can help with that too.
Book appointments (no in home estimate required) online in just 60 seconds. You decide what rooms and services you would like and get a quote instantly. You can also manage your account online, including paying online securely. It is so convenient.
Each service comes with a 100% satisfaction guarantee, so you have nothing to lose.  We were highly satisfied with our service and highly recommend Maid to Satisfy.