The Piada Italian Street Food restaurant is now open in Akron, Ohio in the new West Market Street Station.  This family-friendly restaurant offers dozens of made-to-order, freshly prepared seasonal Italian street food including Italian pasta bowls, salads, wrap-style piadas, and tascas.
This is a sponsored post.
Piada Italian Street Food in Akron, Ohio Review
We were excited to visit Piada Italian Street Food for the first time last week. It is a casual restaurant that prepares food fresh before your eyes as you order at the counter.  The restaurant is spacious with trendy decor and modern lighting. It is very welcoming with a variety of seating options for any size party.
Pick up a menu to order customer favorites like piadas, salads, pastas, and tascas OR create your own masterpiece. Every item can be customized as it is all prepared right before you as you place your order by chefs.
This was the first time I've had a piada. They prepare it with thin-crust dough, load the toppings of your choices and hand roll it.
Check out the toppings and house-made sauces and dressings!!  There are just as many options for grill items to any entree like grilled chicken, steak, Italian sausage, crispy chicken, calamari, grilled salmon, and meatballs.
I love how fresh everything is at Piada. The entire menu is built around season items, which means an ever-changing menu to enjoy every season. I especially love add avocado to my dishes. A popular item right now that my husband ordered (below) is the Summer Avocado Piada with roasted sweet corn & tomatoes, fresh avocado, arugula, mozzarella, pancetta, and basil aioli.
I ordered the Summer Lunch Bundle that includes any seasonal tasca with roasted corn salad and beverage. I enjoyed the layered turkey pesto tasca with turkey, basil aioli, sundried tomatoes, arugula, sweet & spicy pickles with a lemon basil dressing. It was a very tasty combination!
This hearty meal was just perfect for dinner for me – very filling yet not heavy. I love the flavor combination – you won't be bored with all the flavors offered at Piada!
I paired my meal with a Blackberry Hibiscus Lemonade. After enjoy hibiscus infused food while on vacation, I was eager to enjoy something similar at home. This really hit the spot – sweet but not too sweet and full of flavor that screams SUMMER!
It's sooooo good!!!
My daughter created her own pasta bowl with plenty of spinach, tomatoes, cheese, grilled chicken and an Alfredo sauce.  She loved ordering it exactly how she wanted it. Piada Italian Street Food has something on the menu for everyone – I can't think of anyone that couldn't find something amazing here. Even picky eaters will find something delicious to satisfy their taste buds – kids included! You can order different sizes too, my daughter's bowl is dinner size but for smaller appetites and younger children, you can order a smaller portion. There is also a full kid's menu!
My son also knows exactly what he likes so her created his own steak piada.
That's a happy kid! My kids loved the fun vibe at Piada in Akron and can't wait to go back with friends.
The Farmer's Market Salad is another customer favorite with very good reasons!  It is a delicious assortment of mixed greens, napa and red cabbage with the freshes strawberries I've ever tasted, fresh avocado, roasted sweet corn, spiced pecans, feta, and lemon basil dressing. Talk about freshness overload! It is amazing. I added grilled salmon on top for just a few dollars more, which I highly recommend. You can also add grilled chicken.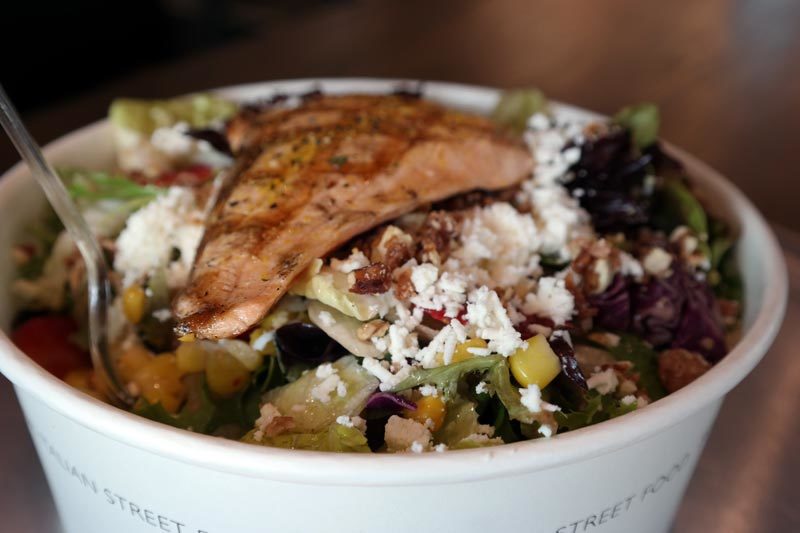 Along with traditional sodas and the specialty lemonades, you can also order Italian teas. I can't wait to try them next time.
If you are in a hurry, place your order ahead on their app and pick up at the counter. Download the Piada App to earn rewards too!
The outside patio offers additional seating to enjoy visiting with family and friends over a great meal. There is a variety of cozy seating arrangements both indoors and on the patio.
Inspired by the family-run food carts and markets of ancient Rimini, we are fortunate to have our very own Piada Italian Street Food at West Market Street Station in West Akron, Ohio. Do yourself and family a favor and check it out soon. It is sure to become a family favorite quite quickly!

Piada Italian Street Food
46 N Hawkins Ave Suite 225
Akron, OH 44313
(234) 706-2564d
Win Piada Italian Street Food $25 Gift Card
You have the chance to win a Piada Italian Street Food $25 Gift Card!!
a Rafflecopter giveaway

his promotion is in no way sponsored, endorsed or administered by, or associated with, Facebook. In order to comply with the latest Facebook Promotion Guidelines (revised 5/11/11), the following statements are true: