I was excited to see what I would find when I went shopping at Lil Frog Fashions and Jr. Frog Fashions in Cuyahoga Falls. I was pleasantly surprised when I entered Lil Frog Fashions to find that this consignment shop was neat and clean with plenty of room to see each item. I have been to a few kids consignment shops and usually leave before I find anything because of how frustrating it is to try to pull one item off the rack.
Lil Frog Fashions makes me think of a boutique children's shop with modern decorating. I was warmly greeted by the owners and their daughter, who frequently helps out in the store.
I received product to facilitate this post.
Back to School Shopping on a Budget is Easy at Lil Frog and Jr Frog Fashions
Looking through the racks at Lil Frog Fashions with my girls was so much fun with all of the adorable inventory. Some items still had their original store tags and were priced just right, everything that I saw was in great condition, some of it looked as if it had never been worn before. Lil Frog Fashions has just recently filled its racks with 500 pieces of fall clothing for back to school. I was able to buy 4 shirts, 3 sweaters and 2 pairs of pants for my girls for less than $50!
Lil Frog Fashions is a Fox 8 Hot List Winner, and it's obvious why, with their friendly staff and the way the store is connected to the community by selling vendor's handmade items such as, tutus, and bows as well as decorations, as well as items that are sold to benefit a family with a daughter who has health problems.
Lil Frog Fashions has been around for 4 years and just last December moved to their new location on Chestnut Boulevard in Cuyahoga Falls. June 2014, Jr. Frog Fashions opened to the public for those kids who have outgrown Lil Frog Fashions' clothing selection.
The quality of the clothing in both Lil Frog Fashions and Jr. Frog Fashions is great, all of the clothing we purchase was just like new and with familiar names like Oshkosh, Children's Place, GapKids, Abercrombie, and Aeropostale, there is something for everyone in your family's style at prices that can't be beat!
Jr. Frog Fashions has Clothing for Older Kids and Adults
Jr. Frog Fashions has a similar boutique look to Lil Frog Fashions, with 2 changing rooms and a section for accessories, it is easy to find a ton of cute clothes for both your teen and preteens as well as for mom and dad! With sizes for women up to size 14, and up to size 40 for men, it is easy to put together multiple outfits from their inventory for a good price! I was able to purchase 2 men's shirts, 1 pair of women's jeans, 1 dress, and 6 women's tops for $52!
Jr. Frog Fashions is a great place to shop for Jr. High, High School and College students. I found some great items for mom and dad too! I love the jeans that I found for less than $10!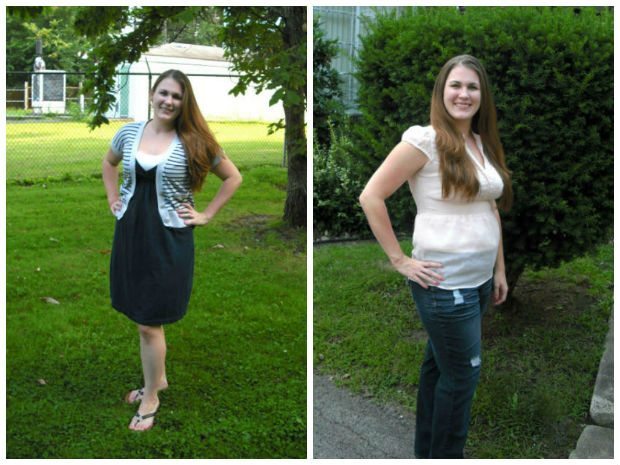 If you are looking to empty your storage of your kid's clothes, bring them to Lil Frog Fashions or Jr. Frog Fashions where you will receive 35% of every item that they buy. Located at 2010 Chestnut Blvd. in Cuyahoga Falls, be sure to stop by Lil Frog Fashions and Jr. Frog Fashions for your back to school clothing needs!
This was not a paid post. All opinions and views are my own. Thank you to Frog Fashions for providing product for this review and giveaway.