Tax Free weekend is almost here!!  It has become the 'Black Friday' of back-to-school shopping with no taxes on back-to-school clothing, shoes, and supplies plus retailers are rolling out the savings even more! Summit Mall is the perfect place to shop for back-to-school during tax free weekend, Friday, August 3, 2018 – Sunday, August 5, 2018 with extended shopping hours and a Back to School Extravaganza!!
This is a sponsored post.
Summit Mall Back to School Extravaganza
Right in the middle of Tax Free Weekend, Summit Mall is hosting a Back to School Extravaganza making it even more exciting to shop! There will be hourly drawings, exhibitors, face painting, games, and plenty of giveaways!  You won't miss your chance at winning the Grand Prize of a set of (4) tires from Goodyear! Make plans to start your back-to-school shopping during the extravaganza Saturday, August 4th from 12-3pm!!
Shopping for Back to School at Summit Mall
We got a head-start on back to school shopping today at Summit Mall! There are already great deals and a wonderful selection of both summer and fall items on display at the stores.
During Tax Free Weekend and the Back to School Extravaganza, there will be many deals! Tax Free Weekend is becoming the new Black Friday for back to school shopping. All of the retailers are offering additional savings, BOGO, and free items with purchase so it is the perfect time to shop!! Download the Simon Mobile App  to see all the latest deals and a 3D mall map! During Tax-Free Weekend, many of the retailers are offering.
This was our first time shopping at Hollister California and we are big fans now!
My son picked up some jeans and shirts at great savings. Plus, we signed up for their free rewards card for $10 off our first purchase of $25+! This offer will be valid during Tax Free Weekend as well as a free drawstring bag with a certain TBD dollar amount purchase.
They also had unique backpacks for school.
One of my daughter's favorite stores is GAP Kids.
We found some really good hoodies, jeans, and shirts for her. She loves the clean, modern, yet comfortable style of GAP. They are stocked with a lot of fall inventory already, perfect for back to school shopping!
Teens and adults will find equally good selections at the connected GAP store too. Moms, it is ok for your to pick up clothing during Tax Free Weekend – it's tax free for ALL sizes!
My daughter was smitten by the western boots on display at Buckle! I'm sure we will be visiting that store once she outgrows her current boots! I love that Summit Mall boasts over 100 specialty shops for every style and age group!  You can find clothing for you and your kids as well as items for the home and gifts for everyone under one roof.
My son is a big fan of American Eagle Outfitters. Their clothing is high quality and last forever – even for my outdoors kid who is rough on kids.
They have a great selection of trendy styles teens love.
Charlotte Russe is one of those stores that I can't wait to shop with my daughter in because it looks like they have a nice selection of pretty feminine styles for teens and young ladies. Plus, their prices look really affordable for trendy styles.
One of my favorite stores at Summit Mall for clothing, sought-after accessories, and home decor is Altar'd State. It is a women's fashion boutique for teens and women. Their displays are always so inviting!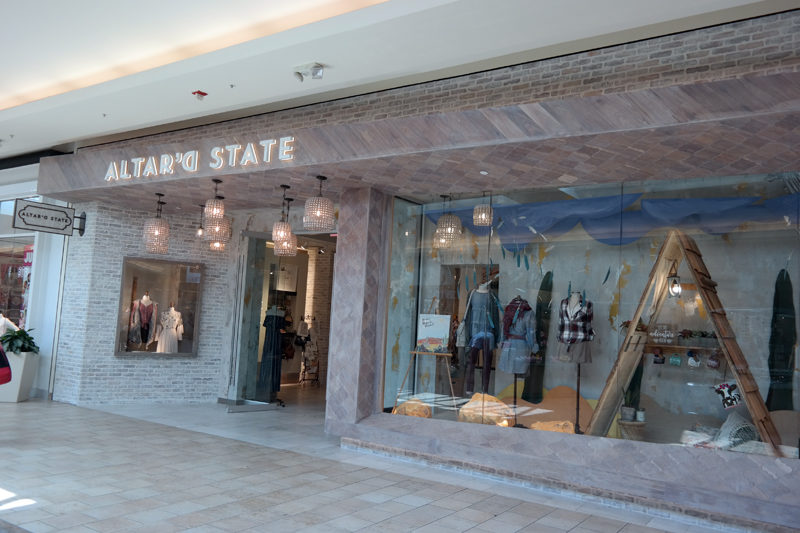 They have some really nice trend-setting outfits on display already that makes me almost wish for Summer to be over so I can wear some of them. Like I said, it's ok to score some tax free deals for you too!
The Children's Place is another favorite store for my family. They always have amazing deals for boys, girls, and babies.
I always stock up on their jeans during back to school shopping because it is the best prices of the season. Plus, they have brand new Fall items already on sale!  We can always get a lot of clothing for our money at The Children's Place!
You have to stop to get a special treat of Dragon's Breath during your next shopping visit too. They use liquid nitrogen to freeze the snack – when you bite into it, you'll have 'smoke' come out of your mouth!
FYE is a really fun store to shop. Beyond the new releases for movies, music and video games and gift items, FYE has all the exclusive t-shirts your tween and teens will want to wear.
Marvel t-shirts are big right now but they also have other clever shirts – no profanity or indecent styles! My daughter found a shirt that says "Let's be mermaids" and my son found a Dwight Schrute (from The Office) shirt that is perfect humor for 8th grade boys!
My daughter's favorite store lately is Justice and the Summit Mall store is one of the best in the area with the latest styles always in stock!
Justice is the best place for tween girls (and younger) with on-trend clothes. You'll find plenty of bling, pink, unicorns, and mermaids around every corner in this store – as well as smiling, happy girls like mine!
I was pleasantly surprised by my trip to Summit Mall by the assortment of backpacks. It seems that nearly every store has their own line of stylish backpacks including Vera Bradly! I love the selection of backpacks because it allows kids and teens to really personalize their back to school gear with their own personal style. Now is the time to upgrade your backpack too, moms. There is always an occasion that wearing a backpack is helpful. I use one all the time and I'm not even in school These Vera Bradly bags fit the bill!
Now that my kids are getting older, we are exploring more stores at Summit Mall – it's fun!  Another new store for us was PacSun. PacSun is a casual California lifestyle clothing store with both a laid-back and artsy vibe.
They have plenty of fall apparel up front and center for back to school shopping. We like their relaxed, laid-back yet trendy style and will be doing plenty of more shopping here from now on.
Zumiez is a new store for us too – and for Summit Mall. I know it will do exceedingly well because their apparel and footwear is cutting edge!
This is perfect for the skateboarder, snowboarder, and surfers that want to express themselves. They even have skate shoes! You can find styles for everyone from kids to adults in this store that specializes in young, trendy clothing for the active lifestyle.
Our favorite stop for children back to school shopping is Gymboree. They have clothing for newborns through size 14. Their newborn and toddler clothing are extra soft for lots of cuddles. Their boy and girl clothing are always lots of fun with stylish designs, prints, and colors. My kids grew up wearing Gymboree clothing, they were always excellent in quality – I passed down all of their clothes to family and friends because they were still in top condition.  Although the apparel is high-quality, you can always find really good deals at Gymboree!
Summit Mall is anchored by Macy's and Dillard's department stores. Macy's always has great pop-up sales throughout the week with extra savings with their Macy's Star Rewards program.  Their back to school theme this year is "time to shine" with a new year and new style for the most awesome version of you. Kids and teens can find their perfect style among the many brands at Macy's.
Dillard's is all stocked and ready for your back to school shopping for kids of all ages for apparel, accessories, backpacks, and more. Don't forget their awesome uniform shop too!
Whether you shop Summit Mall for Tax-Free weekend this coming Friday – Sunday or another time, Summit Mall is the one-stop shop for all your back to school shopping needs for kids and teens.  You'll find all the brands and styles your kids love as well as good deals along the way!
Make plans to stop for lunch or dinner at one of their fine restaurants including BRAVO!, BJ's, Dewey's Pizza, FirstWatch, and P.F. Chang's or the food court to keep your family fueled.
Summit Mall
3265 W Market St
Fairlawn, OH 44333