There is much more than the convenience of shopping at over 120 stores under one roof that makes shopping at Summit Mall exciting. It is the thrill of the Christmas decorations, seeing and touching gifts that we find for all our friends and family (you can't do that online!), grabbing a tasty snack or meal, and spending time with each other.
This is a sponsored post.
The Christmas Shopping Experience at Summit Mall
My kids love shopping at Summit Mall because everything is always new and exciting. They do an amazing job keeping the mall fresh with completely full stores, fun events and sales, and general upkeep. Summit Mall is here to stay and we couldn't be more thrilled to have such a thriving mall locally to the Akron area.
Santa Claus at Summit Mall
I'm pretty sure it is the REAL Santa Claus as Summit Mall. He's a gem!  The Santa set is open daily through Christmas Eve at 6:00 pm.
The set is gorgeously decorated with the line wrapping alone the outside of the set with interactive games for kids to play and stay entertained. Each child gets a special time to chat with Santa while getting their photo taken – it isn't a rushed experience at all. 
Photo packages starting at just $24.99 and each package includes a free phone call from Santa!
Christmas Shopping at Summit Mall
There are over 120 stores across this 770,000 square feet shopping mall. You can find gifts for the entire family easily!
We are so excited that Summit Mall is home to the Apple Store, it is only one of 3 locations in NE Ohio.
They have all the latest Apple products that make excellent tech gifts for the whole family. I love that you can try everything out and ask a professional before making a purchasing decision too. Plus, their tech support is conveniently there as well.
Summit Mall has the hottest toys this Christmas for kids too including Fingerlings!!  I've heard from many people that they are having a difficult time finding this hot toy this Christmas. There is a Fingerlings kiosk in the aisle next to Altar'd State! Trust me, your kids will love a cute little baby monkey on Christmas morning!
Other hot items that are certainly on your kids and teens' wish lists can be found at Just Another Krazy Trend store inlcuding popsockets, squishies, figit toys, and flip sequence pillows!
The Go! toy store packed with popular toys, games and calendars for kids of all ages!  They have all the popular brands that kids want as well as fun family games and calendars (desk & wall) for adult gifting.
FYE has entertainment gifts for all ages including t-shirts, movies, music, video games, fun stocking stuffers, and more.  They are having really amazing sales right now too so you can check off a lot of gifts in this store quickly.
There is also a store with new and pre-owned video games for all the popular game systems for the gamer on your Christmas list.
There are plenty of boutique stores for kids including Justice (every girl's dream store), Gymboree, Crazy 8, GAP Kids, and The Children's Place.
Apparel is always a thoughtful yet functional gift for all ages. Summit Mall has fashion choices for every style and every age with stores including Dillard's, Macy's, Banana Republic, American Eagle Outfitters, Eddie Bauer, Villa, and many more. You can even show your Ohio pride at local themed stores like Where I'm From and CLE 23.
One of my favorite stores that I just discovered at Summit Mall is Versona. They have affordable apparel and accessories that are very fashion-forward. I was surprised at the low prices especially with such a gorgeous looking store.
If you want to give the gift of jewelry this Christmas, Summit Mall has many options including Brighton, Kay Jewelers, Francesca's, Pandora, Piercing Pagoda, Swarovski, and more.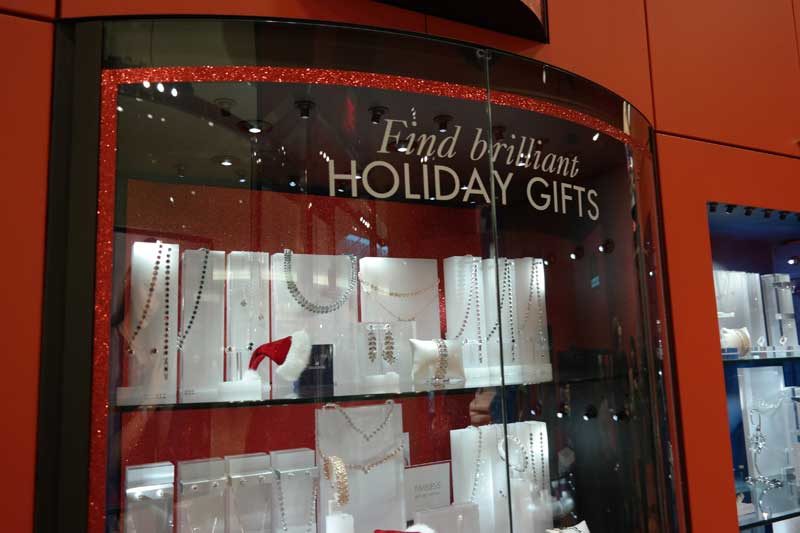 Bath and Beauty and gifts for the home gifts are always fun gifts to receive. Stores like Bath & Body Works, Aveda, bareMinerals, Sephora, Scentology, and others offer many gifting ideas. My kids had fun picking items out at Bath & Body Works!
One of my favorite stores is Altar'd State for the latest fashion finds as well as accessories, home decor, shoes, and more with positive themes.
Don't stress about bringing your family for Christmas shopping at Summit Mall because there is so much to keep everyone happy including the playground – conveniently located next to Starbucks so parents can recharge too!
Or if you really need to recharge, get a quick massage chair massage!
To complete your Christmas shopping list, pick up a few gift cards. They have kiosks at various points in the mall as well as a huge assortment at the Mall Office (located at the end of the hall to the left of Women's Dillard's at Center Court) Monday – Friday 11am-5pm and Saturdays 12-5pm. You can find Simon gift cards as well as many popular retailer gift cards including Xbox, Sephora, Bath & Body Works and many other local stores and eateries.
You don't even have to wrap your gifts when you get home. Have the Simon Youth Foundation Gift Wrapping Program do it for you for a small donation. Many local non-profit organizations including Project Ed Bear and the Fairlawn Community Foundation volunteer for shift at the gift wrapping station located at Center Court across from The GAP. Your gift wrap donation goes to the volunteering organization (70%) and Simon Youth Foundation.  Giving to charity during Christmas is always nice but even more so when you save time and money on gift wrapping during this busy season!
Dining at Summit Mall
With all that Christmas shopping, you'll going to build up your appetite!  Make plans to dine at one of 6 sit down restaurants at Summit Mall including BJ's Brewhouse, Brio Costal Bar & Kitchen, Dewey's Pizza, First Watch, P.F. Chang's and The Rail. All offer gift certificates for holiday gift giving too.
During our Christmas shopping trip, we enjoyed dinner at Dewey's Pizza – our new favorite pizza restaurant!
Their hand-tossed pizzas are delicious with extraordinary combinations as well as traditional. Their Stromboli and salads are yummy too.
Another favorite restaurant at Summit Mall is Brio Coastal Bar & Kitchen. If you are looking for fine Italian dining in an inviting, relaxed atmosphere, this is the place for you.
During our recent visit, I enjoyed this amazing Catch of the Day dish of scallops with gnocchi. It was divine. This is a family-friendly restaurant, I've seen people with young children there. My children are 10 and 12 and enjoy ordering off the adult menu, however there is a kid's menu.
Give your family the Christmas shopping experience that can only be attained by shopping together during the Christmas season.  Summit Mall is a place to enjoy Christmas shopping together, creating fun memories that cannot happen with the click of a mouse.  You'll find gifts for everyone on you list with one easy trip.
Summit Mall
3265 W Market St
Fairlawn, OH 44333
Christmas Shopping Hours:
Monday 9AM–11PM
Tuesday 10AM–10PM
Wednesday 10AM–10PM
Thursday 10AM–10PM
Friday 9AM–11PM
Saturday 9AM–11PM
Sunday 10AM–9PM