Today is the Akron, Ohio Vionic Store
Flip Flop Day! During this exclusive in-store event, meet Liam Bourke, the Vionic Spokesperson. This is your chance to ask him questions about innovative Vionic technology that makes Vionic footwear so comfortable as well as get a peek at the new fall styles!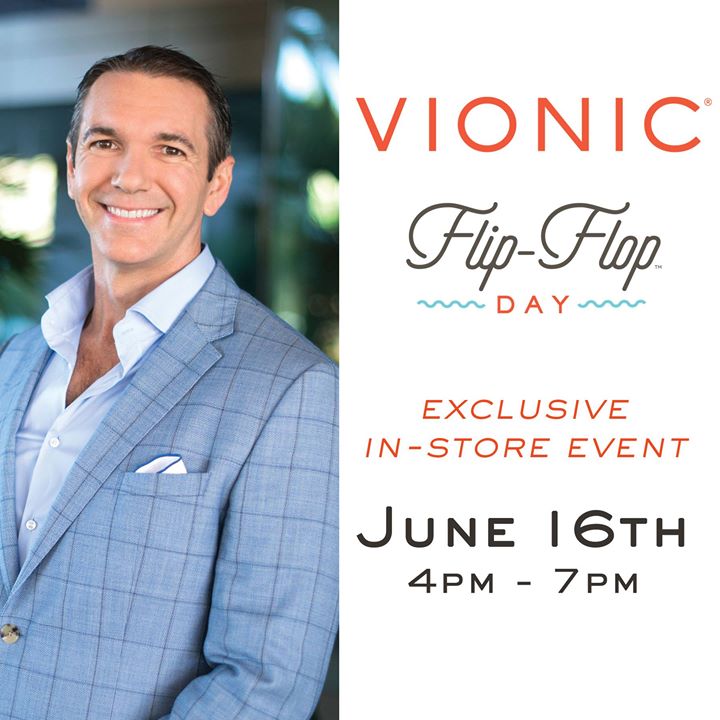 Have you been to the new Vionic store yet? It is right next to Lucky Shoes in Fairlawn and is AMAZING! Check out this post to check out pictures of their gorgeous store, it is the first exclusive Vionic store in America and we are so fortunate to have it in the Akron, Ohio area. Their shoes are both stylish and supportive, giving you support in your feet, legs, and back with every step. They have really changed my life – no more sore feet or back pain!
During Vionic Flip Flop Day, enjoy shopping their amazing selection of flip flops and sandals for both women and men and receive a FREE gift with your purchase, while supplies last.
You'll love the selection! Once you purchase your first pair of Vionic footwear, you'll be a fan for life. The orthaheel technology with built-in orthotics offers unparalleled support that your body aches for.
The Vionic store in Fairlawn also has a great (and growing) selection of men's footwear including flip flops. I can't think of a better Father's Day gift for dad and your husband this year! They are both stylish and supportive.
Liam will be there to answer all of your questions about Vionic Shoes technology as well as showcase summer and the new fall styles! Light refreshments will be served and BONUS receive a FREE gift with purchase while supplies last. Call your girlfriends up to make it a girls night out!