We are all multitaskers and expect products to work as hard as we do. Plus, if you are like me, you like products that serve multiple functions to keep clutter to a minimum. I'm so excited about the LumiCharge LED Lamp because it is feature rich as well as gorgeous!
This is a sponsored post.
LumiCharge LED Lamp is an all in one lamp that icludes a universal phone charger and an extra USB port for other devices, a calendar display that shows time, date, day of the week and temperature and a motion sensor that lights up the buttons for easy use even in the middle of the night!
This light is the ultimate lamp for bedside, on your desk, or anywhere that your family hangs out and need extra light for reading, working, homework, etc.
The lamp swivels to give you the light you need wherever you need it. It swivels side to side and the actual light can extend straight up or fold down and everything in between for light precisely where you need it. 
This powerful light has 3 different hues and 10 levels brightness to give you just the right amount of light for the task at hand – and nothing more or less.  Not having enough light to work is a huge pet peeve for me, I like light! This LED light gets really bright for tasks like sewing and reading and I can dim it for general lighting and the evening.  I also like the built-in motion sensor so when you enter the room, it will light up to show you the keys to turn the on light, this would be especially helpful in the middle of the night. There are so many perfect uses for this LED lamp, we are having a hard time deciding where to place it – in the bedroom, living room, or office!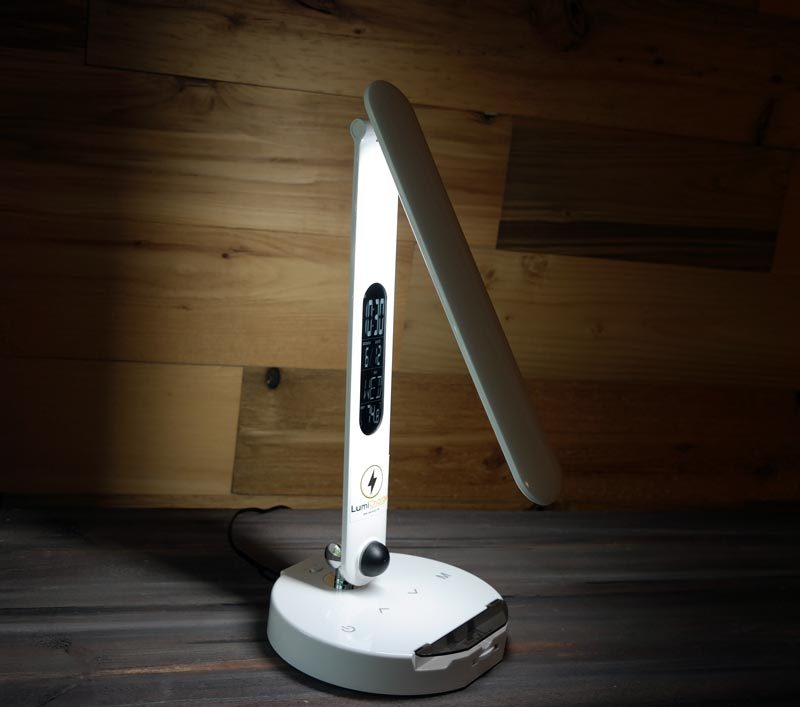 I like that the neck of the light includes a calendar so you'll always have the date, day, time, and even temperature on the ready. This works great as a clock at night or to keep on the desk while working. My son has claimed this for his bedroom, he especially likes the bright LED light for his plants on his nightstand as well as the temperature to make sure the temperature is correct in his room for his geckos!
This modern-day lamp is fitted with the ultimate universal charging station too so you can charge your iPhone or Android device right on the lamp's base.
Or, use the two extra USB port on the back to keep multiple devices always charged and ready!  I like how this lamp multitasks like I do – in a convenient, sleek, and highly functional design that looks great on my desk or nightstand.
The Lumicharge smart LED desk lamp is a must-have for any modern family. Whether you give it as a gift or purchase for yourself, you'll love the dimmable lighting, sleek design, and universal charger of this unit.  Since my son has claimed this lamp for his room, I need to purchase another one for my desk – I'll always have my phone and tablet changed and keep on task with the built-in calendar – and have just the right amount of light for my work.
You can purchase the Lumicharge smart LED desk lamp on the LumiCharge website,  at Best Busy, Walmart, and Amazon.com. It makes a thoughtful and well-received gifts for any age too.