As a mom with two kids, we label many things – from toys to shoes to coats. There are a few thing that I've learned from experience that I didn't know I needed to label but should have! Learn from my mistakes.
10 Things You Didn't Know You Should to Label
1) Put a Label on Pillows or Pillow Cases
I would have never thought there was a need to put a label on a pillow or pillow case until this weekend. My daughter had a sleepover and now I have two extra pillows. I have to track down which child forgot their pillow and how to get them back to their right owners. I labeled my daughter's pillow this morning, she'd be so bummed if she lost her Disney FROZEN pillow.
2) Put a Label on Pajamas
I found pajamas after the sleepover too. What makes it worse is that two girls wore the same pajamas! That makes it very easy to get lost and confused.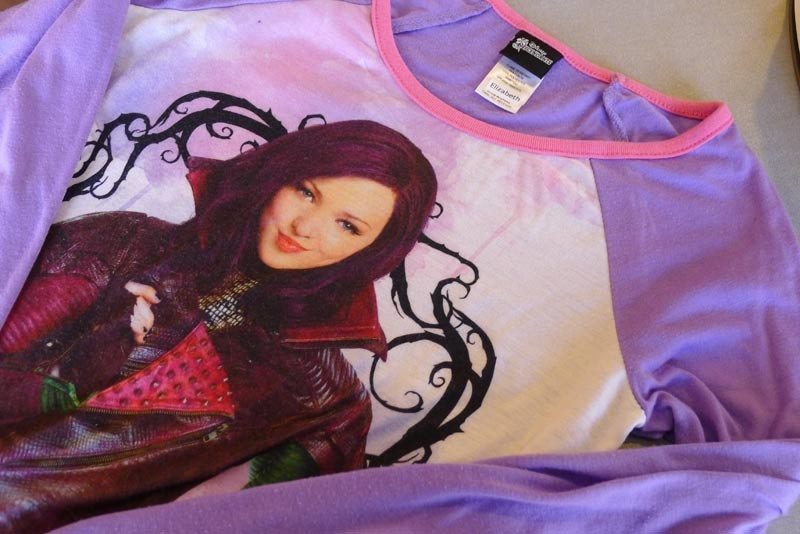 If your child is going to a sleepover, take a few seconds to put a label on their pajamas.
3) Put a Label on Underwear
Can you guess what else I found at the sleepover? Lost underwear in the bathroom. I'm not even going to try to find the owner and just trash them! 🙂
There are many other times kids could lose their underwear, believe it or not. How about at gym class or when they change their clothes at sporting practice/games? This especially applies for a child on a swim team and gymnastics.
Another big reason to label all underwear – panties, socks, and bras – is if you have a family that wear the same size. My son wears the same size socks as my husband so labels come in very handy! This would especially be true if you have kids wearing the same size!
4) Put a Label on Your Umbrella
How many times have you left your umbrella somewhere because it was raining when you got there and wasn't when you left? I've done this countless times and lost them or couldn't figure out which one was mine when I finally figured out where I lost it!
You can put the label on the strap or actual umbrella. I find the strap is the easiest place to see the label – for me and anyone who finds my lost umbrella!
5) Put Labels on Uniforms
I believe that all uniforms should have a label on them for obvious reasons – everyone is wearing identical clothing! This is especially important for things like team leotards like below and other sporting uniforms that kids will change into and out of for practice and events. This applies to uniforms for organizations like Cub Scouts, Girl Scouts, American Heritage Girls that have vests, shirts, neckerchiefs, and sashes – all look identical.
6) Put Labels on Swimsuits
Swimsuits should always be labeled. This is one of the easiest things to lose since people change into and out of swimsuits at their destination. This is especially important if it is a swim team swimsuit that is identical to the rest of the swim team.
7) Put Labels on Beach Towels
Make sure to put a label on your favorite beach towels so they don't get lost. My son would hate to lose his SONIC beach towel! Not only will the beach towel be return if you lose it but by labeling beach towels, you can stop an argument between siblings about whose towel is whose!
8) Put Labels on Hats
You should always label hats and gloves because they are so easily lost by kids at school. Many kids have the same exact hat and gloves, making it difficult to know whose it belongs to and return when found.
Iron a label on the inside, so nobody can see it unless it is lost. I volunteer at my kids' schools and can't believe how many hats, gloves, snow pants, and other clothing is always piled up on the Lost and Found Table!
9) Put a Label on Expensive Popular Clothing
My son enjoys wearing the Under Armour brand which is both popular and expensive. There are 3 kids in his class with the same exact Under Armour sweatshirt. Guess what, they were the same size too. I'd hate for him to lose his sweatshirt or bring home the wrong one.
I put labels on the tag of clothing, it's just an easy spot to iron and also the first place I'd look if I found a lost item.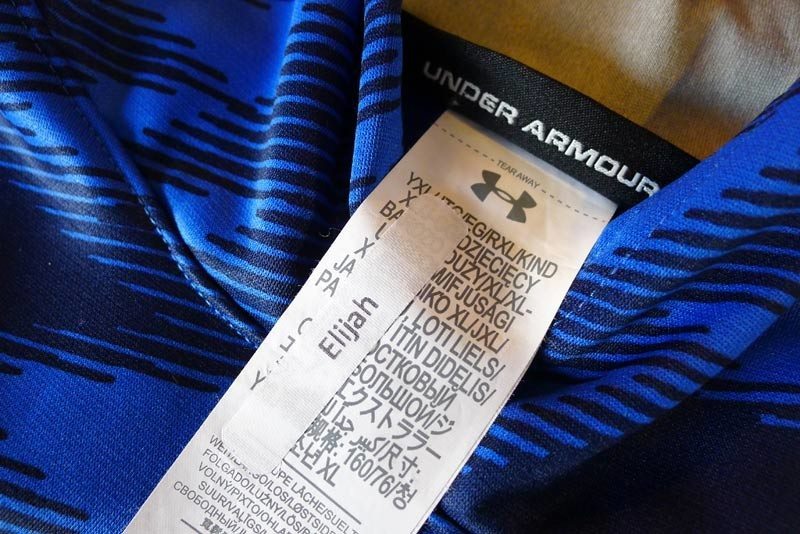 10) Put Labels on Lunch Bags
When my kids were younger, I labeled everything, including lunch bags. Now that they are older and more responsible, I stopped. Shame on me. My son lost his PackIt lunch bag. Guess what! I found the exact same Camo PackIt lunch bag in lost and found but it had a label on it, not my son's name. 🙁 I think what happened is the other kid took my son's bag (and his mom probably re-labeled it, thinking the label came off) and then received his original bag back from the school office. That's my best guess. I should have put a label on his bag, even in 5th grade…
This is a sponsored post for Label Land.
Label Everything
Your safest bet is to label everything. Losing items can be very, very expensive. There is no reason not to label you and your kids' items, not when there are great label products by Label Land.
Label Land offers labels of every style and for every application including clothing labels, blank write-on labels, waterproof labels, bag tags, shoe labels, mini labels, dishwasher and microwave safe labels, and more. Choose your favorite colors or add a theme. You can include just your first name, full name, name with address, or whatever you choose.
For all of the above products, I used the Label Land Iron On Labels. Iron On Labels are laundry safe and secure. They are perfect for every clothing or fabric item because they are guaranteed to stick.
Iron On Labels take just 15 seconds to adhere to fabric, using an iron on high setting.
The round edges of the labels prevent them from peeling off. If you are worried about longevity, you could even iron them because they are thin enough to sew. I like that they are thin because my kids are very sensitive to labels, I normally cut off all labels because they make them itch. Label Land Iron On Labels are so thin that my kids don't even notice them!

Order your Iron On Labels in any language and/or symbol printed with Indelible ink. These labels are guaranteed for the life of your garment.
You can purchase Label Land Iron On Labels for just $9.99 for 50 labels with FREE SHIPPING!